If you're an avid Android user or a developer then you should know about the benefits of unlocking the device bootloader. Samsung this year has launched the flagship Galaxy Note 10 series devices with both Snapdragon and Exynos chipset variants. By unlocking the bootloader on your Android device, you can easily install a custom recovery, custom firmware, and even enable root access as well. Without the bootloader unlocking process, that's not possible. Now, if you're using the Samsung Galaxy Note 10 and 10 Plus devices with Exynos chipset, you can easily unlock the bootloader. Here we have shared the simple guide on How to Unlock Bootloader on Galaxy Note 10 and 10 Plus.
As we mentioned above that this guide is only for Samsung Galaxy Note 10 series Exynos variant devices. Now, if you're not sure whether your device is powered by Snapdragon or Exynos chipset, you will get the device model number from the phone settings or box package easily. Then you can search the model number online for the specific chipset variant.
There are some of the Snapdragon chipset variant Galaxy Note 10 series devices available in the market. But in the USA and Canada region, Snapdragon chipset based Samsung Galaxy device(s) bootloader can't be unlocked easily. Whereas, in China and some other countries, the Samsung bootloader unlocking process is almost the same and easily can be unlocked as well.
What is Bootloader?
A Bootloader is a system code that runs when an operating system (OS) specific device turns on. This code initializes some hardware and then loads the kernel and ramdisk on the device. Then the system booting process starts. This process is known as Bootloader.
For your info, the bootloader is available on all laptops, PC, Smartphones, Tablet devices, Smartwatches, Android TVs, and more. All the Android smartphone OEMs ship the device with a locked bootloader for some safety reasons. Now, if you're an advanced user and want to flash any custom file like ROM, Recovery, or Root, or Modules then the bootloader unlocking process will come in handy. It's also worth mentioning that the bootloader unlocking a first and must step for flashing any custom file.
Here in this article, we have shared the complete guide to unlock the bootloader on the Galaxy Note 10 and Note 10 Plus (Exynos variant). Check it out.
Disclaimer:
Unlocking the device Bootloader may void the device warranty in most cases. We're at GetDroidTips will not be responsible for any kind of damage or error that occurs to your device due to the unlocking the device bootloader. Do it at your own risk and it will delete all the internal device data completely. So, make sure to
take a full backup
first.
Steps to enable OEM Unlock
First, you need to enable Developer Options on the Galaxy Note 10/10 Plus Exynos model.
Open the Settings menu on your device.
Go to About phone and tap on Build Number for 7 times. It will enable the Developer options.

Go back to the main settings menu and scroll down to the bottom. Tap on the Developer Options menu.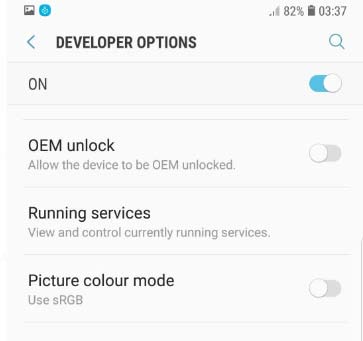 You will find the

OEM

Unlock option > enable it.
It will ask you "Turn on OEM unlock?"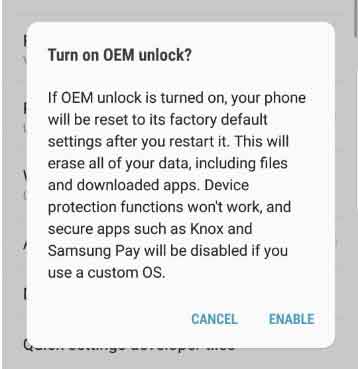 Just tap on the Enable button to confirm it.
That's it! You have enabled the OEM Unlock feature.
Now, follow the bootloader unlocking process below. You will require a PC/Laptop and a USB cable for your device to connect with the PC.
Steps to Unlock Bootloader on Galaxy Note 10 and 10 Plus
Switch off your phone.
Press & hold the Volume Up + Volume Down key together and connect your device to the PC via a USB cable in order to boot into download mode.
You will see a blue screen with a warning. It will ask whether to unlock the bootloader or not.
Press the Volume Up button again to confirm the Bootloader unlock process.
It will take some time and your device will boot into the system automatically. The device data will be wiped out completely.
You're done.
Does Bootloader Unlocking remove KNOX?
The bootloader unlocking won't remove anything like KNOX, Samsung Pay, etc. But the main objective of unlocking the device bootloader is to flash custom firmware, recovery files, rooting, and flashing Xposed modules. Therefore, after doing any of the mentioned things after unlocking the bootloader will remove KNOX or Samsung Pay.
OEM Unlock option is greyed out
If you're facing a similar kind of issue that the OEM Unlock option is disabled or greyed out then either you're using the Snapdragon variant or your device is fully new.
Make sure that your Galaxy Note 10 series should be the Exynos variant. Second, you can try this process again after using your new device for 7 days at least.
We hope this guide is helpful to you and you've easily unlocked the Galaxy Note 10 and 10 Plus bootloader for the Exynos variant. For any queries, let us know in the comments below.