Apple launched it's iPadOS with some significant update in 2019, Which differentiates the iOS and iPadOS. Apple introduces the Side Over Feature on iPadOS. Which is one of those features, but people didn't know how to use that Slide Over feature. You can use this feature to open a second app in a Sidebar alongside the Full-Screen app. Apple rolled out this feature to iPad Mini 2, iPad Mini 3 and iPad Mini 4. Even on iPad Pro and iPad Air Models, you check all models here.
It is a feature that allows you to use a Secondary app in an iPhone mode on the edge of your iPad. Sliver over functionality is quite handy because it Slide over features was seamless and boosted your productivity. Many users use to perform multitasking, Because it rolled out recently with iPadOS 13 not the majority of the users were aware of this feature. Also, Users have to enable this feature manually, suggesting why not a large group of people used to this feature. Today we are going to teach you how you can Enable and Switch Slide over Apps on your iPad.
Slide Over on iPad
iPadOS algorithm continuously tracking your recent apps in the dock to open a secondary app that you open in Slide over so you can switch between them seamlessly. Slide Over feature commonly used to perform secondary app over primary app Like you are on Map, but at the Same Time, your Friend calls you over WhatsApp.
How to Enabling Slide Over
Open the "Setting" on your iPad.
Scroll down, Head over to "General"
(Placed on the upper-left side of the Setting page.)
Click on "Multitasking & Dock."
(Placed in the middle of the page.)
Choose the toggle button to "Allow Multiple Apps."
(If the Switch is green means it already enabled, White/Dark means it disable.)
How to Open Secondary App in Slide over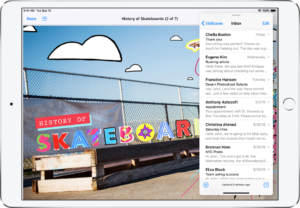 First, you need to Open your Primary App or While using an App.
(Primary app open in Full-screen mode)
Open Sidebar app, Then Choose the app icon that you want to use as a Secondary app.
(e.g. Consider using a Message app for this step.)
Swipe-up from the bottom of Device to bring iPad's Dock until Bar appears at the bottom.
(If control center look, then you have to Swiped up to move the most recently used app.)
Note: To Stop using the secondary app, Stop
Touch and Hold an App in the Dock and Drag it above.
(Drag to Move on your Screen.)
Note: If any open already open in Slide over, then it replaces with the new app that you drag from the dock.)
Note: There was some app that doesn't support Slide over a feature like Apple Notes.
How to Switch Between Apps in Slide Over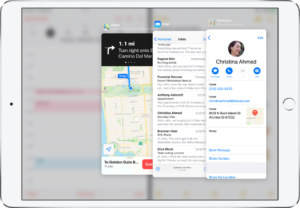 While opening a Slide over, it refers to iPhone mode where you can Swipe-up right along the bottom of the Slide over a window.
Swipe-up from the bottom until dock appears to use Slide over Window.
Swipe-right, Choose the app Window that you want to view.
How to Move the Slide over Window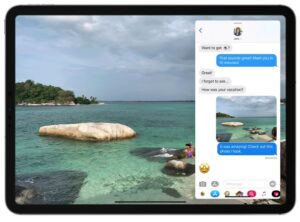 While using Slide over, it hides the Primary app. So you might have to move the Slide over an app.
Move the Slide over a window to the other side of the screen.
(Drag from one place to another.)
Remove the Slide over Window.
(Drag the top of the window off the right edge of the screen.)
Move the Slide over windows back onto the screen.
(Swipe-left from the right corner of the screen.)
How to Turn Slide Over into Split View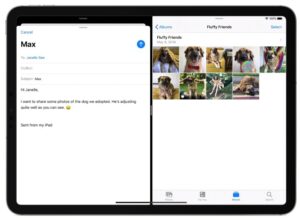 You have to drag the top of the Slide over a window to the lower right o lower left of the screen.
How to Drag and Drop Between Apps in Slide Over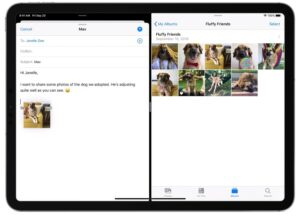 You can Drag and Drop any text, Photo, and Files from one app to another app.
Open both of apps in Slide over.
Touch and hold the item, left up and drag to another app.
(A Badge indicates the no of things that you selected.)
Now, Drop the item from Other apps.
Hopefully, it helps you to use Slide over in a sort of productivity and efficiency deliver a Seamless experience. We like to know your thoughts in the comment section down.