HyperX Cloud Stinger is wired over-ear gaming headphones that have a microphone to talk with others during the gameplay. It's one of the highly-rated best-in-class budget over-ear wired headphones for gaming purposes from HyperX. Due to the 3.5mm audio jack, it's easily accessible with PC, Xbox, PlayStation, and Nintendo gaming devices whatsoever. But some reports are coming out about the HyperX Cloud Stinger Mic Not Working Issue recently.
Now, if you're also one of the victims to encounter such an issue then you can follow this troubleshooting guide completely. As per multiple reports online, players are unable to talk with others using the HyperX Cloud Stinger microphone which is frustrating a lot. It simply ruins the gaming experience up to some extent when you're in a multiple game mode and you can't talk with others at all. However, you shouldn't worry about it because there are fixes too.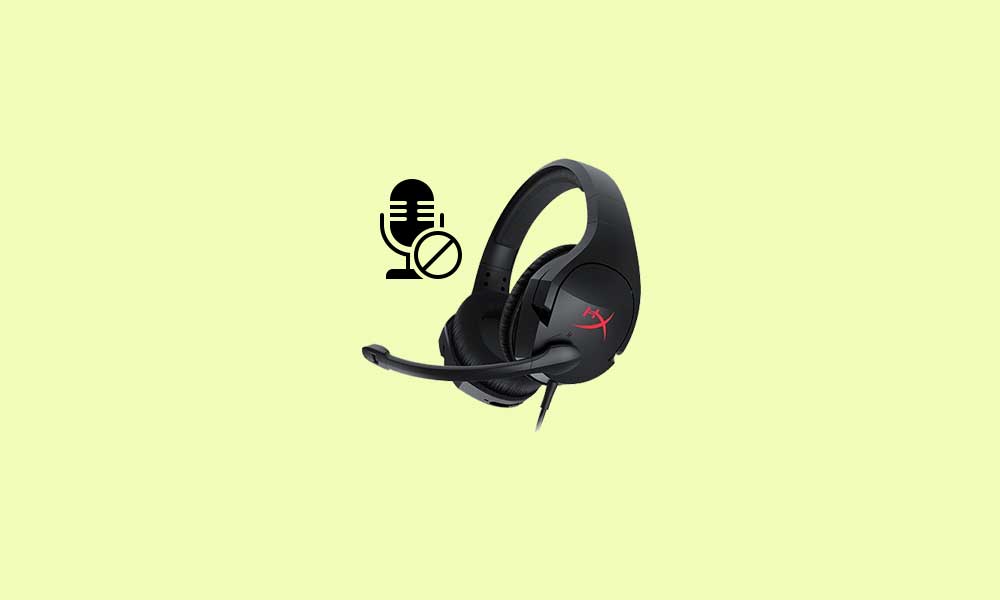 Fix: HyperX Cloud Stinger Mic Not Working Issue
Here we've shared a couple of possible workarounds that should fix this particular issue for you. So, without wasting any more time, let's jump into it.
1. Check the Connectivity Physically
It seems that your HyperX Cloud Stinger headphone is either accidentally muted or not connected properly. You can check audio settings manually and especially for the audio mute settings. Sometimes the audio device may not be connected properly which can cause such troubles to you.
Make sure you use the proper extension cable (splitter) with separate headphone and microphone jacks to connect your HyperX Cloud Stinger to your PC headphone output and input ports. [Or on other gaming devices]
Check whether all your connections are properly plugged in which includes the extension cable connections. For the microphone, make sure it's plugged in all the way and not hanging loosely.
Check the volume knob on the right ear and ensure the microphone isn't muted or the volume is not too low.
2. Enable Microphone for Headset
You should also check out whether the microphone is turned on for the gaming headset or not. To do so:
For Windows:
Click on the Start menu button > Select the Settings icon.
Select Privacy > Click on Microphone from the left pane.
Click on the Change button > Make sure the Microphone for this device option is turned on.
Scroll down and make sure the 'Allow apps to access your microphone' option is turned on.
Keep in mind that the app you're using is also turned on.
Now, check if HyperX Cloud Stinger's microphone is working or not.
For Mac:
Choose the Apple menu > Click on System Preferences.
Click on Sound then click on Input.
Select your headphone in the list of sound input devices and adjust the volume to make sure the mic can capture your voice.
Then go to System Preferences > Click on Security and Privacy > Go to Privacy.
Now, select Microphone from the sidebar > You should see a list of apps that have requested access to your microphone.
Make sure you've allowed the particular app that you want to use the microphone with.
For PlayStation:
Go to the PS4/PS5 Settings > Select Devices > Choose to Audio Devices.
Select Input Device and select Headset Connected to Controller.
Similarly, choose to Output Device and select Headset Connected to Controller.
Select Volume Control (Headphones) and set the volume level to maximum.
Choose to Output to Headphones and select All Audio.
Select Adjust Microphone Level then follow the wizard to check your microphone.
For Xbox:
Head over to the console Settings > Select Account.
Choose to Privacy & online safety > Select View details & customize.
Select Communicate with voice and text. Make sure to turn on Voice Chat.
For Nintendo Switch:
Plug in your headset into the audio jack of the Nintendo Switch console.
You can also connect the headset to your mobile device and use the Nintendo Switch Online mobile app for the same.
Otherwise, try using your mobile device's built-in microphone to chat with the Nintendo Switch Online app to cross-check for the issue.
3. Set Microphone as a Default Device
If you haven't set your connected microphone device as a default one on the Windows computer yet that means you're lacking behind something. Make sure to set it as a default input audio device and then check for the issue again. To do that:
Press the Windows + R keys on your keyboard to open up the Run dialog box.
Now, type control and press Enter to open Control Panel.
Make sure to expand the list by selecting 'View by' > Select 'Large icons' from the drop-down menu.
Select Sound > Select the Recording tab > Right-click on any empty space inside the device list.
Then tick mark the Show Disabled Devices option > Make sure your HyperX Cloud Stinger headset is enabled.
Next, set it as the default input audio device. If not selected yet, make sure to right-click your headphone to Enable it and Set it as a Default Device.
Right-click on Headset Microphone > Click on Properties.
Click on the Levels tab > Drag the volume slider to the maximum level.
Finally, click on OK to apply changes then click on OK again to close the window.
Your HyperX Cloud Stinger headphone should now be enabled with a mic. Test the mic right from there whether it's working properly or not. If not, you can follow the next method.
Read Also: Fix: SteelSeries Arctis 7P Mic Not Working Issue
4. Update Audio Drivers
Another thing you can do is simply check for audio driver updates on your computer because an outdated or corrupted sound driver may cause multiple issues with the microphone working. To do so:
Press the Windows + X keys to open the Quick Link Menu.
Now, click on Device Manager to open it > Double-click on Sound, video, and game controllers.
Right-click on the active or problematic audio device > Select Update driver.
Click on Search automatically for drivers > If there is an update available, the system will automatically check for it, and install the update.
Once done, make sure to reboot the system to apply changes.
5. Close Other Unnecessary Apps
If you have any other audio-related software installed on your computer or console then make sure to disable it or close it properly before getting to any other conclusion. Having third-party software like Realtek software or any other social communicating software like Discord, Skype, Zoom, etc may cause multiple problems with audio or voice.
6. Check Sound Settings in the Game
Sometimes you should check out the sound settings option in the game menu directly if the above methods didn't work for you. So, by adjusting all the necessary audio settings and keeping the mic or audio sound high, you can try fixing out multiple issues whatsoever.
7. Update System Software
You should also try updating the system software on your specific gaming device which is troubling you.
For Windows:
Updating Windows OS build is always essential for PC users as well as PC gamers to reduce system glitches, compatibility issues, and audio-related issues too. Meanwhile, the latest version mostly includes additional features, improvements, security patches, and more. To do that:
Press Windows + I keys to open up the Windows Settings menu.
Next, click on Update & Security > Select Check for updates under the Windows Update section.
If there is a feature update available, select Download and install.
It may take a while to complete the update.
Once done, restart your computer to install the update.
For Xbox:
Press the Home button on the Xbox console to open the Dashboard menu.
Now, select Settings from the bottom of the menu > Select All Settings.
Choose to System > Select Updates.
Select Update Console (if available) > Follow the on-screen prompts to complete the update process.
Once done, make sure to restart the console to apply changes.
For PlayStation:
Go to the Settings menu on the PlayStation console.
Select System Software Update > Make sure to check for available updates and follow the on-screen instructions to complete the update process.
Once done, reboot the system to apply changes.
For Nintendo Switch:
Select the System Settings on the HOME menu.
Now, scroll down the menu and select System.
Then make sure to select System Update to start the process.
During the process, the system will first perform a check to determine if a new system update is available or not.
If there is an update available, the download process will begin automatically.
It may take some time, so wait for it patiently.
8. Contact HyperX Support
If none of the methods worked for you then you should try contacting the HyperX Support team for further assistance on it.
That's it, guys. We assume this guide was helpful to you. For further queries, you can comment below.