If you are someone who is looking for an absolutely amazing and portable monitor for your Laptop, PC, Phone, or Consoles, then nothing is much greater than the PU15 PRE. This is a 15.6 inches Portable OLED Touch Monitor integrated with a battery by INNOCN.
This portable monitor has much more things than you need. Therefore, make sure to walk through this article till the end because here we have mentioned every detail regarding the PU15 PRE that will help you make a decision of whether to buy this monitor or not. So, now without further ado, let's get into it: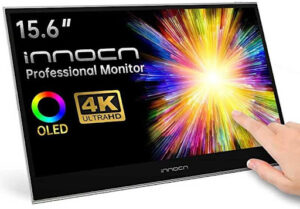 INNOCN PU15 PRE | Everything You Need To Know
This is a Portable Laptop Monitor Touchscreen 15.6″ by INNOCN, which has1080P HDMI USB C and is Ultra Slim for Travel or Second Monitor for MacBook, Windows, Tablets, Android, Chromebooks, Gaming Consoles like PS4, PS5, Xbox, and Nintendo Switch. So, let's start with the features of this portable monitor:
What Are The Features of Innocn PU15 PRE?
Well, there are many features that the Innocn PU15 PRE offers you. So, let's take a look at them:
#1. OLED Display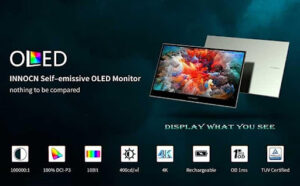 It also supports the real 4K along with the 3840*2160P for deepest blacks, richest colors, and most realistic picture quality. Moreover, the Innocn PU15 PRE has an OLED display that gives you a sharp picture quality along with the self-lit pixels technology. In addition, it also offers you the top-tier contrast that has a limitless range of colors.
#2. Massive Battery
This monitor comes with a USB C charging port which you can use to charge the massive 5000mAh battery. In my personal experience, this device will last up to 4hrs of work in one full charge.
#3. Easy To Carry
This portable monitor is very easy to carry because of its Ultra-Slim (0.27″) & Ultra-light(2lb) weight design. Therefore, you should definitely go with this if you plan to carry it outside, such as while traveling.
#4. OD 1ms Response Time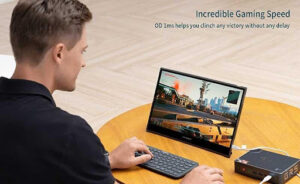 If you are a gamer, this Innocn monitor is definitely good for you because it comes with the OD 1ms response time that helps you clinch any victory without any delay.
#5. Wide Range of Compatibility
No matter if you have an android, iOS, laptop, etc., you do not have to worry because Innocn PU15 PRE has wide compatibility and has supported on almost every device.
Is It Good To Buy Innocn PU15 PRE?
Well, of course, it is a very good device, and you should buy this monitor as it has everything that anyone needs from a portable monitor. Also, it has a touch display that makes your work easy. Moreover, as we have already mentioned the features of this monitor; therefore, it is very clear that it is worth buying this device.
What is The Pricing of Innocn PU15 PRE?
You are allowed to buy this product from Innocn's official website and Amazon. So, it's your choice whether to buy it from Amazon or Innocn's official website. You will get this product at just $799.99. Yeah! I know it's a little bit costly, but this is nothing for thins kinds of products.
Conclusion
So, that's all from our side on this article and mentioned all the necessary details about the Innocn PU15 PRE. We hope you know whether to buy this product or not. However, for further information about this product, comment below.