Due to the software-related issues or any background running tasks, some of the apps may get crashing or freezing or closing forcefully. If your iPhone 11 apps are freezing or crashing or closing randomly, that means something needs to be set up properly. It can be either software bug or maybe you've been updated your device to the latest software version or storage issue, etc.
Meanwhile, the issue can be the app itself. Here in this guide, we've shared some of the possible solutions that can easily fix the app crashing issue on your iPhone 11. First of all, you should check whether any app update is pending or not. Alternatively, you can also check for the pending iOS update. Check which apps or services are running in the background mostly and consumes RAM & battery juice. Delete or disable them if not necessary. Additionally, you can also offload unnecessary apps.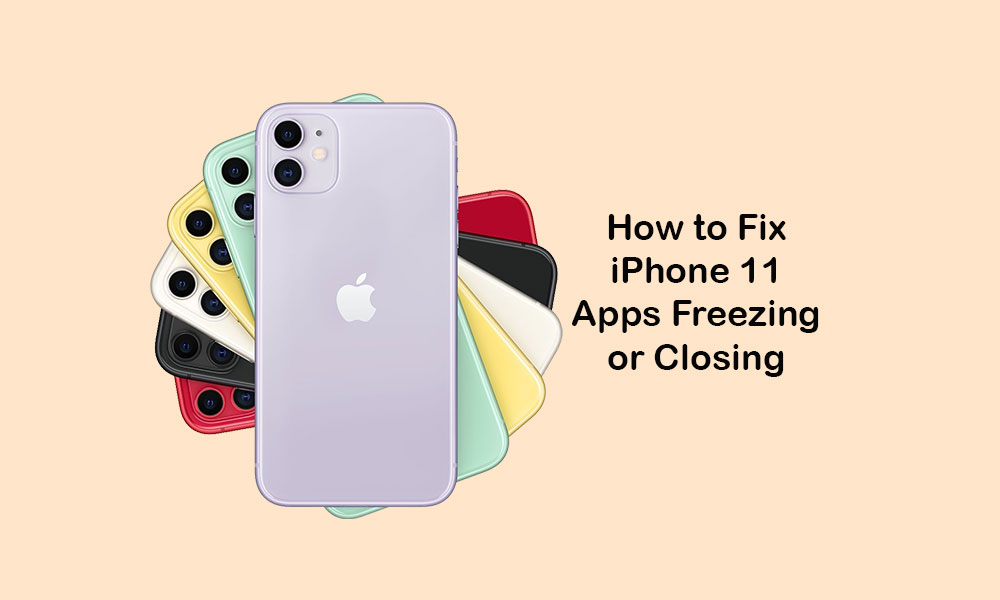 Steps to fix iPhone 11 apps are freezing and closing randomly
Before getting into the troubleshooting guide, make sure to track the possible reason. Some times, it can network or internet connectivity related issues. You can also try to reboot your handset for once or try to sign out from the Apple ID and sign in back.
1. Force Close Background App and Reboot iPhone
Swipe up from the bottom of the home screen and pause to open the recent app cards.
Then swipe right or left to navigate through app cards.
Close all the cards individually by swiping up.
Once done, restart your iPhone by following the below steps.
Press and hold the Volume Up + Side/Power button for a few seconds.
Slide to Power off bar will appear.
Drag the slider to turn off your handset.
Now, press and hold the Power/Side button for a few seconds and the Apple logo will appear.
Then release the button and your device will reboot.
2. Install App Updates via App Store
Go to the App Store > tap on the User Profile icon on the upper-right corner.
Navigate to the Available Updates section.
If any app update is available, just install it.
Finally, reboot your device and check whether the app crashing issue is solved or not.
3. Update Software Version (iOS)
Head over to the device Settings > Tap on General.
Select Software Update > It will automatically check for the latest firmware version.
If a new software update is available, just Download and Install it by following the on-screen instructions.
4. Reset All Settings
Tap on the Settings menu on your iPhone.
Tap on General > Select Reset.
Choose Reset all settings.
If prompted, enter your device passcode.
Tap on the Reset all settings again to confirm.
Reboot your handset.
5. Delete Unnecessary Apps to fix iPhone 11 apps freezing
Tap and hold on the app icon which you want to uninstall or delete.
The icons will start jiggling or you will get edit options.
Tap on the (x) icon on the app to delete it.
It will ask you again to confirm the deletion process.
Tap on the Delete button again to confirm.
Once done, restart your iPhone.
Now, if you want to install back any of the deleted apps, go to the App Store.
Search for that specific app and tap on the cloud/get button to reinstall it.
6. Use DFU Mode using iTunes to Restore iOS
The DFU or Device Firmware Update option mainly used for troubleshooting iPhone issues or updating the iOS firmware. Additionally, you can also restore backed up iOS on your iPhone using the DFU mode.
How to Enter and Exit DFU Mode on iPhone 11, 11 Pro, and 11 Pro Max
We assume that this guide was helpful to you. You can comment below for any queries.