In our daily lives, we want to install all the useful and daily necessary apps on our smartphones, so that we can easily do all of our tasks including calling or texting. But what you will do, if you install an app and suddenly your smartphone stops working. This issue can happen with both the Android and iOS device users. So, if you're an iPhone 11 user and after installing a new app, your iPhone 11 is not responding, then check out this troubleshooting guide to fix this issue by yourself.
Most of the time, third-party software or a malicious application can easily ruin your user experience as the system crashes, random reboots, screen freezing, frequent app reloading, other app crashing, unresponsiveness, and device performance issues will occur. In order to address that relevant issue, you should try out some of the possible solutions by following the guide below.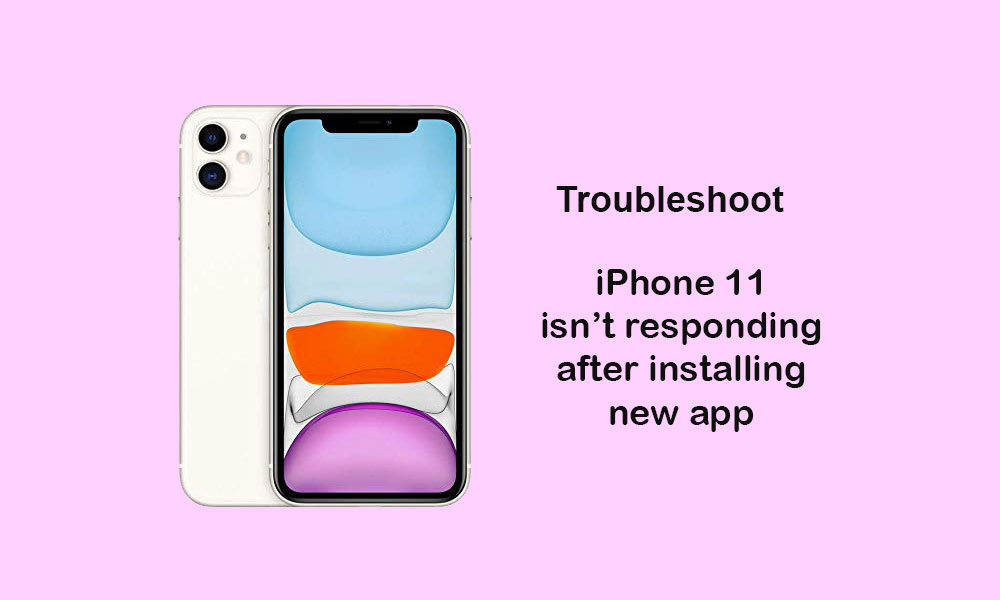 Troubleshoot iPhone 11 is not responding after installing a new app
Before heading over to the solutions, let's check out whether there is any physical or liquid damage is visible or not. Make sure that your iPhone has at least 30-40% of the charge as well.
1. Force Restart your iPhone
First of all, you should try to reboot your iPhone 11 forcefully to clear any cache or system glitch quickly.
Press and release the Volume Up key quickly.
Then press and release the Volume Down key quickly.
Next, press and hold the Side/Power button for a few seconds until the Apple logo will appear.
Wait for the device to reboot into the system again.
Now, you can check whether your iPhone is responding or not. If the device now works fine, just delete that bad app right now. You can download an alternative one instead of that particular app. If in case, your device is still not working, then follow the next step.
2. Check iOS Updates
After releasing a couple of buggy software updates, most of the smartphone users always think not to update those versions and they wait longer for a couple of months or more to install any upcoming stable version. But that's not good at all for all the users or all the time. As the smartphone companies always try to push the latest features, system improvements, latest security fixes, and more with each and every new software update. Therefore, you should always keep checking for new updates and install them.
To check for any available iOS updates on your iPhone, just go to the Settings > General > Software Update.
It will automatically, check for available updates.
If the latest iOS version is available to download, follow the on-screen instructions to download and install the new firmware on your device.
3. Connect to iTunes and Restore your iPhone
You can use iTunes on your PC to turn on the iPhone if the device won't turn on or become unresponsive. Use the lightning cable to connect the iPhone with your PC. Then you can enter into the recovery mode via iTunes on your iPhone and can repair issues.
Connect the iPhone to the PC.
Launch iTunes and wait for the system to recognize the device.
Once done, you can see an iPhone icon on the iTunes interface.
Now, click on the icon and click on the Restore button.
If required, sign out from the Find My iPhone and then click on Restore.
Finally, you may have to click on the Restore button again to confirm the task.
It will completely erase your device data and restore iOS again.
Once done, your iPhone 11 will boot into the system.
Now, you can use your handset quite easily.
4. Use DFU Mode via iTunes to fix iPhone 11 not responding
If none of the mentioned steps work for your device, you can try to enter into DFU Mode on your iPhone via iTunes. The Device Firmware Update (DFU) mode is an advanced recovery mode that can easily fix your unresponsive iPhone.
You can follow the full guide below.
Guide to Enter and Exit DFU Mode on iPhone 11 Series
We hope this guide will be helpful to you. Feel free to ask in the comments below for any queries.