It's always the iPhone camera that stands out with each generation of iPhone. Sometimes, though, there is something wrong with it as well. There is a common problem with iPhone cameras not focusing. However, standard version customers have only complained about the autofocus problem a few times. The whole process of taking pictures is becoming very slow, as objects very close to the camera are becoming blurry. But you do not have to worry as we have some fixes that will surely help you resolve the iPhone 15 and 15 Plus camera not focusing issue. Therefore, let's get started with the guide.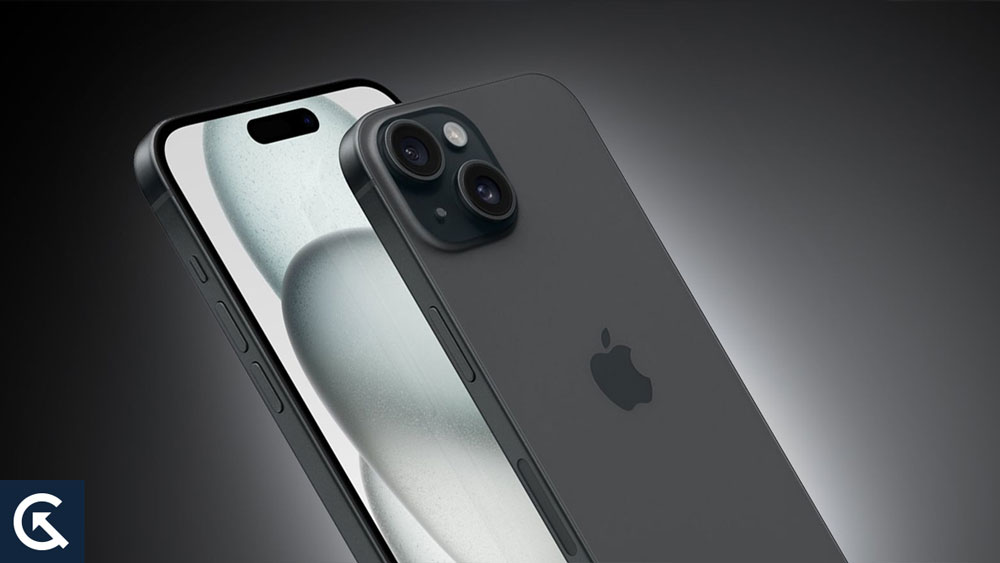 Why Won't My iPhone Camera Focus?
When your iPhone camera doesn't focus, there are a number of possible reasons. There is a possibility that your device isn't far enough away from the object that is in focus. iPhones only have a closest focusing distance of 10 cm, so to make sure your iPhone is correctly focused on an object, move it at least 10 cm away from it.
It can be triggered by fingerprint smudges, dirt, or dust stuck on the lens of your device, causing the iPhone camera focus to not work. In addition, you can find that your iPhone camera won't focus if your phone case isn't set properly or your camera lens is physically damaged. Furthermore, the focus problem may be caused by a software problem. You may be experiencing iOS 17 glitches or bugs if your camera worked perfectly before the update.
Fix: iPhone 15 and 15 Plus Camera Not Focusing Issue
So, here are the fixes that you can use to resolve the iPhone 15 and 15 Plus camera not focusing issue:
Fix 1: Restart iPhone
It is possible that your iPhone's camera may suffer from technical glitches in certain situations. It can be caused by a mismatch in permissions. Your stock camera app is open after you open a payment app that scans QR codes, and you then open the stock camera app to take pictures after closing the payment app. To resolve this minor problem, you need to restart your iPhone if the autofocus module stops working.
Fix 2: Remove Phone/Camera Case
There are some beautiful phone cases that look quite elegant and may provide extra protection for your device. In addition, this can result in multiple camera issues, such as autofocus problems. Autofocus issues on iPhones are mainly caused by cases with extra camera lens protection features. The best thing to do is remove the case and make sure the problem is resolved.
Fix 3: Clean Your Camera Lens
To see if any improvements are made, clean the camera lens and test it. Basically, dirty lenses can result in problems, like the camera not focusing when the camera is used. There are many kinds of dirt, such as fingerprints and dust. If you want to clean the lens, you should use a microfiber cloth. If you are using an external casing, you must remove it before cleaning the lens, as it can prevent you from cleaning it.
Fix 4: Set a Focus Point
There are times when your iPhone will not focus properly, leading to blurry iPhone photos. iPhone attempts to make sure that as many parts of the picture as possible are focused, but nothing really is. When you use the camera app, your iPhone will try to focus as much as possible. If you're wondering how to get the iPhone 15 and 15 Plus camera to focus, keep reading. There's nothing complicated about it.
The first thing you want to do is tap on the screen where the focus should be placed with your finger. Focus points can range from someone's face to a flower to a building on the street. A focused object can now be seen in sharp focus once the focus point has been set and the camera has quickly adjusted the focus.
Fix 5: Lock Auto Focus
There are two features built into the iPhone 15 and 15 Plus camera to make it easier to focus. These are Auto Focus and Auto Exposure. If your subject is outside the Auto Exposure/Anto Focus area of your iPhone settings, your shot will appear blurry.
When you take a shot, your iPhone automatically resets back to autofocus. Using this feature, you won't have the ability to make any further adjustments to focus or exposure. It is essential that you lock your iPhone's autofocus system if you want it to focus properly. To learn how, follow these steps.
You can focus the camera by tapping and holding your finger where you want it to be focused.
You should see the AE/AF Lock prompt at the top of the screen after holding the screen for a couple of seconds.
You're done! There is now a lock on both the focus and the exposure. Whatever changes happen to the scene or where the iPhone moves, the iPhone camera's focus remains the same.
Fix 6: Force Close the Camera App and Reopen It
When an iPhone 15 and 15 Plus camera fails to focus, force-closing the app can also be useful. Here are the steps you need to take;
You can see a preview of the apps that you've used by tapping the home button twice.
To find the camera app, swipe to the left
To close it, swipe up on it
If you're still having trouble with the iPhone's camera focus, try reopening the Camera app.
Fix 7: Update iPhone Software
If your iPhone 15 and 15 Plus camera has a focusing issue, an update may be the perfect solution. When your iPhone camera starts to lose focus, or your iPhone camera keeps refocusing after some software bug infects it, this is especially true. Afterward, you may want to check to see if there has been an Apple update released. Here are the steps you need to follow;
On your iOS device, open the Settings app and tap "General."
Select "Software Update"
After the process is complete, tap "Download and Install" if an update is available.
Fix 8: Reset All Settings (Data Loss)
To fix the iPhone 15 and 15 Plus camera not focusing, you can try resetting all settings on the iOS device if a software update doesn't work or isn't available. Everything in your phone will be wiped out, so you should create a backup before doing this since it is the easiest way to delete a setting that might affect your iPhone's focus. Here's how it's done;
Navigate to Settings > General
To erase all content and settings, select "Transfer or Reset iPhone."
Click "Continue" to continue.
Sum Up
So, that's how you can easily fix the iPhone 15 and 15 Plus camera not focusing issue. It's our hope that this guide has helped you. Until then, if you need more information, feel free to comment below.