Apple Ecosystem always offers something unique in terms of features. iPhone WiFi connectivity is one such attribute that offers easy linking with other network devices. There is a catch though. You must have you noticed, you turn off the WiFi from the Control center. However, later the WiFi turns on automatically and connects to a network(upon detection) that you saved earlier.
Some people may find it a bit annoying to see the Wi-Fi activating on its own. This causes battery drainage from the device. It is something that can be permanently turned off in the Settings app. The quick turn on/turn off you do from the Control Center is just to momentarily restrict connectivity. In this guide, we will talk about how to properly turn off the iPhone WiFi so that it doesn't activate on its own. Also, I have mentioned why this issue happens.? Some new Apple iPhone users think that it's some kind of bug. This is not a bug but a feature that is there to implement easy connectivity to the network.
Related | How to Disable the Reachability Gesture on the iPhone
Why iPhone WiFi Turns on Automatically.?
If you swipe down or up on your iPhone home screen and access control center, then you can see the WiFi widget. Simply tap on it to turn it on or off. Long press it to expand it and go to the WiFi settings if you want to make any changes in the network settings.
When you deactivate the WiFi from the control center, it only stays put for 24 hours. Then again the WiFi connects the next day on its own. It's a good thing that you do not have to repeatedly switch on then select the network to connect. Instant connection saves a few minutes of manual connection setup.
The moment you tap on the WiFi icon in Control Center to switch and turn it off you will see the message "Disconnecting Nearby WiFi Until Tomorrow". Check out the screenshot below from my iPhone.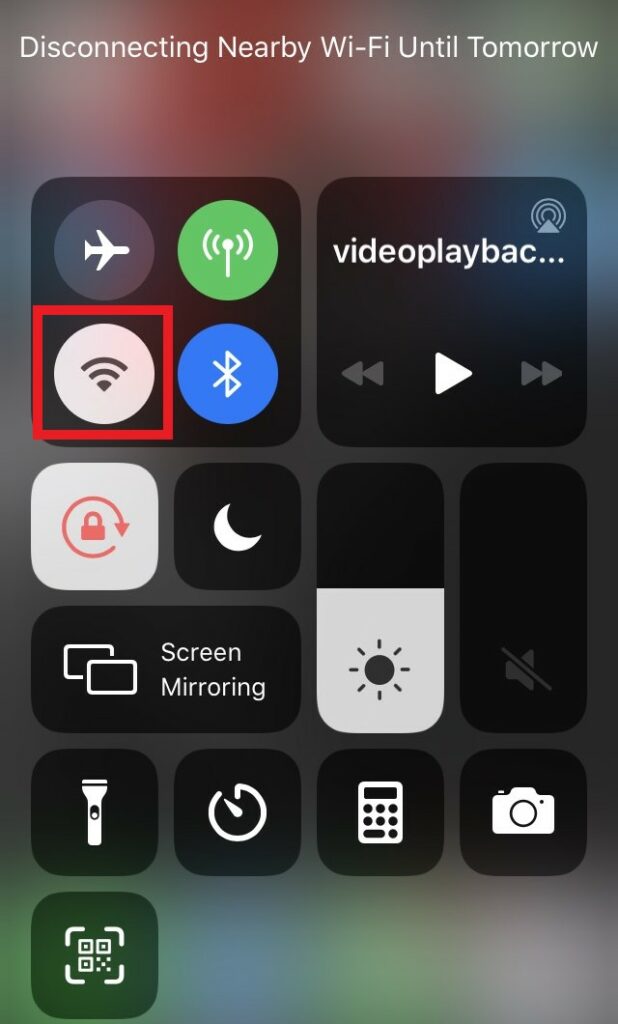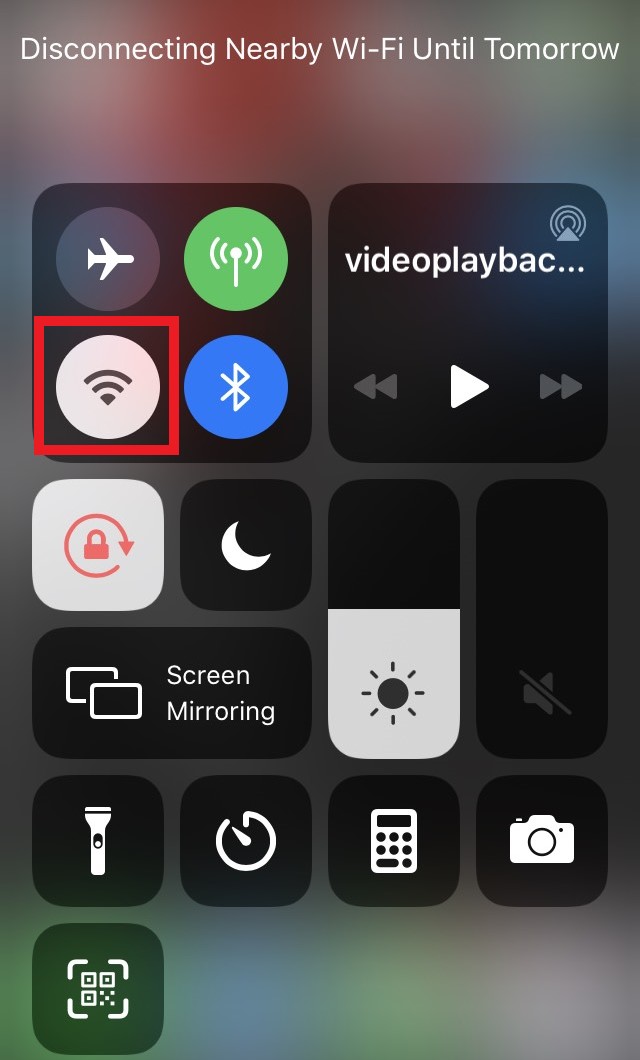 How to Fix the Issue.?
The simple way to make your iPhone WiFi stop connecting to a network is by disconnecting it from the Settings App. However, this trick is again shortlived. If you reboot your iPhone, move to a different location, or try to re-connect to the pre-saved network from the Control Center shortcut, then automatically connection will be re-established.
Go to Settings App
Tap on Wi-Fi to see the WiFi settings and all the previously saved networks.
You should see there is an option Wi-Fi with a toggle beside it. Tap on the toggle to grey it out/disable Wi-Fi.

As you turn off the Wi-Fi from Settings, all the settings and options will disappear.

Guide | How to Fix Apple Pay on your iPhone if it is Not Working
Alternative Method to Stop iPhone WiFi Connecting Automatically
There is another method to prevent automatic connection to any network. You have to forget/remove the network you have saved on your iPhone. The only downside is you have to re-connect to the networks with credentials every single time you genuinely wish to use the network. So, note down the password somewhere if you want to follow this method.
Open Settings App > Go to Wi-Fi
Tap on the blue i button beside the saved network you wish to forget
In the next screen, tap on Forget This Network

Confirm the decision by tapping Forget
Note
You can also disable the auto-join option under the connected Wi-Fi network setting.
So, that's all about the mystery surrounding the iPhone WiFi automatically connecting even though you disconnect it. Normally, this guide is for those users who are very careful about the battery usage of their device. Otherwise, a lot of people are cool with iPhone WiFi automatically connecting to the pre-saved networks.
Read Next,