After the release of the ZenFone 7 series the previous year, ASUS has finally unveiled their latest launch, the ASUS Zenfone 8 Series, for the global market. This series consists of two devices, the Zenfone 8 and the Zenfone 8 Flip, followed by the previous one. But this flip camera has raised concerns about the waterproof capabilities of ASUS ZenFone 8 and Zenpone 8 Flip devices.
Unlike with the preceding devices, ASUS seems to have a slight whirl in their approach this year, introducing the mini Zenfone 8 as a flagship and not exactly the Zenfone 8 Flip. Both devices again turn out to contain a powerful set of hardware and software. And as always, ASUS has once more done a great job with their battery backup as well.
Although we will be looking at their features in a little while, our major concern here is if the ASUS Zenfone 8 and 8 Flip does come with a water IP rating and waterproof protection or not. Besides, ASUS users look quite curious about these new launches. Hence, being waterproof would be a surprising element for the consumers too.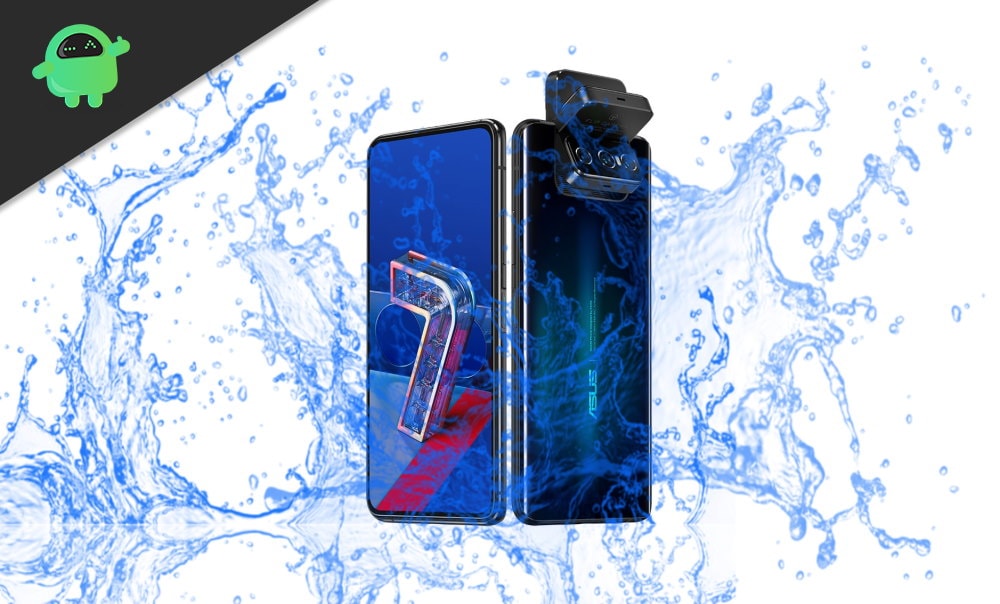 Is ASUS Zenfone 8 and Zenfone 8 Flip Waterproof devices
Before we actually debate about them being waterproof or not, let us first try to understand why there's such a clamour in the market for waterproof smartphones?
To begin with, users nowadays look for sustainability and durability over price. A waterproof smartphone assuredly comes out having the edge to survive over the worst climatic conditions. Due to an extra waterproof coating, these devices doubtlessly withstand underwater for longer time intervals. You can even use them in extreme conditions such as heavy rainfall, storm, or so. And most importantly, your phone won't be damaged due to accidents, which definitely adds life to waterproof smartphones.
Moreover, these devices also satisfy certain desires of the users, such as underwater photoshoots, recording videos, etc. This interminably increases the demand for waterproof smartphones in the market. To be more sure, if the ASUS Zenfone 8 and Zenphone 8 Flip are waterproof devices, we will see the results of our waterproof experiment on both these devices below.
ASUS Zenfone 8 and 8 Flip – Specifications
A Snapdragon 888 chipset powers both ASUS Zenfone 8 and 8 Flip. Additionally, both the devices run on Android 11, ZenUI 8. While the mini flagship comes with a 5.9 inch SUPER AMOLED display, which comes super compact for one-hand use, the Zenfone 8 Flip, on the other hand, features a 6.67 inches screen.
In terms of storage, the Zenfone 8 comes in 4 different variants: 128 GB + 6 GB RAM, 128 GB + 8 GB RAM, 256 GB + 8 GB RAM, and 256 GB + 16 GB RAM. The Zenfone 8 Flip features two variants: 128 GB + 8GB RAM and 256 GB + 8 GB RAM along with a dedicated microSD slot. Besides, the ASUS flagship also comes with an IP68 waterproof rating, which cannot be seen in the Zenfone 8 Flip.
Both devices have done great with their camera section as well. The flagship Zenfone 8 comes with a dual rare camera setup portraying a 64MP main camera + 12MP ultrawide lens. The selfie camera consists of a 12MP standard lens with dual pixel support. Conversely, the Zenfone 8 Flip features a triple camera setup. It contains a flip rotating camera featuring a 64MP main lens along with 8MP telephoto and a 12MP ultrawide lens.
Coming to the powerhouse of these devices, the Zenfone 8 is loaded with a 4000mAh battery. At the same time, the Zenfone 8 Flip features a 5000mAh battery backup, both in addition to a 30Watt fast charging support.
ASUS Zenfone 8 & 8 Flip Waterproof Test
As mentioned above, the Zenfone 8 comes with a waterproof IP rating. But the same cannot be found in the Zenfone 8 Flip, and this is most probably because of the flip rotating camera. However, in order to find their overall durability, we will perform a waterproof test on both devices to come up with a precise conclusion.
Well, after we went through all the tests on both these devices, we found amazing results in both cases. Zenfone 8, the mini flagship from ASUS, seems to withstand underwater comfortably for long enough to be considered as a waterproof device. However, it is not the same for the Zenfone 8 Flip.
Although it successfully passed the water splash test, it was not able to survive underwater for enough time. The device suffered serious damage, and the display and camera seem to be out of shape. Hence, it is proved that unlike the Zenfone 8, the 8 Flip is not a waterproof smartphone.
Conclusion
Finally, after examining both the devices carefully, we can say that Zenfone 8 is a truly waterproof device. Even though both the devices have their own perks, it seems like ASUS have reserved a few exceptional features for their flagship device. Therefore, as advice, we would say that you can go for either of these phones as per your requirement.
| | |
| --- | --- |
| Zenphone 8 | Waterproof IP68 rating |
| Zenphone 8 Flip | No waterproof |
If you choose on buying the Zenfone 8 Flip, make sure you are not mistaken with it being waterproof. Keep it at a distance from the water bodies or any extreme condition to avoid unwanted damage.