We all somehow find ourselves in a cage that we called home in this Covid-19 pandemic. But, one thing that we are doing right now is working from our home, and while working, we need a strong, powerful laptop. However, when talking about a powerful laptop, a good and decent monitor is very important these days.
Well, what's better than the Innocn Portable Monitor N2F? In this guide, we will discuss the new Innocn Portable Monitor N2F because I find many users are getting confused while choosing a monitor for their day-to-day life. So, if you are also looking for a portable monitor, then read this guide; before making any decision, read this dedicated guide.
Is Innocn Portable Monitor N2F Value For Money?
In this segment, we will discuss the key features, pricing, customers review, etc., of this monitor. So, make sure to stick with us till the end. Now, let's start with it.
This portable screen for your laptop has a Full HD resolution that has 1920 x 1080 pixels. Although the Innocn Portable Monitor N2F has an IPS screen, but it still delivers a 178° angle view. Also, you will get a brighter screen with 220nits along with an 800:1 contrast ratio.
However, not only that, but this will also offer an accurate and vivid image. Meanwhile, with the 60HZ refresh rate, you'll get to feel the game's real image or any content you want to watch perfectly and quickly. In addition, you'll also like the blue light filter technology because it will keep your eyes from tired that will automatically be enabled while you are in the low light environment.
Features: Why You Need To Choose Innoc?
There are many features that have the Innocn Portable Monitor N2F has. But, did you know about them? Well, if not, then you can check them out below:
More Connectivity Choice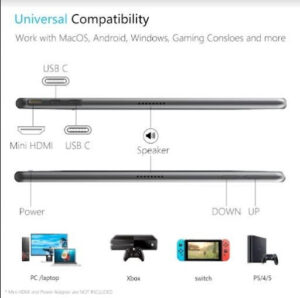 You can use this monitor with your PCs, laptop, PlayStation, Xbox One/S/X, Wii, or Nintendo Switch, etc. because you will get each port that you need in this monitor from HDMI to USB C.
Restore real colors
The Full HD IPS display has a 60Hz refresh rate along with the 1920*1080 resolution that too with contrast Ratio: 800: 1. Trust me; this will show you a better video streaming experience.
2in1 Smart Cover
Now, the most discussed feature is the magnetic smart case that is made with an advanced PU material. So, now you do not have to worry about dropping the monitor because it is slip-proof, scratch-proof, dustproof, as well as waterproof. You'll also get a foldable and adjustable smart stand so that you can adjust the viewing and typing position for your comfort.
Ultra Slim & Ultra-Portable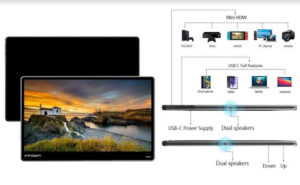 You can literally carry this monitor anywhere because this portable travel monitor has a very slim and lightweight design with a weight of about 2.18lb and 0.37″ profile, so you can carry this in your laptop back and use it while you are traveling.
Built-in Stereo Speaker
This Innocn Portable Monitor N2F monitor is equipped with an advanced built-in stereo speaker so that now you do not need to worry about your entertainment anywhere.
What is The Pricing if N2F Monitor?
Talking about the pricing, then you will get this product at just $189, but if you can use the coupon code N2F2022NC, then you will get extra $38 off.
Is It Really Worth Your Money?
Well, now we are here with our final segment, the most important question is whether you have to go with this portable monitor. In our opinion, you must go for it as it features everything that you need from a portable monitor to connectivity to a built-in stereo speaker everything.
So, that's all we have for you on Innocn Portable Monitor N2F. We hope now you have decided that you want this monitor for your desktop or not. For further queries, you can visit their official website.