Are you looking for a portable monitor that gives you more features without making your pocket lose? Then, Innocn Travel Monitor N1F pro is the best choice for you.
The Innocn Travel Monitor N1F pro portable monitor can be the best choice for mobile work solution or even a laptop setup. It's a great way to glorify your laptop screen or scale up a mobile device. So, having the right features can both extend productivity and enhance your entertainment experience.
In this article, we will break down the Innocn Travel Monitor N1F Pro portable monitor that whether this is a great choice for you or not. Therefore, if somehow you are thinking of buying this product, then read this guide until the end.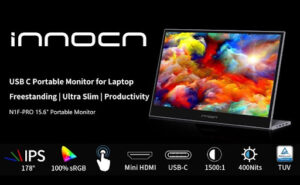 Is Innocn Travel Monitor N1F Pro Worth Its Value?
This segment will discuss the key features, pricing, customers review, etc., of the Innocn Travel monitor N1F Pro. So, make sure to stick with us till the end. Now, let's start with it.
This portable screen for your laptop has a Full HD resolution that has 1080P pixels. Although the Innocn Travel Monitor N1F Pro has an anti-glare IPS screen, but it still delivers a 178° angle view. Also, you will get a brighter screen with Brightness(Max)- 420±20 cd/㎡ along with a 1500:1 contrast ratio.
However, not only that, but this will also offer an accurate and vivid image. Meanwhile, with the 60HZ refresh rate, you'll get to feel the game's real image or any content you want to watch perfectly and quickly. In addition, you'll also like the blue light filter technology because it will keep your eyes from tired that will automatically be enabled while you are in the low light environment.
Features of Innocn Travel Monitor N1F Pro
So, here are some features for which the Innocn Travel Monitor N1F Pro is known for. Therefore, before buying this monitor, make sure to check out its specification mentioned below.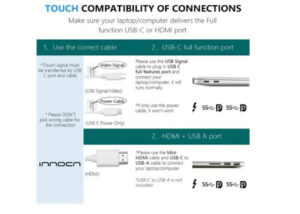 Abundant Connectivity Choice
It is a top-class product that can easily be compatible with any device such as mobile, laptops, PSc, Tablets, PlayStation, Xbox One/S/X, Wii, etc. It has almost every port that is currently used on the market. Yes, this monitor supports different ports from HDMI to USB C.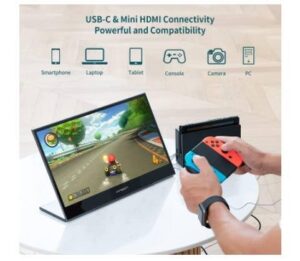 Restore real colors
The Full HD IPS display has a 60Hz refresh rate along with the 1920*1080 resolution that too with contrast Ratio: 1500: 1. Trust me; this will show you a better video streaming experience.
Integrated 180° Adjustable Kickstand
This device also comes with a foldable and adjustable smart stand so that you can adjust the viewing and typing position for your comfort. In addition, you can rotate this stand freely up to 180 degrees for a better viewing and typing angle.
Plug and Play Portable Monitor
This portable monitor has a USB C connectivity support along with a built-in chargeable which is designed for portability.
Built-in Stereo Speaker
This Innocn Travel Monitor N1F Pro is equipped with an advanced built-in stereo speaker so that now you do not require to worry about your entertainment anywhere.
What is The Pricing of The N1F Monitor?
Talking about the pricing, you will get this product at just $212.49, but if you can use the coupon code N1F20INC, you will get an extra $50 off.
Is It Worth Buying?
Well, of course, this is the best monitors in its segment. However, there is no doubt that it is worth buying and what you can get at this price as it features everything that you need from a portable monitor from connectivity to a built-in stereo speaker everything.
So that's all we have for you on whether you can buy the Innocn Travel Monitor N1F Pro or not. We assume that now you have decided that whether you have to go with this product or not.