When it comes to selecting the best in class and perfect gaming headphones, it's not always easy to choose one. In this article, I have the EKSA E3Z Air Joy Plus headphones, a 7.1 surround sound gaming head that is very lightweight and supports all the platforms like Microsoft, PS4, MacBook, PS5, Xbox, Nintendo Switch, etc.
So, if you search for a gaming headphone for gaming on your PC or PS4 or Nintendo Switch or gaming headphone for Android, make sure to read this dedicated guide till the end because we have described some of the great features of this amazing headphone. In addition, we will also give our recommendation at the end of this article on whether you should buy this or not. So, let's get started with it.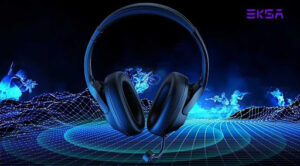 Is It Worth Buy EKSA E3Z Air Joy Plus headphones?
Are you a gaming freak and searching for something new in the headphone category? If yes, then this guide will help you as here we have reviewed one of the best headphones available in the market, i.e., EKSA E3Z Air Joy Plus. So, make sure to read till the end.
What Are The Best Features of EKSA E3Z Air Joy Plus Headphones?
So, here are some of the best features of the EKSA E3Z Air Joy Plus headphones. Therefore, carefully check them out if you are really serious and want to buy this piece.
#1. Ultra-Light: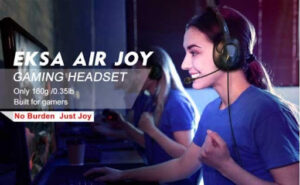 It is very comfortable to wear as the weight of this headphone is just about 160g which is equivalent to a smartphone. Therefore, after using it for long hours, you do not feel bothered due to its weight.
#2. Stereo Sound:

In this era, everyone wants and almost has the stereo 7.1 surround sound system on their home theater or headphones. With the EKSA E3Z Air Joy Plus headphones, you will get a classic and crystal clear sound quality that is really good for those who are going to use these headphones for playing games.
#3. Multi-Platform Compatible:

Now, this is something that we really need to talk about because, in today's world, everyone wants vast compatibility. That's why EKSA's this headphone will be compatible with the PS5 and PS4 controller, Xbox Series X, and Xbox One Controller, including a 3.5mm cable, using which you can use this headphone with your mobile device. In addition, this headphone comes with Advanced ENC Technology.
#4. Comfortable Wearing Experience:
You can spread these headphones on your shoulders without nipping your neck as this comes with a 120° horizontal along with the 10cm vertical two-way headset angle adjustable. You can also rotate it 90 degrees inward and 30 degrees outward direction. However, if you want to take off these headphones, then simply you can fit them on your neck, or we say collarbone, and due to its lightweight, you do not feel the pressure on your neck.
Should You Buy EKSA E3Z Air Joy Plus Headphones For Gaming?
I will surely suggest you get this one because I personally use these headphones for gaming if you ask us. But, again, it totally depends on you what type of sound quality do you like. So, I'll recommend you first to read the genuine review of users from different platforms and then decide whether you like it or not.
What Is The Pricing of EKSA E3Z Air Joy Plus Headphone?
Well, talking about the pricing of this product, then you will get this product for around $31. But, if you use the EKSAYUKY10 coupon code while purchasing this product from the official website, you'll get an extra 15% discount on this product.
Conclusion
So, that's all we have for you on whether spending your hard-earned money to buy these headphones is worth it or not. We hope that this review guide has helped you. Comment below for more information regarding deals and offers on the EKSA E3Z Air Joy Plus Headphone.