Xiaomi has recently launched their latest note series smartphone, the Note 11 series. However, the launch was only exclusive to China through a special event. But we can expect the phone to other markets very soon. The Pro and Pro+ phones feature a Dimensity 920 5G chipset. While the nonpro Note 11 features a Dimensity 810 5G chipset. Another key difference is that the nonpro version only has an IPS LCD display, whereas the Pro and the Pro+ variants have AMOLED displays with a 120Hz refresh rate.
To consider a phone as waterproof, it should at least have an IPX7 or IPX8 rating. This IP rating or Ingress protection rating determines how waterproof or water-resistant your smartphone is. Usually, the device manufacturer would give these specs as a part of the full phone specification sheet. Although usually if there is no IP rating for your phone on the official website, then it means the phone is not water-resistant or waterproof. Because, if your device has a waterproof feature, then your manufacturer will be very proud to display it on the spec sheet. This provides a selling point for the smartphone. But usually, if it's not there, then it means that the manufacturer did not care to test your smartphone to arrive at an IP rating for your phone.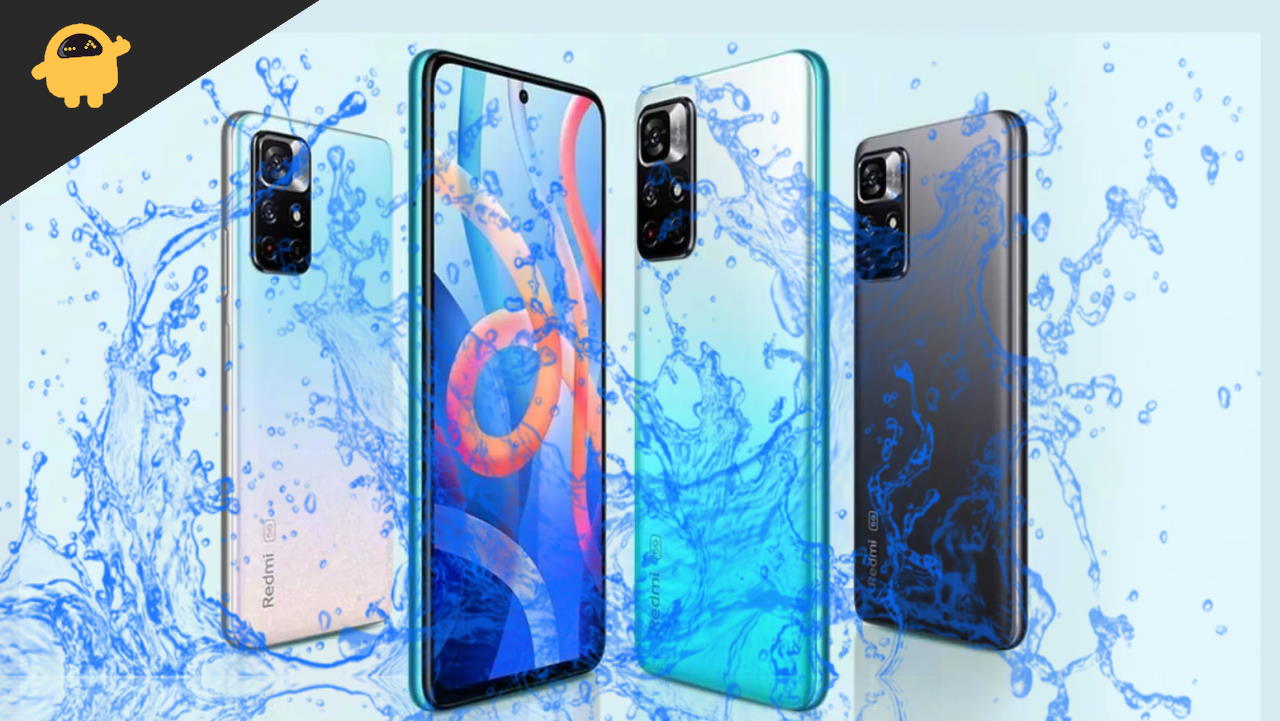 Are Xiaomi Redmi Note 11, Note 11 Pro, and 11 Pro+ Waterproof Smartphones
An IP68 phone could withstand water immersions of 1.5m to 2m for up to 30 minutes. This rating is enough to consider a phone waterproof. Although usually the depth of water will be specified by the manufacturer. Sometimes most of the devices will come with only an IP67 rating. That rating is also considered as "fairly" waterproof. Anything below that is not fit for use with water.
If you look at the spec sheet, you will be amazed to find out that there are no clear signs of any IP ratings officially for the Xiaomi Redmi Note 11, Note 11 Pro, and 11 Pro+ devices. All of the devices come with an IP53 rating for basic dust and water resistance. This means the phone is not waterproof or even water-resistant in that regard. It's just capable of giving protection against water splashes and dust.
This means the phone should hopefully survive if you accidentally drop it into a pool or something similar. Provided that you take it out as soon as possible and dry it very thoroughly. Whereas for small occasions like getting wet in rain, you should be extremely cautious. Because it can withstand only up to a certain level.
Note: Not to be confused with the Mi 11 Ultra smartphone, which has an IP68 rating.
Conclusion
As you can see, the Xiaomi Redmi Note 11, Note 11 Pro, and 11 Pro+ phones are waterproof phones by specifications. Although, as mentioned already, the phones do come with an IP53 rating. Hence it should be capable of giving your some basic protection against water splashed. We do not encourage you to use your phone in rain or anywhere there are chances of getting water damage.