For those of you who are not as tech-savvy, Jailbreaking is a method by which one removes certain restrictions in iOS, and allows root access to the iOS file system. This enables you to be able to run codes or software on it that has not yet been approved by Apple. The process usually involves an unofficial app, such as Cydia being installed that enables you to easily install Jailbreak apps, tweaks, and themes that are not officially available through Apple's App Store. This allows users to work with otherwise restricted software and customizations on their devices. Today we will Jailbreak an iPhone using Unc0ver.
You can see why Jailbreaking has always been a tenaciously pursued activity among hackers and techies out there. Recently, a hacking group known as Unc0ver released a new tool to hack Apple's freshly released iOS 13.5. In this guide, we will be navigating you through the steps to Jailbreaking iOS 13.5 using Unc0ver. Moreover, Unc0ver can be used to Jailbreak any iPhone that is running on iOS 13.5. So let's get started with our Jailbreak guide.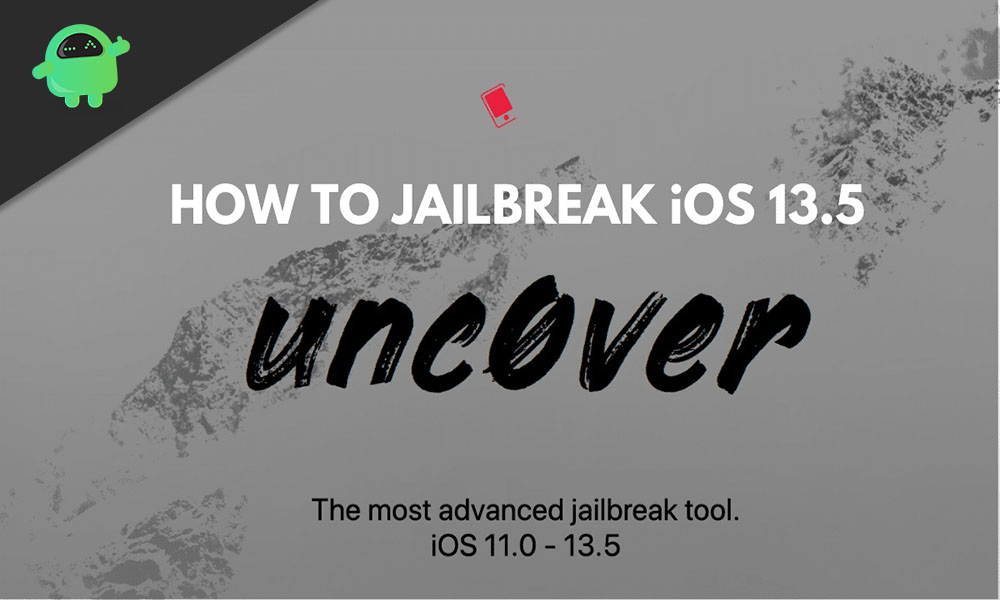 How to Jailbreak iOS 13.5 using Unc0ver?
Before you get on to Jailbreak the iOS device, you have to keep few points in mind.
After Jailbreak, your warranty is now Void.
We at GetDroidTips are not responsible for any mishaps or bricked iPhones.
You have to use Unc0ver 5.0.o to Jailbreak any iPhone or iPad running iOS 13.5.
Now you know the risks associated with Jailbreak, so you are ready to Jailbreak your iOS device. But before that, let's get to the prerequisites.
Prerequisites:
An iMac or a Macbook with AltServer installed. AltServer for Windows is still in Beta format.
You have to delete all the existing iOS 13 update files present on your iPhone.
Create a back-up of all the necessary data of your iPhone or iPad in any local storage or cloud.
After this, let's Jailbreak!
Jailbreak using Unc0ver
Here are the steps you need to follow in order to Jailbreak your iPhone:
Open up Safari and type io in the navigation bar. Hit Enter, and you will be taken to the AltStore, which in turn will allow you to install the Jailbreak.
Click on "MacOS" and click "Allow" when prompted. This will download the application to your Downloads folder.
From there, drag the AltStore app to the "Applications" folder and double-click on the AltStore there. Click "Open." You won't actually see anything open up, but the AltStore will be visible on the menu bar above.
Click on the AltStore icon in the menu bar, and select "Install Mail Plug-In."
Click "Install Plug-In" and enter your password. Then click "OK" when it's done.
Open the Mail app and go to the menu bar and select "Mail Preferences."
On the General tab, click "Manage plugins" and enable the AltStore plugin. Select "Apply and Restart Mail."
Close the Mail app, and connect your iPhone to your Mac using a USB cable.
With your iPhone running and connected, go back to your Mac and open your Finder window.
You should see your iPhone device listed under "Locations." Select it and click "Trust," and you'll see a window asking you to do the same on your iPhone. Confirm it, in case you didn't do it previously.
Put in your passcode and close the Finder window.
Go to Settings in your iPhone, and in the About section, confirm that you are running iOS 13.5.
In the menu bar, click on the Altstore icon, then choose "Install Altstore" and click on your iPhone. Enter your Apple ID and password and click "Continue."
Wait for the installation to complete, and you'll see the AltStore on your iPhone. Open it up and tap on Cancel if you get the "Untrusted Developer" warning.
Go to Settings > General > Device Management and tap your Apple ID. Click "Trust."
Go to the AltStore and allow notifications if you wish.
Open up Safari and navigate to unc0ver.dev ,and below the Download button, you will see an option to "Open in AltStore." Click that and select "Open." This will make AltStore download the Unc0ver Jailbreak tool for you.
Enter your Apple ID and password when asked, and sign in. Tap "Got It," and wait for the process to be completed. You'll see the Unc0ver Jailbreak tool in the AltStore when it's done.
Tap on "7 Days". The Unc0ver tool will now be visible among your iPhone's apps.
Open it up and tap on "Jailbreak." Wait until you get the "Jailbreak Completed," and click "OK" for your iPhone to be rebooted.
When the reboot is done, open the Unc0ver again and select "Jailbreak" once more. Wait for it to be completed, and then click "OK."
After the reboot is completed once again, you'll see Cydia among your iPhone's apps, all ready for you to use.
Update the app and have a great time exploring all of its features.
We hope our guide helps you to Jailbreak iOS 13.5 using Unc0ver. GetDroidTips works seamlessly for you people day and night to offer the best iPhone Tips and Tricks, PC tips and tricks, Games and Android Tips and Tricks. So it does become your task to subscribe to our YouTube Channel. Moreover, there, the benefit is yours. We are offering a $150 giveaway contest for all our subscribers who watches our videos there. Now signing off here, to prepare another best guide for you. You can also comment down below with your feedback and queries with your name and e-mail ID, and we will love to help.