Jailbreaking into Apple iPhone has always been a complicated process. But thankfully with the new Checkra1n support on Android device, you can Jailbreak iPhone with your Android device. Apple obviously doesn't want developers to jailbreak their iPhones, so they patch all jailbreaking methods quickly. So now the new iPhones are much harder to jailbreak. But with the new support of Checkra1n script, you can easily Jailbreak your iPhone with an Android smartphone.
The new way of jailbreaking iPhone with Android was discovered and tested by Reddit user Stblr, who made it public in the tech world. You can use a terminal app on your rooted device to run a checkra1n script. And honestly, it's one of the easiest ways to jailbreak your iPhone. And all iPhone from iPhone 5S to iPhone X can use this hack to jailbreak method.
Checkra1n scripts work with the Device Firmware Upgrade (DFU) mode which was originally designed for software updates for iPhone. The jailbreak sets until you reboot your device. However it is a great way to portably jailbreak your iPhone since Android phones are smaller than laptops, and this method is easy as well. And since this Jailbreak works on USB exploit, you need to keep a really good quality USB and lightning cable pairs to make this work on your device. And the great part is, if it goes wrong during Jailbreaking, you can fix it with a simple reboot!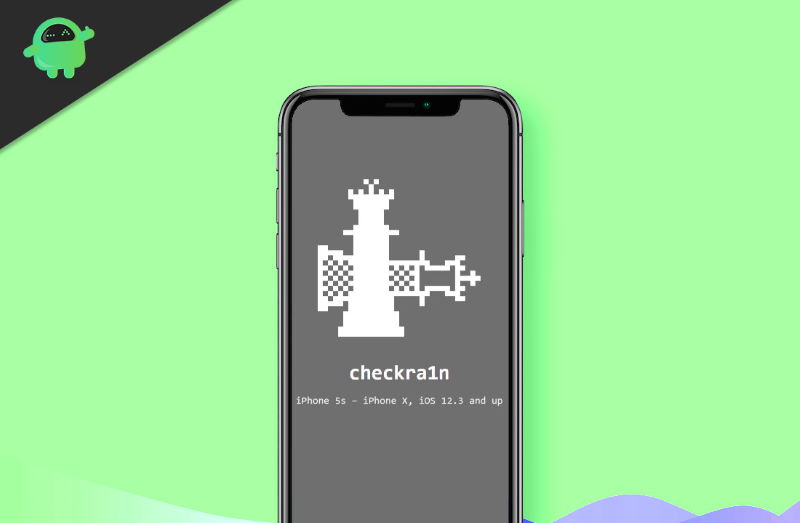 What Is JailBreaking
It is a process that enables superuser access to a user into an iPhone. We can put this together with the rooting process(in Android). Jailbreaking allows you to run certain apps that you would not find on the app store. Also, as in this case, we can run the Android OS on the iPhone. The primary motive is expanding the scope of customization on iOS. As compared to Android OS, iOS is very limited to the scope of open source customization. It can also be used to make an iPhone independent of any specific tele-carrier.
There are possible negative aspects of jailbreak as well. Someone may perform a jailbreak to install malware into the device. Getting a jailbreak done can also void the warranty of the iPhone.
Keep in mind that Apple disapproves of getting a jailbreak done on any of the iPhones. Your device may be denied service at any authorized service center.
Checkra1n For iOS jailbreaking
Checkra1n is one jailbreak solution among many others. It's available for a wide variety of Apple hardware and it uses an exploit to target BOOT ROM files. Since Apple keeps updating or patching all vulnerabilities in iOS, it is easy to use Checkra1n script as it deals with BOOT ROM files. Checkra1n uses Device Firmware Upgrade (DFU) mode to exploit and install Jailbreaking scripts. However, there is one catch that this jailbreak method is a semi-tethered jailbreak. This means that you need to jailbreak every time you reboot your device.
Checkra1n exploits the DFU BUS bugs to bypass the security and install a jailbreaking rootkit. And any device running a Linux terminal can use this exploit to jailbreak iPhone. So this means you can use your Android smartphone to pass Checkra1n jailbreaking rootkit using a terminal app. Since Checkra1n uses some dirty tricks to interrupt and bypass USB transfers, you need to have root access to over jack Android's USB stack. So a rooted device is a must for this process.
How To JailBreak Your iPhone with Android with Checkra1n
Jailbreaking your iPhone is an easy process with Checkra1n. Earlier it was only possible with Mac-based computers. However, with the new update, you can use any Linux based machine. And since Android runs on Linux architecture, you can use it to jailbreak your device.
Prerequisites
You need to have a rooted smartphone
Good quality USB cable for data transfer
Magisk installed on the device
Take a complete backup of iPhone
Charge your iPhone's battery upto 50% at least
Life-insurance, incase this don't work and you go crazy
Downloads
Steps to JailBreak Your iPhone with Android using Checkra1n
Jailbreaking is a long process, so we have cut it short into multiple parts. Down below are steps to jailbreak your iPhone using an Android device (root).
Warning
GetdroidTips do not take any responsibility for any kind of damage to your device after following this guide. This is for educational/informational purpose only. Changing/modding System or Boot files on iPhone can result in a dead iPhone. So make sure you know what you're doing. You have been warned!
Step1: Getting ready
Download the Checkra1n Binary File according to your device CPU type and save it in a folder. Now open the root browser and navigate to /data/data/com.termux/files/home path.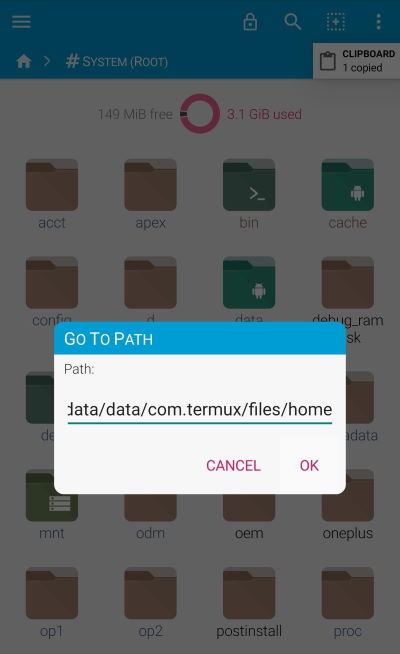 Here copypaste the new Checkra1n Binary File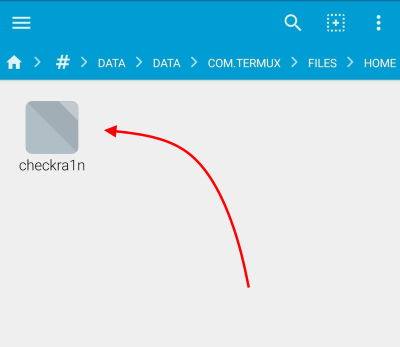 Now you are set for the next step.
Step2: Setting up Terminal
Download and open the Termux app. And type command "SU"
su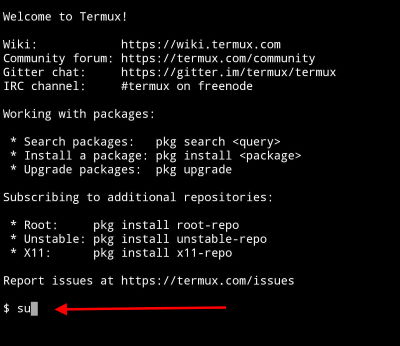 Grant superuser permission to continue.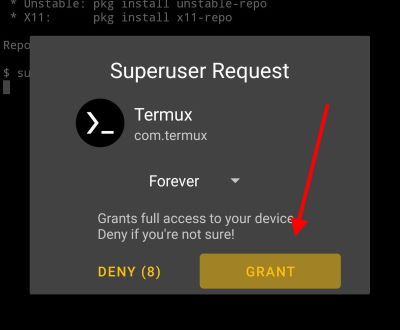 After a successful terminal setup, you're ready to go.
Step3: Start DFU Mode
It is important to boot your iPhone in DFU Mode in order to jailbreak it. here is a quick guide to doing that.
Turn off your iPhone completely by pressing power + home button for 10 seconds
Now hold the power button and volume down button for 5 seconds. Release power button but don't release the volume down button for the next 10 seconds.
This will turn your iPhone into DFU Mode. The screen will remain blank if properly done.
Step4: Setting up Checkra1n
Checkra1n is the most important script which we are going to use in this method. So follow this step carefully.
Connect your iPhone to your rooted android device. Now open Termux app and type "lsusb" command
lsusb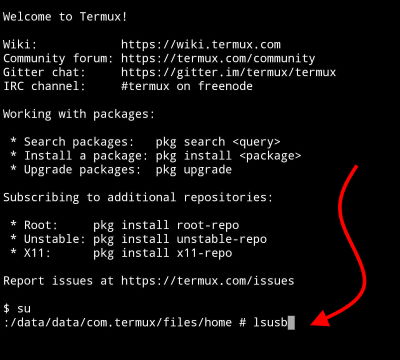 Run the command and wait for results. It will show multiple BUS device IDs.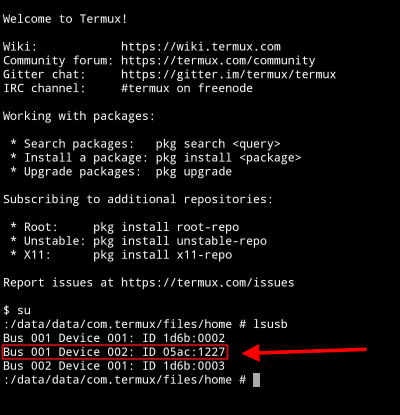 If your iPhone is successfully connected with android then it will show up with "05ac:1227" ID.
Step5: Running Checkra1n script
Now everything is setup and now you can finally Jailbreak your iPhone with Android using the new Checkra1n script method. Follow these step by step method.
Enter "chmod +x checkra1n" to allow Termux to run Checkra1n jailbreak kit in the terminal environment.
chmod +x checkra1n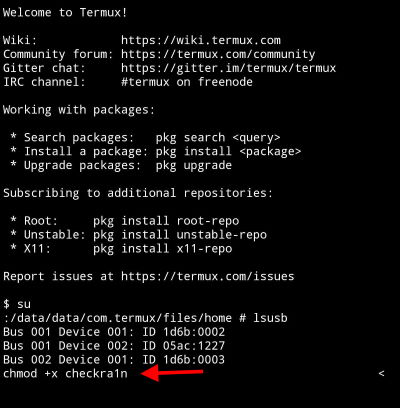 Enter "./checkra1n -c" command to run the jalbreak script.
./checkra1n -c./checkra1n -c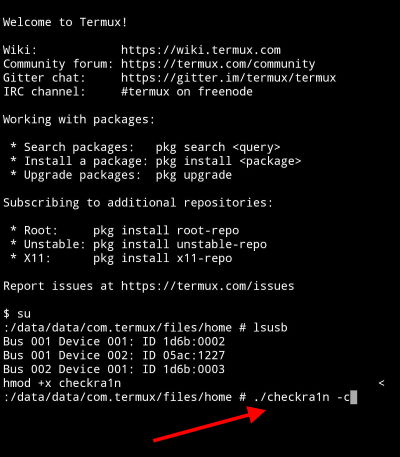 Wait for a few minutes until the code is executed successfully.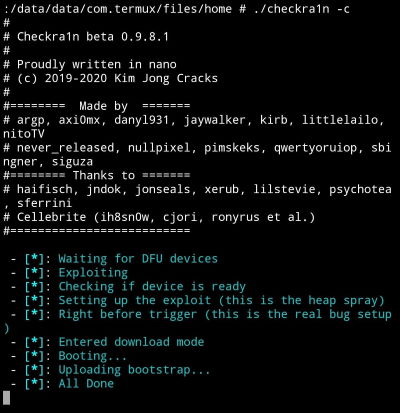 After successful jailbreak, you will see something like this. And your iPhone will boot up simultaneously.
Step6: Installing Cydia
Now after successful run of Checkra1n script, your iPhone will boot up. And you will be able to see Checkra1n app.
Click on Checkra1n app icon.
It will redirect you to Cydia loader menu. Click on Cydia.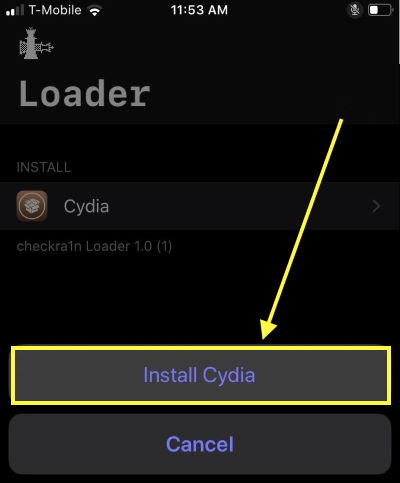 Now hit "Install Cydia" option and wait for few minutes until Cydia is installed on your device.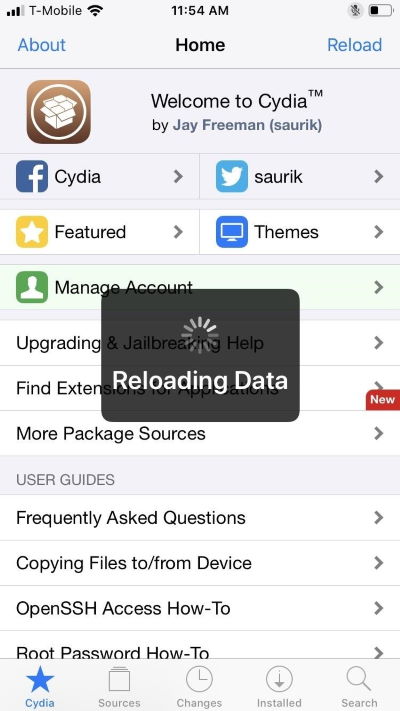 And hurray, your iPhone is jailbroken now.
Checkra1n iOS Jailbreak – FAQ (Frequently Asked Questions)
I'm sure you will be having various troubles while following this procedure. This Jailbreaking method is still in the beta phase and there might be complications. Go through these FAQs to understand better.
How to choose CPU Architecture while downloading Checkra1n binary file?
You can refer device specification website for this info. Most new Android smartphones are coming with ARM64 architecture. However, if you are using an old tablet device then it might be x86/64 architecture.
Do I need a rooted smartphone?
Yes, this method requires Checkra1n to manipulate your device's USB bus transfer service. So root permission is required. If your device is not rooted, you can follow our guide on how to root an Android device.
I'm not able to connect my iPhone to Android?
You will need a good quality OTG adapter and lightning cable. Most third party lightning cable don't have extra pins which support DFU Mode transfer. So make sure you have Original cable. Or you can use Exsys EX-47990 USB-C to USB-A adapter and the Apple USB-A to Lightning cable.
I'm not able to see USB ID of "05ac:1227" in Termux?
This is because your iPhone is not in DFU Mode. We have a separate guide on how to boot iPhone in DFU Mode, you can read that.
I'm facing USB ERROR -76 while running Checkra1n script?
This usually happens when your iPhone is not connected properly. Connect your device properly and start the process again.
I'm facing USB ERROR -21 while running Checkra1n script?
This usually happens when your iPhone is not connected properly. Connect your device properly and start the process again.
I want to revert back my iPhone into no-jailbreak mode!
This is a semi-tethered jailbreak. Which means you can get rid of jailbreak with a simple reboot.
After reboot, I don't have jailbreak services, why?
This is a semi-tethered jailbreak. So all the jailbreak services will stop after you reboot. And you need to re-do the jailbreaking process again.
Conclusion
The new Checkra1n jailbreak method is also known as a semi-tethered jailbreak. So it will go away after you reboot your iPhone. It's not a major issue, but its something you need to keep in mind. There are other jailbreaking methods. Such as the Unc0ver Jailbreak method which is widely popular. However, all these methods get patched by Apple in their security updates.
However, the new Checkra1n method is easy to use and probably will not be fixed by Apple very soon. And keeping an Android phone to jailbreak your iPhone is much easier than roaming around a laptop. Anyways, I hope you have understood the process of jailbreaking your iPhone with Android. In case you have a question, please go through our FAQ section. And if still in don't, you can comment down below. We are always happy to help :)