With the announcement of iOS 17 at the latest WWDDC event for 2023, Apple has finally introduced some new features that are grabbing people's attention. As we eagerly wait for the release of iOS 17 for general users like you and me, developers are currently trying to get jailbreak access on the latest iOS 17 operating system. Since Jailbreaking allows users to gain more hardware control of the device and can unlock much more customization options, and can install unauthorized apps and tweaks, users are wondering whether Can We Jailbreak iOS 17? Today in this guide, we will share the latest news about Jailbreaking the latest iOS 17 system and possible updates toward a successful jailbreak method.
Jailbreaking an iPhone is a fun process, and in return, you get a device with unlocked possibilities for both hardware and software. Many users have already jailbroken their iPhones with the latest iOS 17 and will share the methods to do the same for the general public. Since Jailbreaking gives a lot of customizable options to the general public, it makes sense to go with the process. However, jailbreaking your device will void its warranty and can even bring a plethora of software or hardware issues. Down below, we are sharing a list of progress that has been made in the developer community regarding the iOS 17 jailbreaking methods.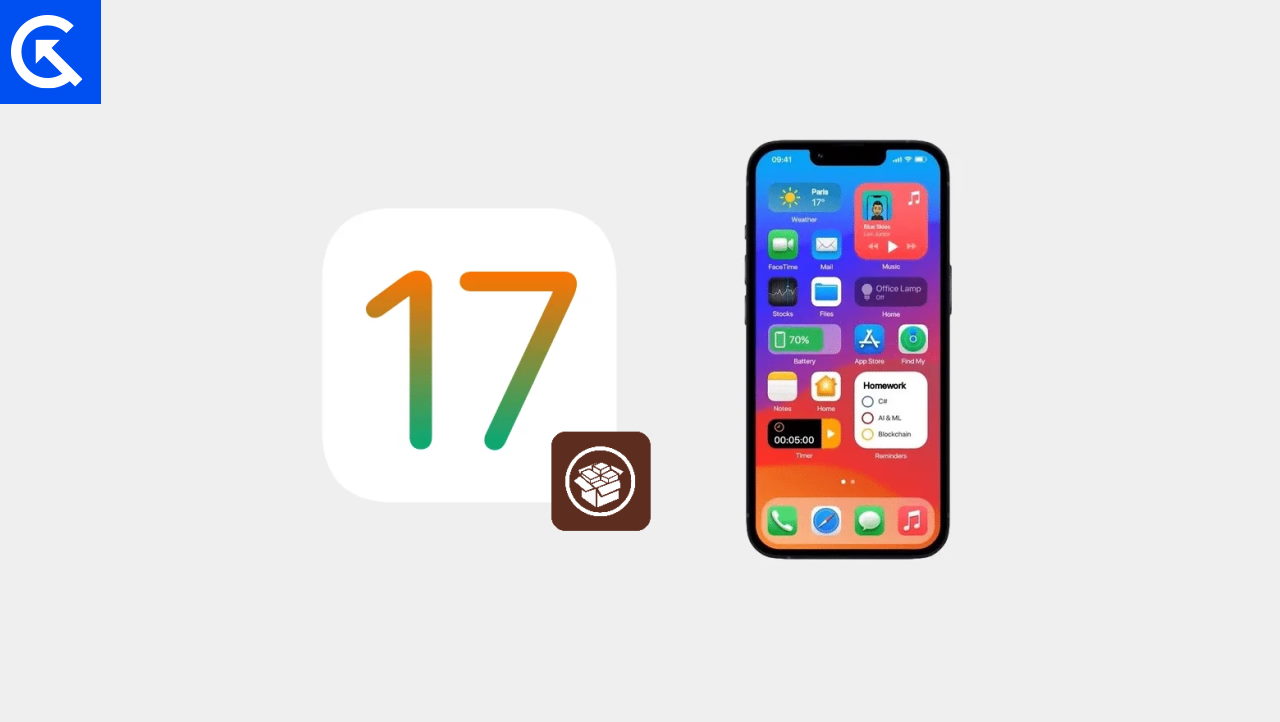 Can We Jailbreak iOS 17? – What We Know So Far
Jailbreaking isn't a difficult task as long as you have the correct methods and available tools. However, in recent years, Apple has made it increasingly difficult to Jailbreak devices to protect people's interests. Jailbreak can leave your device vulnerable to many attacks and can even make your device unstable.
Additionally, jailbreaking may become more challenging as Apple continuously improves its security measures. But there are multiple benefits of Jailbreaking which gives you a large number of customization options and the ability to install unauthorized apps, which is what motivates most people to jailbreak their iOS 17 devices.
iOS 17 Release Date and Device Compatibility
According to Apple WWDC 2023 event, iOS 17 is excited to b released for the general public in September 2023, along with the launch of the new iPhone 15. However, Apple has already released the developer or beta version of iOS 17 for early adopters. This helps developers to test their apps and ensure compatibility with the new operating system.
It's important to note that Apple has a history of dropping support for older devices with each new iOS release. For iOS 17, it appears that devices running on Apple's A11 Bionic chip or older, including the iPhone 8, iPhone 8 Plus, and iPhone X, will not be compatible with the new operating system. This means that users with these devices will not be able to update to iOS 17 and, consequently, will not be able to jailbreak it. However, they may Jailbreak their current iOS software version with the available methods.
Jailbreak Solutions for iOS 17 – What We Know So Far
Jailbreaking can be a dangerous process, and ultimately, it should be made only after considering potential risks and benefits. It's better to stay updated with reliable resources from the Jailbreaking community for the latest information about iOS 17 jailbreaking procedures. Below are some methods that are currently in test with positive results.
Jailbreaking can void your device's warranty, expose it to security risks, and potentially cause instability or compatibility issues. GetDroidTips will not be responsible for possible software or hardware damage on your iPhone/iPad by following the below Jailbreaking methods.
This article is based on information available as of June 14, 2023, and the jailbreak solutions for iOS 17 mentioned may evolve or change over time. Always exercise caution and do thorough research before attempting to jailbreak any device.
Checkra1n Mirror
Cheeckra1n is quite a popular iOS jailbreaking tool which recently announced its support for iOS 17 as well. Checkrain Mirror uses a slightly different method to install Cydia. To perform the jailbreak using Checkrain Mirror, you need to generate a Checkrain mirror code using the CodeGen application that comes with the Checkrain mirror. This code allows you to run the Checkrain mirror exploit and install the Cydia Client version. Currently, the Checkra1n Mirror method is tested on iPhone 12 Pro Max, iPhone XS, and iPad 6th Generation, all running iOS 17 Beta 01 with promising results.
Tig Xingo Jailbreak
Tig Xingo is a recently released jailbreak tool specifically designed for iOS 17. It has been tested on devices like the iPhone 14 Pro Max and iPad 10th generation, both running iOS 17 Developer Beta, and has successfully jailbroken these devices. Tig Xingo enables users to customize their devices, install third-party apps, hacked games, emulators, and more. It supports the installation of Cydia Lite and Sileo Lite, along with various compatible tweaks.
Fugu17
Fugu17 is a brand new script in the market claiming to be a solution for iOS 17 jailbreaking needs. It is worth noting that the initial Fugu jailbreak tool is not compatible with iOS versions beyond 15.4.1. While Fugu works as a perma-signed jailbreak tool for iOS 13 to iOS 15.4.1 with support for Sileo, users of the latest iOS version need to explore alternative methods. In response to this, Fugu17 has been released as a fresh jailbreak solution specifically designed for iOS 17 devices.
Corellium X
Corellium also launched its virtual jailbreak solution with confirmed IOS 17 jailbreaking needs. Corellium X is a web-based virtual jailbreak that provides users with the option to install Cydia and Sileo package managers, albeit with limited functionality. The Corellium X script was tested on several devices running iOS 17, including the iPhone 14 Plus, iPhone 11, and iPad 6. During testing, it was successfully possible to install Cydia Lite, Sileo Lite, and Cydia 2 as alternatives to the standard Cydia package manager, making it the perfect and say way to jailbreak iOS 17.
Reposi Repo Extractor
Reposi is another tested and verified iOS 17 jailbreak solution. It is a comprehensive repo extractor with a vast database that is regularly updated. During testing, Reposi successfully installed apps like Palera1n virtual, Angry Birds 2 Hacked, Spotify++, and ChatGPT Siri Shortcut on devices running iOS 17 Developer Beta. No freezing or device slowdown issues were reported, and the installation of the Reposi app did not negatively affect battery life.
Palera1n
Palera1n Virtual jailbreak presents itself as another solution for jailbreaking iOS 17 on A12+ devices. This method operates through a terminal and utilizes an IPSW key. Palera1n profile is successfully tested on an iPhone 11 and an iPhone 12, both running iOS 17 beta 1. The Palera1n Virtual jailbreak process executed smoothly on both iPhones. Furthermore, we conducted tests on an iPad Air 4th Generation and an iPad Pro 3rd Generation, both running iPadOS 17 beta 1, without encountering any issues.
Sileem Repo Extractor
Sileem Repo Extractor, known for its compatibility with iOS 16 and higher, has been upgraded to support iOS 17 beta as well. Testing on various devices running iOS 17 beta 1 showed positive results. Users were able to extract and install jailbreak app managers, system tweaks, and themes without encountering significant errors. Based on its performance, Sileem Repo Extractor is considered a reliable jailbreak solution for iOS 17.
Conclusion
This brings us to the end of this guide for Can We Jailbreak iOS 17? – What We Know So Far. Please note that currently, there is no successful way to jailbreak into the latest iOS 17. However, many developer groups are working on Jailbreaking solutions for iOS 17, including Tig Xingo Jailbreak, Reposi Repo Extractor, and Sileem Repo Extractor. These tools have been tested on devices running iOS 17 Developer Beta and have shown promising results in terms of jailbreaking and installing various tweaks and apps. We will keep updating this post with future updates, so make sure to bookmark us and visit daily.