This post is being updated continuously…
Update as of October 5: The Android 12 AOSP is officially out now. This gives LG a green signal to work on its stable Android 12-powered LG UX build that it will commence releasing sometime this year but we aren't aware of the dates yet. [Source]
---
Starting off, it's quite sad that LG has finally come to an end to close their mobile phone business worldwide from July 2021. That means this South Korean tech brand will no longer manufacture or sell Android smartphones, announced officially. Now, if you're one of the LG device users or a fan and eager to know about the LG Android 12 Update Tracker | Supported Device List | Release Date, check this article.
According to the official announcement, the OEM will continue pushing the software update to some of its eligible devices based on certain regions for sure. Meanwhile, the existing LG device users will still get the after-sales support as usual for some time onwards. Although the news isn't expected from such a versatile tech brand, there is really nothing to do in terms of few aspects.
The existing LG device users will still get software updates as per LG's software update policy. LG has also mentioned that the official stable Android 11 update will be gradually pushed to some of its eligible devices throughout the year. Whereas LG is also planning to provide the latest Android 12 stable update to its eligible models. Though the OEM is slow enough in pushing updates, it needs to be appreciated.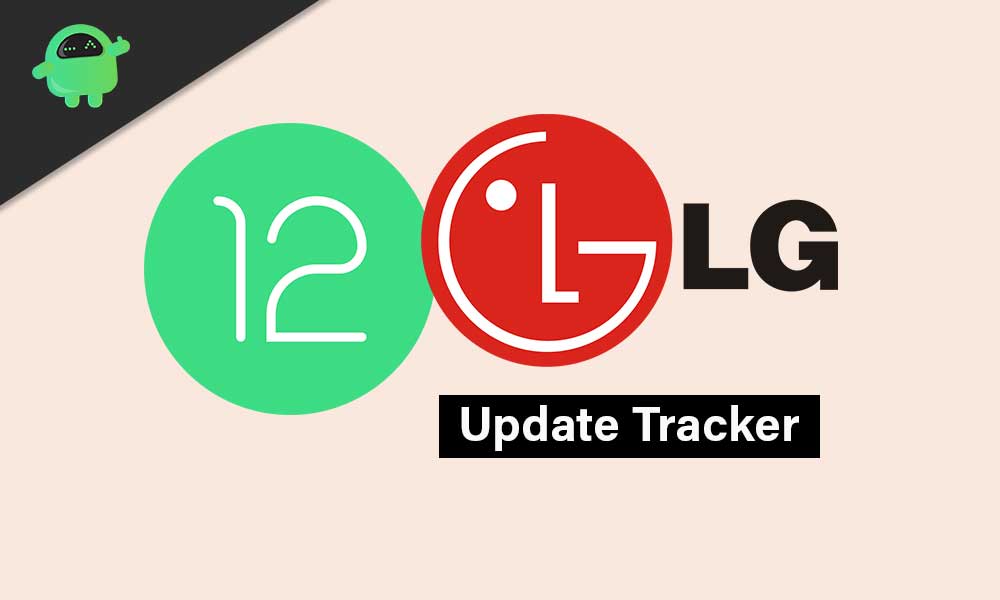 LG Android 12 Update Tracker
Google has recently released the Android 12 Beta 1 update for its eligible Pixel devices along with a couple of other OEM models such as Asus, OnePlus, Oppo, Realme, Sharp, TCL, Tecno, Vivo, Xiaomi, and ZTE. The Android 12 OS brings a few system and privacy improvements, additional features, redesigned UI, app privacy, and more.
It's also worth mentioning that LG has officially promised the Android 12 update to some of its eligible devices that you can find below.
LG Android 12 Supported Device List
Recently, LG officially announced the "Three Year Pledge" for OS updates to its eligible devices. According to the announcement, all the premium range of LG devices released in 2019 or later, will receive 3 major Android OS updates for sure.
LG Velvet
LG Velvet 5G/UW
LG Wing 5G
LG G8 ThinQ
LG G8X ThinQ
LG G8S ThinQ
LG V60 ThinQ 5G/UW
LG V50 ThinQ (LG V50 Dual Screen)
LG V50S ThinQ 5G
To recall, the LG Velvet models, LG V60 ThinQ models, and the LG Wing handset came with Android 10 preloaded out-of-the-box. That means all of these models will surely receive the Android 12 update once Google releases the stable version.
Whereas the rest of the device models were released with Android 9 Pie out-of-the-box. That also indicates that they'll get the last major OS update in the form of Android 12. That's pretty good news for LG users.
Apart from that, LG has also confirmed that LG Stylo and K series devices which were launched last year in 2020, will only receive 2 major Android OS updates officially. It includes:
LG Stylo 6
LG K92 5G
LG K42
LG K71
LG K62
LG K22
LG K52
LG K31
Please Note: Some of the device models may be listed in or out that will be fully dependent on the OEM. So, the mentioned device list may get changed without any prior notice.
LG Android 12 Update Release Date
Once the beta build gets stable enough by the end of August, Google will release the Android 12 official stable version in September. However, it seems that after exiting from the mobile market worldwide, LG may delay in pushing the latest Android OS update to its eligible devices on time.
If we look at a couple of previous years, the software update frequency or consistency isn't that good for LG devices due to some unexpected reasons. So, the chances are also high that even the premium range of LG users may have to wait a little longer than a year to receive the stable update respective to the region.
We'll keep updating this article whenever there is a new update or info available. Till then stay tuned for more info. Let us know in the comment below if you've any queries.