In the journey of knowing the Android device codenames, last time we brought you the codenames of all Xiaomi smartphones. Today we will know about various Motorola Smartphones Codename. We will list up various Motorola devices across different ranges and their respective codenames. Codenames help us to find the respective phone when an official ROM update or custom ROM package is made available. Classification becomes easier with the presence of device codenames.
Motorola, Inc.is an American multinational telecommunications company founded on September 25, 1928, based in Schaumburg, Illinois. The company runs as two independent public companies, Motorola Mobility and Motorola Solutions since January 4, 2011. Motorola Solutions is generally considered to be the direct successor to Motorola, as the reorganization was structured with Motorola Mobility being spun off. Motorola Mobility was sold to Google in 2012, and acquired by Lenovo in 2014.
Motorola's wireless telephone handset division was a pioneer in cellular telephones. It was also known as the Personal Communication Sector (PCS) prior to 2004. It pioneered the "mobile phone" with DynaTAC, "flip phone" with the MicroTAC as well as the "clam phone" with the StarTAC in the mid-1990s. Later it focused on smartphones using Google's open-source Android mobile operating system. Motorola Droid was the first phone to use the newest version of Google's open source OS, Android 2.0. It was released back on November 2, 2009.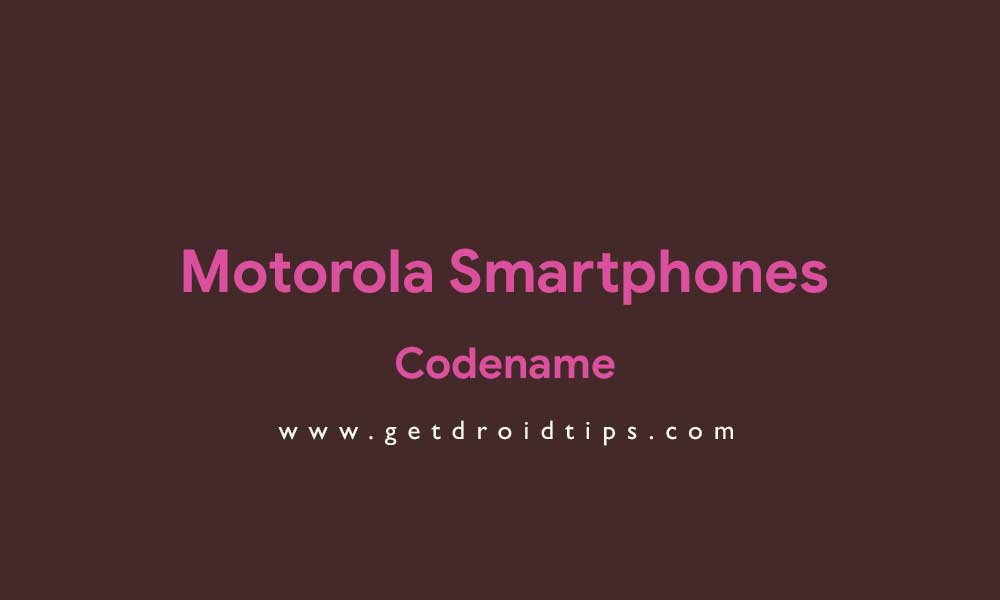 What Is The Need for Device Codename
Basically, the device codename helps to differentiate between different Android phones that are of the similar range which receive official firmware updates. Usually, we see any phone is represented by the arrangement <OEM Name> <device name> form. With the codename, it is easy to classify the devices when update bundles are rolled out.
The codenames are very helpful in the release and download of custom ROMs. When custom ROMs are deployed, the ROM pack for respective devices are denoted with device codename, for ease of identification among the list of loads of other devices from the same OEM. This same condition we can see while looking for official TWRP release bundles for various devices.
List of Motorola Smartphones Model Number
So, let's see the various Motorola smartphones codename. Over official forums and support websites of Motorola, you can actually see the ROM files come with the device codename tag for respective devices.
Moto G Series Model Number
Moto G 1st Generation (2013)
Moto G: falcon
XT1002: Ferrari Edition, Latin America/Peru/Mexico, Single SIM
XT1003: Ferrari Edition, Latin America/Peru/Mexico, Single SIM
XT1008: Forte Edition, Mexico, Single SIM
XT1028: Verizon CDMA, Single SIM
XT1031: US CDMA, Single SIM
XT1032: Google Play Edition, Global, Single SIM
XT1032 : US/UK/EU/France/Germany/Argentina/Brazil/Mexico/Peru/Chile/Colombia Single SIM
XT1033: UK/Asia/Latin America/Brazil/Colombia, Dual SIM
XT1034: US/Canada AWS, Single SIM
Moto G LTE: peregrine
XT1039: UK/EU/Latin America/Australia, Single SIM
XT1040: Canada/Latin America/Brazil, Single SIM
XT1042: US/Argentina, Single SIM
XT1045: US/Colombia/Peru, Single SIM
Moto G 2nd Generation (2014)
Moto G2: titan
XT1063: US/Latin America/Puerto Rico, Single SIM
XT1064: US/Canada/Mexico, Single SIM
XT1068: Latin America/EU/UK/Asia/Australia/Germany/Brazil/India, Dual SIM
XT1069: Brazil, DTV+Dual SIM
Moto G2 LTE: thea
XT1072: Latin America/EU/UK/Spain, Single SIM
XT1077: China, Dual SIM
XT1078: Brazil, Dual SIM
XT1079: Asia/India/China Dual SIM
Moto G 3rd Generation (2015)
Moto G3: osprey
XT1540: US/Canada/Latin America, Single SIM
XT1541: UK/EU/Spain/France/Germany, Single SIM
XT1542: Latin America, Single SIM
XT1543: Latin America/Brazil, Dual SIM
XT1544: Latin America/Brazil, DTV+Dual SIM
XT1548: US CDMA Prepaid, Single SIM
XT1550: Asia/Brazil, Dual SIM
Moto G3 Turbo: merlin
XT1556: Latin America/Mexico/Brazil, Dual SIM
XT1557: Asia, Dual SIM
Moto G 4th Generation (2016)
Moto G4 Plus: athene_fp
XT1640: Brazil, Dual SIM
XT1641: Canada/Latin America/Mexico, Dual SIM
XT1642: France/Spain/Italy, Single SIM (Optional Dual SIM)
XT1643: India, Dual SIM
XT1644: US, Single SIM
Moto G4: athene
XT1620: Brazil, Dual SIM
XT1621: Canada/Latin America/Mexico, Dual SIM
XT1622: France/Spain/Italy, Single SIM (Optional Dual SIM)
XT1624: India, Dual SIM
XT1625: US, Single SIM
XT1626: Walmart Brazil, DTV+Dual SIM
Moto G4 Play: harpia
XT1600: Brazil, Dual SIM
XT1601: Canada/Latin America/Mexico, Dual SIM
XT1602: Russia/Ukraine, Single SIM
XT1603: Brazil, Dual SIM
XT1607: US, Single SIM
XT1609: US AWS, Single SIM
Moto G 5th Generation (2017)
Moto G5 Plus: potter
XT1680: Latin America/Argentina/Chile, Single SIM
XT1681: Latin America/Colombia/Mexico, Dual SIM
XT1683: Brazil, DTV + Dual SIM
XT1684: Europe, Single SIM
XT1685: Australia/New Zealand/Europe, Dual SIM
XT1686: India, Dual SIM
XT1687: US, Single SIM
Moto G5: cedric
XT1670: Latin America/Canada, Single SIM
XT1671: Latin America, Dual SIM
XT1672: Brazil, Dual SIM
XT1675: Saudi Arabia/UAE/Israel, Single SIM
XT1676: Australia/Europe/Japan/New Zealand/Turkey, Dual SIM
Moto G5S Plus
XT1803: Europe, Single SIM
XT1805: Europe, Dual SIM
XT1806: US, Single SIM
Moto G5S
XT1793: Europe, Single SIM
XT1794: Europe, Dual SIM
Moto G8 Power
XT2041-1; XT2041-3; XT2041–4, XT2041-6
List of Motorola Smartphones Codename
Moto X Series Codename and Model Name
| | |
| --- | --- |
| Motorola Moto X4 | panell |
| Motorola Moto X4 | payton |
| Motorola Moto X Pure | clark |
| Motorola Moto X 2nd Gen | victara |
| Motorola Moto X30 Pro | eqs |
| Motorola Moto X40 | rtwo |
Moto G Series Codename and Model Name
| | |
| --- | --- |
| Motorola Moto G2 2nd Generation | Thea |
| Motorola Moto G4 | athene |
| Motorola Moto G5S Plus | sanders |
| Motorola Moto G5S | montana |
| Motorola Moto G5 | cedric |
| Motorola Moto G5 Plus | potter |
| Motorola Moto G6 | ali |
| Motorola Moto G6 Plus | evert |
| Motorola Moto G6 Play | jeter |
| Motorola Moto G7 | river |
| Motorola Moto G7 Plus | lake |
| Motorola Moto G7 Play | Channel |
| Motorola Moto G7 Power | ocean |
| Motorola Moto G8 | |
| Motorola Moto G8 Plus | doha |
| Motorola Moto G8 Power | Sofia |
| Motorola Moto G8 Power | sofiar |
| Motorola Moto G9 Play | bathena |
| Motorola Moto G9 Play | guamp |
| Motorola Moto G8 Power Lite | blackjack |
| Motorola Moto G Power (2021) | borneo |
| Motorola Moto G Power (2022) | tonga |
| Motorola Moto G10 | capri |
| Motorola Moto G30 | caprip |
| Motorola Moto G9 Power | cebu |
| Motorola Moto G31 | cofud |
| Motorola Moto G31 | coful |
| Motorola Moto G41 | corfu |
| Motorola Moto G71 5G | corfur |
| Motorola Moto G51 5G | cypfq |
| Motorola Moto G52j 5G | cypfr |
| Motorola Moto G52 | rhode |
| Motorola Moto G Stylus | sofiap |
| Motorola Moto G Stylus 5G | denver |
| Motorola Moto G32 | devon |
| Motorola Moto G Pure | ellis |
| Motorola Moto G Play (2021) | guamna |
| Motorola Moto G40 Fusion | hanoip |
| Motorola Moto G22 | hawaii |
| Motorola Moto G42 | hawao |
| Motorola Moto G50 | ibiza |
| Motorola Moto G50 5G | saipan |
| Motorola Moto G20 | java |
| Motorola Moto G 5G | kiev |
| Motorola Moto G 5G Plus | nairo |
| Motorola Moto G60S | lisbon |
| Motorola Moto G Stylus (2022) | milan |
| Motorola Moto G Stylus 5G (2022) | milanf |
| Motorola Moto G Stylus (2021) | minsk |
| Motorola Moto G100 5G | nio |
| Motorola Moto G9 Plus | odessa |
| Motorola Moto G53 5G | penang |
| Motorola Moto G Fast | rav |
| Motorola Moto G62 5G | rhodec |
| Motorola Moto G82 | rhodep |
| Motorola Moto G72 | vicky |
| Motorola Moto G200 5G | xpeng |
Moto E Series Codename and Model Name
| | |
| --- | --- |
| Motorola Moto E (2nd generation) | taido |
| Motorola Moto E5 Play Go Edition | Pettyl |
| Motorola Moto E4 Plus (MT) | nicklaus |
| Motorola Moto E4 Plus (SD) | Owens |
| Motorola Moto E4 | woods |
| Motorola Moto E4 | perry |
| Motorola Moto E5 Plus | ahannah |
| Motorola Moto E5 Plus | hannah |
| Motorola Moto E5 Plus | rhannah |
| Motorola Moto E5 | nora |
| Motorola Moto E5 Play | james |
| Motorola Moto E6 | surfna |
| Motorola Moto E20 | aruba |
| Motorola Moto E6 Play | bali |
| Motorola Moto E22 | borag |
| Motorola Moto E22i | borago |
| Motorola Moto E6s | fiji |
| Motorola Moto E40 | cyprus64 |
| Motorola Moto E (2020) | ginna |
| Motorola Moto E7 Plus | guam |
| Motorola Moto E7 | malta |
Motorola One Series Codename and Model Name
| | |
| --- | --- |
| Motorola One | deen |
| Motorola One Power | chef |
| Motorola One Zoom | Parker |
| Motorola One Action (Android One) | Troika_Sprout |
| Motorola One Vision | Kane |
| Motorola One Macro | lima |
| Motorola One Fusion | astro |
| Motorola One Hyper | def |
| Motorola One Fusion+ | liber |
Moto Z Series Codename and Model Name
| | |
| --- | --- |
| Motorola Moto Z4 | foles |
| Motorola Moto Z3 Play | beckham |
| Motorola Moto Z3 | messi |
| Motorola Moto Z2 Force | nash |
| Motorola Moto Z2 Play | albus |
| Motorola Moto Z Play | addison |
| Motorola Moto Z | Griffin |
Moto G Series Codename and Model Name
| | |
| --- | --- |
| Motorola Edge 20 | berlin |
| Motorola Edge (2021) | berlna |
| Motorola Edge+ (2020) | burton |
| Motorola Edge 30 | dubai |
| Motorola Edge X30 | hiphi |
| Motorola Edge 20 Lite | kyoto |
| Motorola Edge 30 Neo | miami |
| Motorola Edge 30 Fusion | tundra |
| Motorola Edge (2022) | tesla |
| Motorola Edge 20 Pro | pstar |
| Motorola Edge | racer |
Other Moto Codename and Model Name
| | |
| --- | --- |
| Motorola Moto C | namath |
| Motorola Moto C | watson |
| Motorola Nexus 6 | shamu |
| Motorola Moto Austin | austin |
| Motorola Razr 2019 | olson |
| Motorola Razr 2022 | oneli |
| Motorola Razr 5G | smith |