If you thought codenames only serve the cool quotient part in James Bond movies then you're wrong. You should know that even smartphones have codenames. It is there to serve an important purpose like maintaining clarity among devices of a similar range from the same OEM. The clarity is important for availing the flashing of TWRP and custom ROMs etc. This also helps to differentiate when official updates are released. Today we will know about different Xiaomi Smartphones codenames. We will list up various Xiaomi devices across different ranges and their respective codenames.
Xiaomi Inc. is a Chinese electronics and software company headquartered in Beijing. Xiaomi designs develop and sells smartphones, mobile apps, laptops, and related consumer electronics. It released its first smartphone in August 2011 and rapidly gained market share in China to become China's largest smartphone company in 2014. As of 2017, Xiaomi is the world's 5th largest smartphone company. Xiaomi is continually expanding into developing a wider range of consumer electronics, including a smart home (IoT) device ecosystem.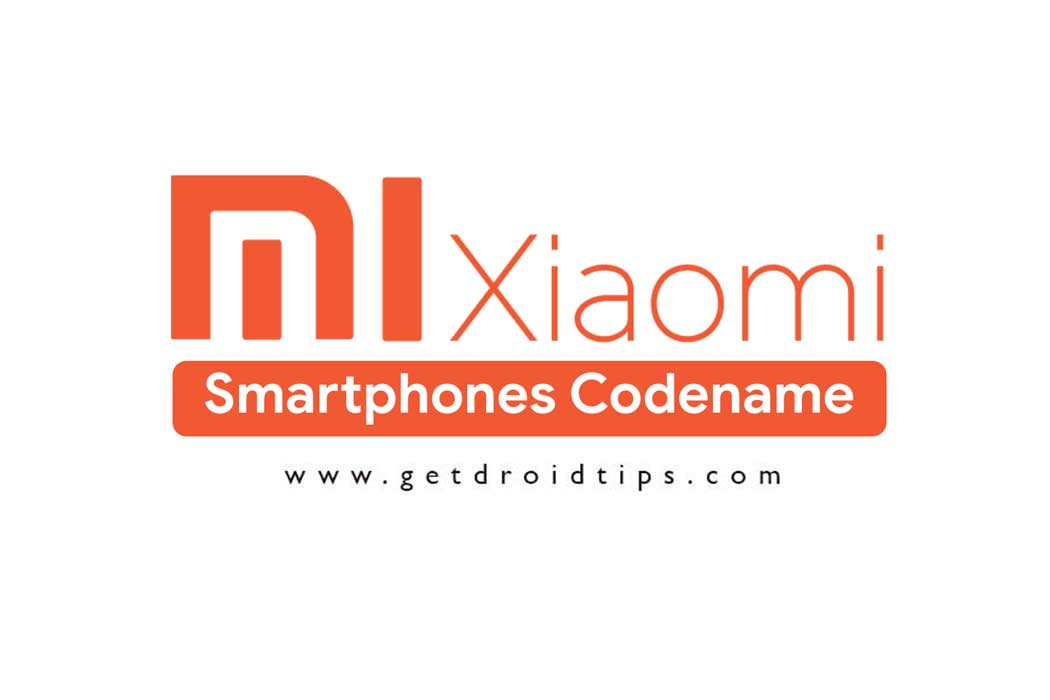 Xiaomi is famous for its MIUI interface. MIUI is the native custom skin from Xiaomi. It is a stock and aftermarket firmware for smartphones and tablet computers based on the Google Android operating system. MIUI includes various features such as theming support. Xiaomi has released various smartphones, all but one of which come pre-installed with a complete version of MIUI. This includes various apps and features not available in the aftermarket version of MIUI.
What Is The Need for Device Codename
Primarily codename helps to distinguish between various devices that are of a similar range that receive official updates. So, instead of following the setup of <OEM Name> <device name> they represent the updates for the devices with the device codename.
Again coming back to the custom ROM scenario, when custom ROMs are deployed, the ROM pack for respective devices is denoted with the device codename, for ease of identification among the list of loads of other devices from the same OEM. This same condition we can see while looking for official TWRP release bundles for various devices.
So, let's see the various Xiaomi smartphones codename. Over the official forums of Xiaomi, you can actually notice the ROM and recovery Zip files come with the device codename tag.
Xiaomi Smartphones Codename List
So, here is a tentative list of various Xiaomi devices with their cool codenames.
| | |
| --- | --- |
| Xiaomi Device Name | Xiaomi Smartphones Codename |
| Xiaomi Mi 2 | Aries |
| Xiaomi Mi 3 | Pisces |
| Xiaomi Mi 3/Mi 4 | Cancro |
| Xiaomi Mi 4i | Ferrari |
| Xiaomi Mi 4c | Libra |
| Xiaomi Mi 4s | Aqua |
| Xiaomi Mi 5 | Gemini |
| Xiaomi Mi Note | Virgo |
| Xiaomi Mi Note Pro | Leo |
| Xiaomi Mi Note 2 | Scorpio |
| Xiaomi Mi Note 3 | Jason |
| Xiaomi Mi Max | Hydrogen |
| Xiaomi Mi Max Prime | Helium |
| Xiaomi Mi Max 2 | Oxygen |
| Xiaomi Mi Max 3 | Nitrogen |
| Xiaomi Mi Mix | lithium |
| Xiaomi Mi Mix 2 | Chiron |
| Xiaomi Mi Mix 2S | Polaris |
| Xiaomi Mi 5s | Capricorn |
| Xiaomi Mi 5s Plus | Natrium |
| Xiaomi Mi 6 | Sagit |
| Xiaomi Mi 6X | Wayne |
| Xiaomi Mi 8 | Dipper |
| Xiaomi Mi 9 | Cepheus |
| Xiaomi Mi 9 SE | grus |
| Xiaomi Mi 8 SE | Sirius |
| Xiaomi Mi 8 Explorer (EE) | ursa |
| Xiaomi Mi 5X | Tiffany |
| Xiaomi Mi 5c | Song/Meri |
| Xiaomi Mi A1 | Tissot |
| Xiaomi Mi A2 | Jasmine |
| Xiaomi Mi A2 Lite | daisy |
| Xiaomi Mi A3 | bamboo (bamboo_sprout) |
| Xiaomi Mi A3 | laurel_sprout |
| Xiaomi Mi Pad | Mocha |
| Xiaomi Mi Pad 2 | Latte |
| Xiaomi Mi Pad 3 | cappu |
| Xiaomi Mi CC9 / Mi 9 Lite | pyxis |
| Xiaomi Mi CC9e | laurus |
| Xiaomi Mi CC9 Meitu Edition | vela |
| Xiaomi Redmi 1 | wt98007 |
| Xiaomi Redmi 1S | Armani |
| Xiaomi Redmi 2 | wt88047 |
| Xiaomi Redmi 3 | Ido |
| Xiaomi Redmi 3 S/X | Land |
| Xiaomi Redmi Pro | Omega |
| Xiaomi Redmi Note 3G | lcsh92_wet_jb9 |
| Xiaomi Redmi Note 1S | Gucci |
| Xiaomi Redmi Note 4G | Dior |
| Xiaomi Redmi Note 2 | Hermes |
| Xiaomi Redmi Note 3 (MTK) | hennessy |
| Xiaomi Redmi Note 3 (Qualcomm) | Kenzo |
| Xiaomi Redmi Note 3 Special | Kate |
| Xiaomi Redmi Note 4 | Nikel |
| Xiaomi Redmi Note 4X | Mido |
| Xiaomi Redmi 4A | Rolex |
| Xiaomi Redmi 4 | Prada |
| Xiaomi Redmi 4 Prime | Markw |
| Xiaomi Redmi 4X | Santoni |
| Xiaomi Redmi 5 | Rosy |
| Xiaomi Redmi 5A | riva |
| Xiaomi Redmi Note 5A | ugglite |
| Xiaomi Redmi Note 5A Prime | ugg |
| Redmi Note 5/5 Plus | Vince |
| Xiaomi Redmi Note 5 Pro | Whyred |
| Xiaomi Redmi 6 | cereus |
| Xiaomi Redmi 6A | cactus |
| Xiaomi Redmi 6 Pro | sakura |
| Xiaomi Redmi 7 | onclite |
| Xiaomi Redmi 7A | pine |
| Xiaomi Redmi S2/Y2 | ysl |
| Xiaomi Redmi Go | tiare |
| Xiaomi Poco F1 (PocoPhone) | beryllium |
| Xiaomi Redmi Note 6 Pro | tulip |
| Xiaomi Redmi Note 7 Pro | violet |
| Xiaomi Redmi Note 7 | Lavender |
| Xiaomi Redmi Note 7S | lavender |
| Xiaomi Mi Play | Lotus |
| Xiaomi Mi Mix 3 | Perseus |
| Xiaomi Mi Mix 3 5G | andromeda |
| Xiaomi Black Shark Helo | nile |
| Xiaomi Black Shark 2 | Blackshark Skywalker |
| Xiaomi Mi 8 Pro | equuleus |
| Xiaomi Mi 8 Lite | platina |
| Xiaomi Redmi K20 / Mi 9T | davinci |
| Xiaomi Redmi K20 Pro / Mi 9T Pro | raphael |
| Xiaomi Redmi K20 Pro Premium | raphaels |
| Xiaomi Redmi Note 11 | Spes |
| Xiaomi Redmi Note 11 NFC | spesn |
| Xiaomi Redmi Note 11 5G | evergo |
| Xiaomi Redmi Note 11T 5G (India) | evergo |
| Xiaomi Redmi Note 11 4G | selenes |
| Xiaomi Poco M4 Pro 5G | evergreen |
| Xiaomi Redmi Note 11 Pro / Pro+ | pissarro |
| Xiaomi Redmi Note 9S | curtana |
| Xiaomi Redmi Note 9 Pro (India) | curtana |
| Xiaomi Redmi Note 10 Lite (India) | curtana |
| Xiaomi Redmi 9A / 9AT / 9i / 9A Sport / 9i Sport | dandelion |
| Xiaomi Redmi 10A | dandelion_c3l2 |
| Xiaomi CIVI | mona |
| Xiaomi 11T | agate |
| Xiaomi 11T Pro | vili |
| Xiaomi 11 Lite 5G NE | lisa |
| Xiaomi Redmi 10 | selene |
| Xiaomi Redmi 10 Prime (India) | selene |
| Xiaomi Mi Mix 4 | odin |
| Xiaomi Pad 5 | nabu |
| Xiaomi Pad 5 Pro | elish |
| Xiaomi Mi Pad 5 Pro 5G | enuma |
| Xiaomi Redmi Note 10 Pro | chopin |
| Xiaomi Poco X3 GT | chopin |
| Xiaomi Redmi K40 Gaming Edition | ares |
| Xiaomi Redmi Poco F3 GT | ares |
| Xiaomi Redmi Note 10 5G (China) | camellia |
| Xiaomi Redmi Note 10T 5G (India) | camellia |
| Xiaomi Redmi Note 10 5G | camellian |
| Xiaomi Redmi Note 10T | camellian |
| Xiaomi Redmi Note 10T (Japan) | lilac |
| Xiaomi Poco M3 Pro 5G | camellian |
| Xiaomi Redmi Note 8 (2021) | biloba |
| Xiaomi Poco F3 | alioth |
| Xiaomi Redmi K40 | alioth |
| Xiaomi Mi 11X | alioth |
| Xiaomi Mi 11i | haydn |
| Xiaomi Redmi K40 Pro / K40 Pro+ | haydn |
| Xiaomi Mi 11X Pro | haydn |
| Xiaomi Mi MIX FOLD | cetus |
| Xiaomi Mi 11 Pro | mars |
| Xiaomi Mi 11 Pro Ultra | star |
| Xiaomi Mi 11 Lite 5G | renoir |
| Xiaomi Mi 11 Lite | courbet |
| Xiaomi Poco X3 Pro | vayu |
| Xiaomi Mi 10S | thyme |
| Xiaomi Redmi Note 10 | mojito |
| Xiaomi Redmi Note 10S | rosemary |
| Xiaomi Redmi Note 10 Pro | sweet |
| Xiaomi Redmi Note 10 Pro / Pro Max (India) | sweetin |
| Xiaomi Redmi Note 9T 5G | cannong |
| Xiaomi Mi 10T Lite | gauguin |
| Xiaomi Redmi Note 9 Pro 5G (China) | gauguin |
| Xiaomi Mi 10i 5G | gauguin |
| Xiaomi Mi 11 | venus |
| Xiaomi Redmi 9T | lime |
| Xiaomi Redmi Note 9 4G (China) | lime |
| Xiaomi Redmi 9 Power | lime |
| Xiaomi Redmi Note 9 5G (China) | cannon |
| Xiaomi Poco M3 | citrus |
| Xiaomi Mi 10T / 10T Pro | apollo |
| Xiaomi Redmi K30S | apollo |
| Xiaomi Poco C3 | angelicain |
| Xiaomi Poco M2 | shiva |
| Xiaomi Poco X3 NFC | surya |
| Xiaomi Redmi 9C NFC | angelican |
| Xiaomi Redmi 9 (India) | cattail |
| Xiaomi Mi 10 Ultra | cas |
| Xiaomi Redmi K30 Ultra | cezanne |
| Xiaomi Redmi 9 / Prime | lancelot |
| Xiaomi Poco M2 Pro | gram |
| Xiaomi Redmi 9C | angelica |
| Xiaomi Redmi 10X | atom |
| Xiaomi Redmi 10X Pro | bomb |
| Xiaomi Redmi Note 9 | merlin |
| Xiaomi Redmi 10X 4G | merlin |
| Xiaomi Redmi K30i 5G | picasso_48m |
| Xiaomi Redmi K30 5G | picasso |
| Xiaomi Redmi K30 Pro / Zoom Edition | lmi |
| Xiaomi Poco F2 Pro | lmi |
| Xiaomi Redmi Note 9 Pro | joyeuse |
| Xiaomi Mi Note 10 Lite | toco |
| Xiaomi Mi 10 Lite Zoom (Youth) | vangogh |
| Xiaomi Redmi 8A Pro / 8A Dual | olivewood |
| Xiaomi Redmi Note 9 Pro Max | excalibur |
| Xiaomi Mi 10 | umi |
| Xiaomi Mi 10 Pro | cmi |
| Xiaomi Mi 10 Lite | monet |
| Xiaomi Redmi K30 | phoenix |
| Xiaomi Poco X2 | phoenix |
| Xiaomi Redmi Note 8T | willow |
| Xiaomi Mi Note 10 / Mi CC9 Pro | tucana |
| Xiaomi Redmi 8 | olive |
| Xiaomi Redmi 8A | olivelite |
| Xiaomi Mi 9 Pro 5G | crux |
| Xiaomi Redmi Note 8 | ginkgo |
| Xiaomi Redmi Note 8 Pro | begonia |
| Xiaomi Redmi Y3 | onc |
| Xiaomi Mi Pad 4/Plus | clover |
| Xiaomi 12X | psyche |
| Xiaomi Redmi 10c | fog |
| Xiaomi Redmi Note 11S 4G | fleur |
| Xiaomi Poco M4 Pro 4G | fleur |
| Xiaomi Redmi Note 11S 5G | opal |
| Xiaomi 12 | cupid |
| Xiaomi Poco F4 GT | ingres |
| Xiaomi Redmi K50 Gaming | ingres |
| Xiaomi Redmi Note 10 JE | iris |
| Xiaomi Mix 5 | loki |
| Redmi K50 Pro | matisse |
| Xiaomi 12X Pro | matisse |
| Xiaomi Poco F4 Pro | matisse |
| Xiaomi Poco F4 | munch |
| Xiaomi Redmi K40S | munch |
| Xiaomi Redmi Note 11 Pro+ 5G | pissarro |
| Xiaomi 11i 5G/Hypercharge | pissarro |
| Xiaomi Redmi K50 | rubens |
| Xiaomi 12 Lite 5G | taoyao |
| Xiaomi 12S Ultra | thor |
| Xiaomi Redmi Note 11E Pro | Veux |
| Xiaomi Poco X4 Pro 5G | Veux |
| Xiaomi Poco X4 | Veux |
| Xiaomi Redmi Note 11 Pro 5G | Veux |
| Xiaomi 12 Pro | zeus |
| Xiaomi Civi 1S | zijin |
| Xiaomi Mix Fold 2 | zizhan |
| Xiaomi Redmi 10 Prime+ 5G | light |
| Xiaomi Redmi Note 11E | light |
| Xiaomi Redmi 10 5G | light |
| Xiaomi Poco M4 5G | light |
| Xiaomi Poco C40 | frost |
| Xiaomi Redmi K60E | rembrandt |
| Xiaomi Redmi K60 | mondrian |
| Xiaomi Poco F5 Pro | mondrian |
| Xiaomi Redmi Note 12 Pro Speed | redwood |
| Xiaomi Poco X5 Pro 5G | redwood |
| Xiaomi Poco X5 5G | moonstone |
| Xiaomi Redmi K60 Pro | socrates |
| Xiaomi 13 Pro | nuwa |
| Xiaomi 13 | fuxi |
| Xiaomi 13 Lite | ziyi |
| Xiaomi Redmi Note 12 | sunstone |
| Xiaomi Redmi Note 12 Pro | ruby |
| Xiaomi Redmi Note 12 Pro+ | ruby |
| Xiaomi Redmi Note 12 Pro Discovery | ruby |
| Xiaomi Civi 2 | ziyi |
| Xiaomi Redmi A1 | ice |
| Xiaomi Redmi A1+ | ice |
| Xiaomi Poco C50 | ice |
| Xiaomi Redmi Pad | yunluo |
| Xiaomi Poco M5 | rock |
| Xiaomi Redmi 11 Prime 4G | rock |
| Xiaomi 12T | plato |
| Xiaomi Poco M5s | rosemary_p |
| Xiaomi Redmi K50 Ultra | diting |
| Xiaomi 12T Pro | diting |
| Xiaomi Pad 5 Pro 12.4 | dagu |
| Xiaomi Redmi Note 11T Pro | xaga |
| Xiaomi Redmi Note 11T Pro+ | xaga |
| Xiaomi Poco X4 GT | xaga |
| Xiaomi Redmi K50i | xaga |
| Xiaomi 12 Pro Dimensity | daumier |
| Xiaomi 12S Pro | unicorn |
| Xiaomi 12S | mayfly |
| Xiaomi Redmi Note 11 Pro 4G (India) | vida |
| Xiaomi Redmi 12C | earth |
| Xiaomi Poco C55 | earth |