Logitech makes good quality computer accessories, and the company has an excellent reputation for building great keyboards. One of them is the Logitech K480. It is a high-productivity keyboard with multi-device support. If Logitech K480 is your primary keyboard, you'd never want it to run any kind of issues, otherwise, it will negatively affect your productivity. But the sad part is that even the best of the best keyboards can run into problems. Several Logitech K480 owners have reported that some keys have stopped working. If you're also going through the same pain, keep reading this article as we'll discuss potential reasons and workarounds to fix the issue.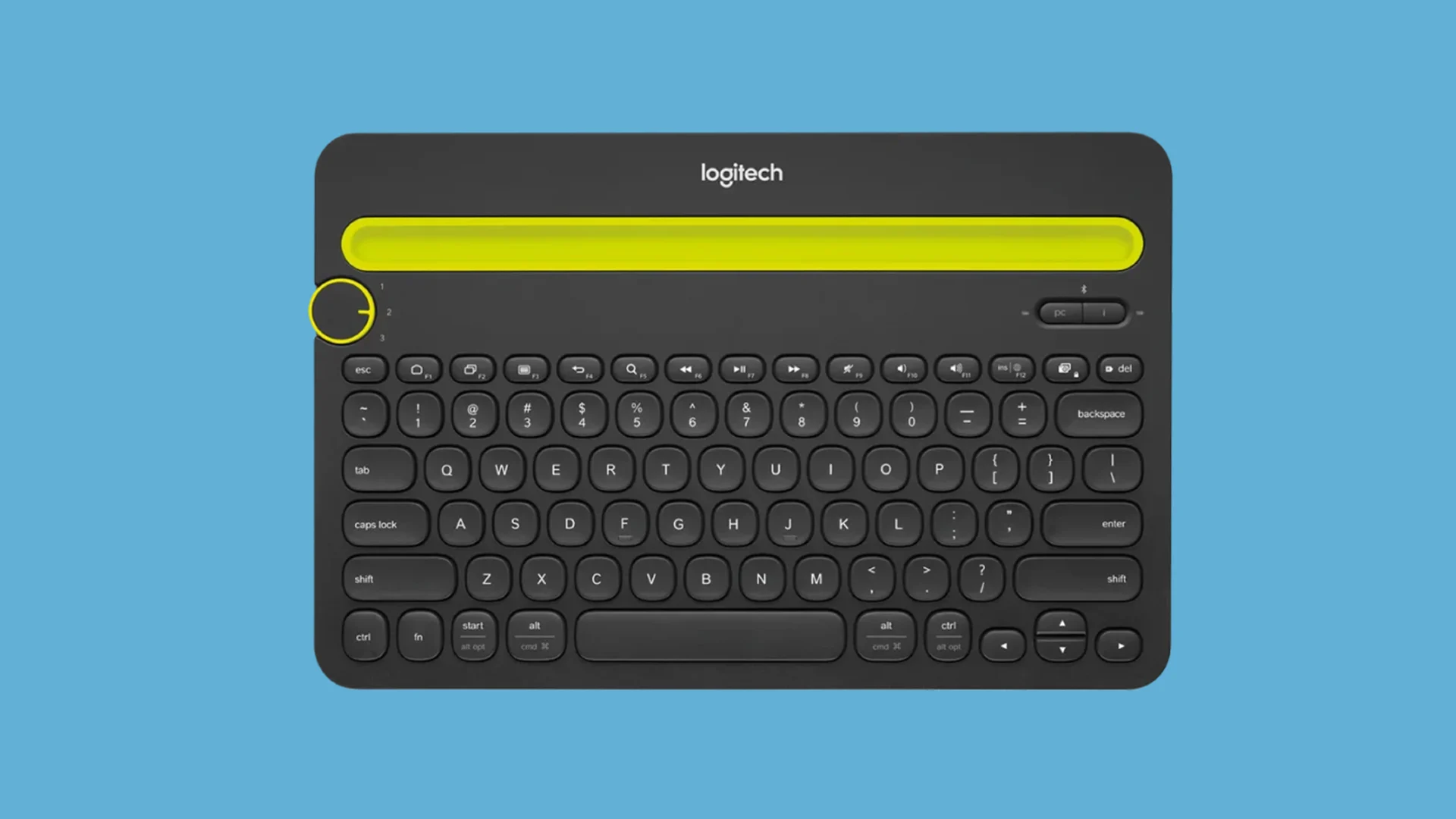 The Logitech K480 is a high-quality multi-device keyboard with Bluetooth connectivity. It can pair with up to 3 devices and you can seamlessly switch between connected devices using the switch located in the upper-left corner. It has a big room to fit your mobile phone or tablet. So, you don't have to buy a separate stand. It's a lightweight compact keyboard that can work with nearly all devices. The Logitech keyboard offers up to 24 months of battery life thus removing the hassle of replacing batteries frequently. All these good-good things sound super exciting till your keyboard does not have problems.
Reasons Why Some Keys Are Not Working On Your Logitech K480
These are some common reasons why some keys might not work on your Logitech keyboard:
The keyboard has dust or debris: Most of us do not have the habit of cleaning our electronic devices regularly. As a result, dust and debris can accumulate over time, resulting in many issues. You should clean the keyboards using a soft cloth, and especially clean the areas around the non-working keys.
Your computer has an outdated or corrupted driver: If your keyboard is not working properly, it's likely because your computer is running an outdated version of the keyboard driver. Or, the driver is corrupted. You should update the driver first. If the problem persists, reinstall it to fix the problem.
The keyboard is running low on battery: When a keyboard has low power, it can be unresponsive. This could be the reason why some keys are not working on your Logitech K480 keyboard. You know what you have to do in this case. Simply, replace the batteries and get your keyboard up and running again.
The keyboard has physical damage: The keys which are not working on your Logitech K480 keyboard could have some physical damage. You should carefully inspect the device for any physical damage and get it repaired.
Now that we have some understanding of the problem, let's dive into the troubleshooting methods.
Logitech K480 Some Keys Not Working, How to Fix?
If you can't use some keys on your Logitech K480 keyboard, don't worry. There are some solutions that will help you in fixing the issue. So, without further ado, let's begin our troubleshooting.
Fix 1: Clean the Keyboard
Logitech K480 responds to a gentle press. But if there is too much dust and debris inside or around the key, the keyboard may not be able to detect the keypress and won't respond to it. It is recommended that you should clean the keyboard regularly. Not doing so can result in many issues. Probably, the one you are facing right now is also caused by this.
Gently clean the keyboard using a soft cloth. Do not pour any liquid on the device. If you do not know how to clean a keyboard, search for it on Google or follow this Logitech guide. Before you actually start cleaning the device, make sure it is turned off.
Fix 2: Restart Your Keyboard
Your Logitech keyboard is not functioning well because it might have some software issues or glitches. Restarting the device can fix it as it will temporarily disconnect the device from the computer. All the processes related to the keyboard will also be removed from the memory.
To restart your keyboard, first, disconnect it from your computer. Now, turn the power slider to the "OFF" position which is located on the rear side. Wait for a few seconds and then turn the power slider to the "ON" position. Connect your Logitech keyboard to your computer or any other device and check if the problem is fixed.
Fix 3: Update the Keyboard Driver
Your computer may have an older version of the keyboard driver. Although an older driver should work just fine, sometimes it can cause many problems. You should therefore update the driver to check if it can fix the issue.
Here's how to update the driver on your Windows:
Type "Device Manager" in the search box at the bottom and hit Enter.
Expand the "Keyboards" option.
Right-click on your keyboard device and select "Update driver".
Tap on "Search automatically for drivers". Your computer will look for new drivers. If available, it will download and install it.
Alternatively, you can download the latest keyboard driver for your Logitech K480 from the manufacturer's website and install it manually.
Fix 4: Uninstall the Keyboard Driver
If updating the keyboard driver has not fixed the issues with your Logitech K480 keyboard, you should uninstall it. It will fix the corrupted driver issue. Follow these steps to uninstall the keyboard driver on your PC:
Go to "Device Manager" and expand the "Keyboards" option.
Right-click on your keyboard device and tap on "Uninstall device".
Click "Uninstall" to confirm.
Once you have uninstalled the keyboard driver, restart your computer. For this, your can press Alt + F4 from the Windows home screen and select the Restart option. You do not have to manually install the keyboard driver, when you restart your computer, it will get installed automatically.
Fix 5: Replace the Batteries
Your Logitech K480 keyboard may have drained batteries, which could be the reason the device is not functioning well. Get new batteries for your keyboard and insert them correctly. Now, connect the keyboard to your computer and check if all the keys are working.
Fix 6: Contact Logitech Support
If some keys on your Logitech K480 keyboard are still not working, it's most likely because of some hardware issues. You should contact Logitech support or take the keyboard to your nearest Logitech service center to get it checked by professionals. They can deeply look into the issue on the hardware level and do the required work to get it fixed.
Wrapping It Up
Many professionals use Logitech K480 keyboard to improve their work efficiency. But when it stops working, it negatively impacts their performance and that could be frustrating. If you were one of them, we hope that after applying the solutions from this article, you'd have fixed the Logitech K480 some keys not working issue. Do let us which method worked for you in the comments below.