Logitech makes high-quality computer peripherals alongside budget offerings as well. The Logitech MX Anywhere 2, 2S, and 3 are productivity-focused high-quality mice with advanced features. Though these are premium mice, they can also run into many issues. One of the common issues that people have been reporting is that the scroll wheel has stopped working. If you own Logitech MX Anywhere 2, 2S, or 3 with a non-functional scroll wheel, read this guide to know the effective ways of fixing this issue.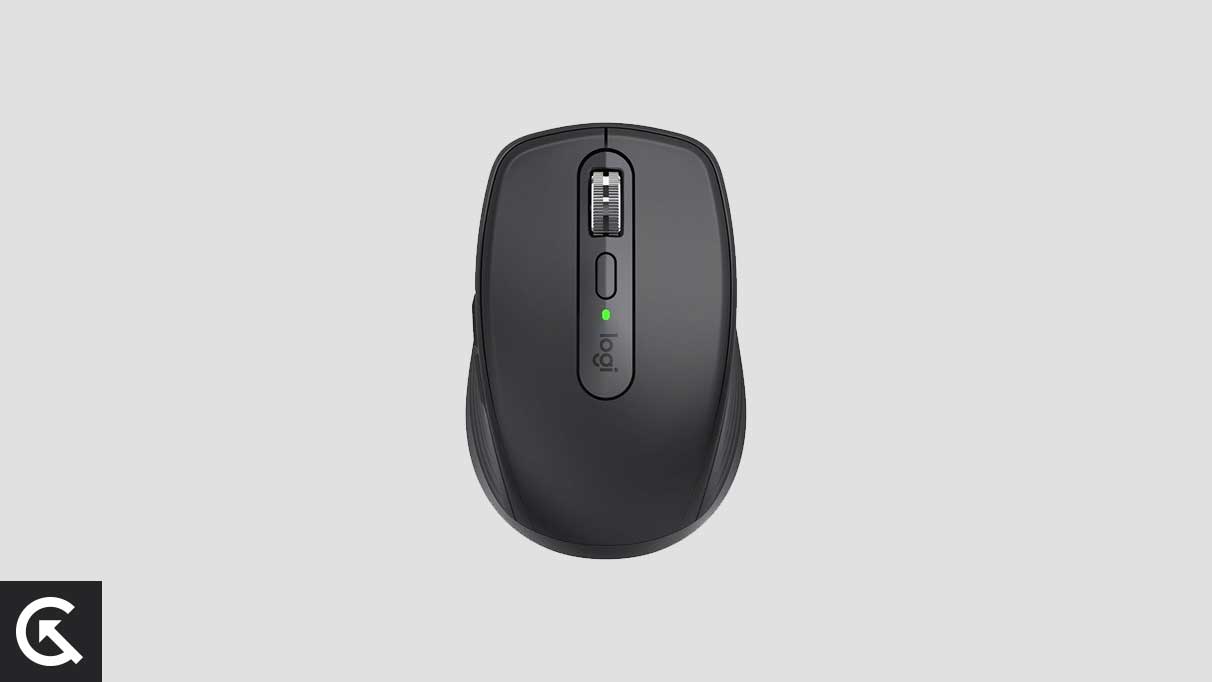 Logitech MX Anywhere lineup is geared towards users looking to improve their productivity. The Anywhere 2, 2S, and 3 offers precise tracking and with a sleek design, you can hold it easily for the whole day. They can work on a high-resolution screen without any issues, and with advanced tracking technology, you can literally place the mouse on any surface. It will work fine without comprising precision. Since they are compact in size, you can carry them anywhere and place them easily inside your laptop bag.
So far we have talked about good-good things about the mice. However, It's not always smooth sailing, even with a premium mouse of this level. There have been many complaints regarding the scroll wheel not working on Logitech MX Anywhere 2, 2S, and 3. If you're struggling with the same issue, try the solutions that we've jotted down below.
Logitech MX Anywhere 2, 2S, and 3 Scroll Wheel Not Working, How to Fix?
There could be a number of factors responsible for the issues with the scrolling wheel on your Logitech mouse. It could be an outdated/corrupted mouse driver, dust or debris around the scroll wheel, or a connection issue. The problem could also occur due to hardware damage. Try the solutions below and do let us know the method which worked out for you.
Fix 1: Clean Your Logitech Mouse
We do not regularly clean our electronic devices. Dust and debris can accumulate on the mouse and this can cause serious problems to the device. If there is dust around the scroll wheel, it can cause issues with the scrolling mechanism, and the device might not able to register the scrolls. You should therefore clean your Logitech mouse (especially the area around the scroll wheel) using a soft cloth or a soft brush. Also, you can blow the air to the required portion.
Fix 2: Restart Your Computer
Your computer may have software bugs or system glitches causing issues with peripheral devices such as your Logitech mouse. If not, there could be connection issues, which should get resolved after restarting the computer.
To restart a Windows PC, click the Windows logo in the bottom-left corner, tap on the power icon, and hit Restart. If you are a Mac user, go to the Apple menu and select Restart to restart your computer.
Fix 3: Make Sure the Logitech Mouse Is Turned On
Most budget mice are ready to use as soon as you plug them into your computer. But, premium mice from Logitech generally have a power button. If you have not turned it on, you can't use the mouse. It's a useful button as you can turn your mouse off using the power button when it's not in use to save the battery.
Turn on your Logitech mouse (if it's turned off) and you should be able to use it without any issues.
Fix 4: Reconnect the Mouse
If you have turned on your mouse, but still can't use the scroll wheel, then you need to check if there's a connection problem. You can either use the Logitech unifying receiver or Bluetooth to connect the mouse. Use any of the methods below to connect your Logitech mouse to your PC.
Method 1: Connect via Bluetooth
On your PC, go to Settings -> Bluetooth & devices -> Turn on Bluetooth.
Click Add device and select Bluetooth.
Grab your mouse and press and hold the button located at the bottom on the rear side until the light starts blinking.
You should see your Logitech mouse name on your PC. Tap on it.
Your Logitech mouse is now connected to your computer and is ready to use.
Method 2: Connect via the Logitech Unifying Receiver
Plug the Logitech receiver into a USB port on your computer.
Put your mouse into pairing mode by pressing and holding the button at the bottom on the rear side. Keep the button pressed until the light starts blinking.
Your computer will now recognize your mouse and connect to it within a few seconds.
Once you've connected your Logitech mouse to the PC, check if the issue with the scroll wheel persists.
Fix 5: Update Your Mouse Driver
Your computer may be running an outdated mouse driver. Although an older version should work just fine, sometimes it can cause many issues. You should update the mouse driver to check if the latest version can fix the issue with the scroll wheel. Not just when you face any issues, it's recommended that you keep the drivers updated all the time.
Here's how to update the mouse driver on your Windows:
In the search box, type Device Manager and hit the Enter button.
Expand the Mice and other pointing devices option.
Right-click on your mouse driver and select Update driver.
Tap on Search automatically for drivers.
Windows will check if a new driver is available. Follow the on-screen instructions to update the driver. If the latest driver is already installed, you can test other solutions.
Fix 5: Reinstall the Mouse Driver
If the above method didn't work out for you, uninstalling and installing the driver could fix the issue. It should fix if the driver is corrupted. Here's how to reinstall the mouse driver on your PC:
Open Device Manager on your PC.
Expand the Mice and other pointing devices option.
Right-click on your mouse and select Uninstall device.
Click Uninstall to confirm.
Restart your computer.
You do not have to manually install the mouse driver. After uninstalling the driver, when you restart your computer, Windows will automatically reinstall the driver for you.
Wrapping It Up
Having a high-quality mouse like Logitech MX Anywhere 2, 2S, or 3 with a non-working scroll wheel could be very disappointing as it can negatively affect your productivity. In most cases, these are caused by minor software issues which can be fixed after applying the solutions we've mentioned in this article.
Hard luck to you if none of the solutions worked. It looks like there's a hardware failure. In that case, you should contact Logitech support to take your mouse to a service center to get it fixed.