When it comes to taking notes, there are many apps to choose from. You can simply use Notepad in windows. But there are some specific apps for the job. They offer a better presentation and management of your notes. Google vs Microsoft, the rivalry is widespread, and you can see those on almost every type of application. Even in note-taking, we have the Keep notes from Google and sticky notes from Microsoft.
So in this article, we are going to compare both of them in each aspect and try to find the answer to the question, which is the best note-taking app. Let's break the comparison to Four main parts. Let's see them, one by one.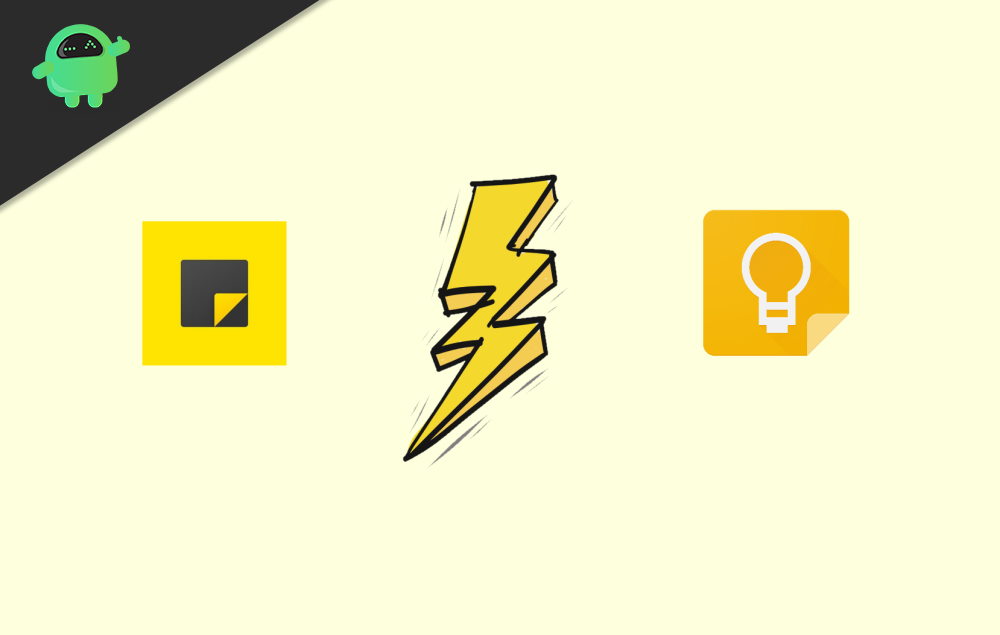 Microsoft Sticky Notes vs Google Keep: Which One Is The Best Note Taking Tool?
Notes app should be also available on other platforms so that we can continue or access them from anywhere. It should sync seamlessly for a good experience.
Google Keep Notes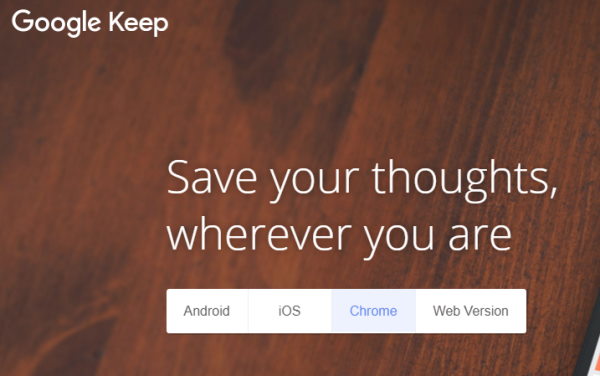 Google Keep notes is available in all major platforms like Android, iOS, Chrome, and web version. Although there is no native version available for windows. But you can use the Chrome app instead. Chrome app works identical to any natively installed app.
It launches in a new window, and you'll feel like using within an app. Your notes get synced across your devices running the same Google account.
Sticky notes
Sticky notes app is installed by default in Windows installation. For mobile versions, there is no app as "sticky notes". Instead, you can install the Microsoft To-Do list app for Android and iOS. But if you want to access your sticky notes from your PC, you can use the OneNote app for android or iOS and access Sticky notes from it.
Else you can use the Microsoft launcher app(android only) and access it from your custom feed. Your notes will get synced through your Microsoft account.
Look and Feel
Let's compare Microsoft Sticky Notes vs Google Keep in the aspects of Look, User interface, and experience.
Keep Notes
Google Keep notes have a most organized interface. The notes are categorized into various labels like Notes, Reminders, and the best part is you can add more labels and save notes under them. By this, you can categorize your notes as Work or personal and manage them separately.
A dark mode is available in this app and now you can use it to match your System preferences. You can give different colors to your notes that can help you to distinguish between them. You can also view notes either as a List of Grids based on your Preference.
Sticky Notes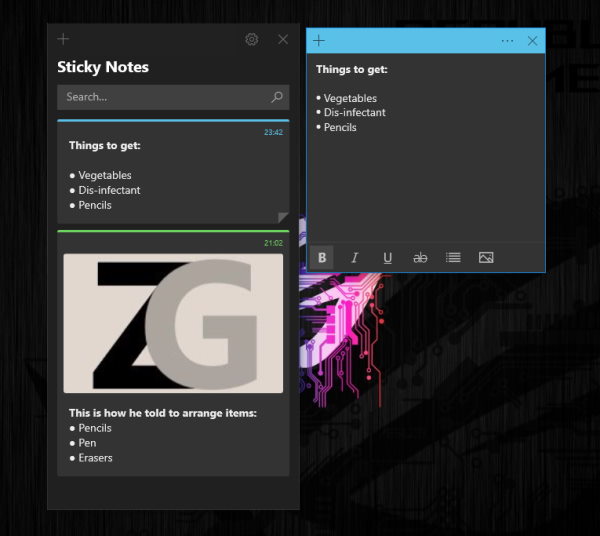 Sticky notes aim at a more simple and straight forward approach. There are no options to tag or organize your notes. Instead, this is meant for the simple task, i.e, add a note, and view them. Nothing more, nothing less. Although you can change the color of notes to differentiate.
A dark mode is also available in this app. Since its a native windows app, it can follow your system preference to activate the dark mode. Although you can simply change it manually from settings.
Functionality
Google Keep Notes
So in the functionalities department, we have good functions here. Apart from taking notes, you can organize them into categories using labels. Also, you can add reminders to the notes. You can add time or location into reminders, and it will remind you to do so.
Keep notes give the ability to collaborate with others. You can add peoples to your notes and collaborate with them, add new notes, or edit them in real-time. This will be a great feature if your planning to use it for your work or school.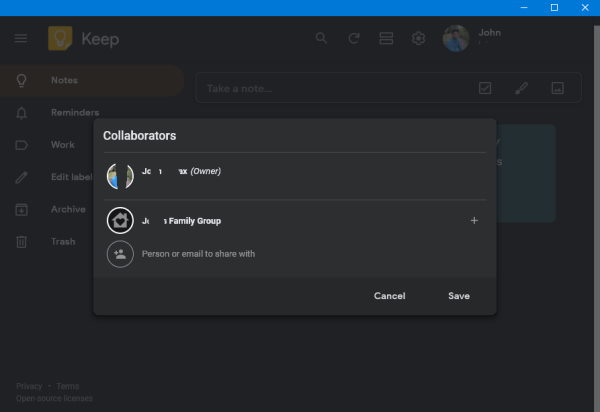 You can add images, add drawings to your note and change colors of your note. You can also simply copy the note to google docs and modify it into a document. If you need, you can change the content of the note into a checklist by enabling More options> Show checkboxes.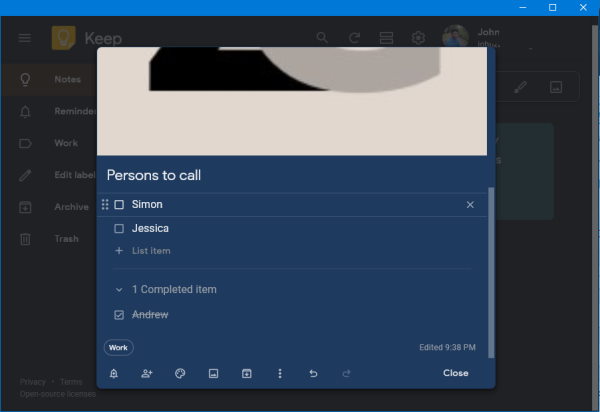 Sticky Notes
As mentioned earlier, sticky notes don't come with many features. But you can simply and quickly add notes by tapping on the + symbol. You can open multiple notes at a time since each note opens in a separate window.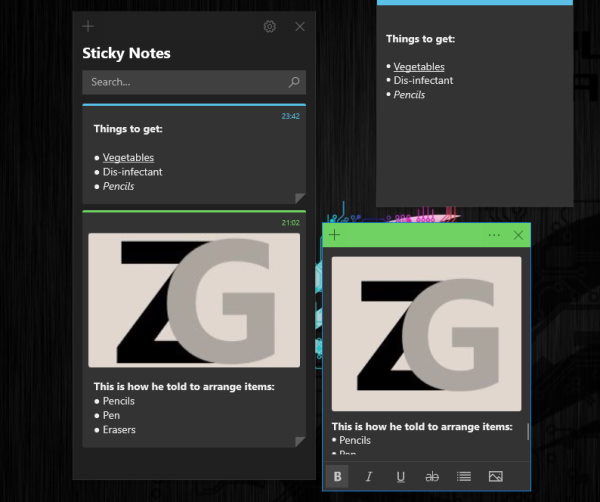 You can also add images and bullet points to your notes. Actually, you can customize content within your note. For example, you can format the text as Bold, Italic, or Strikethrough.
However, there are no options to add checkboxes. Other options like collaboration, copy to document are also lacking here.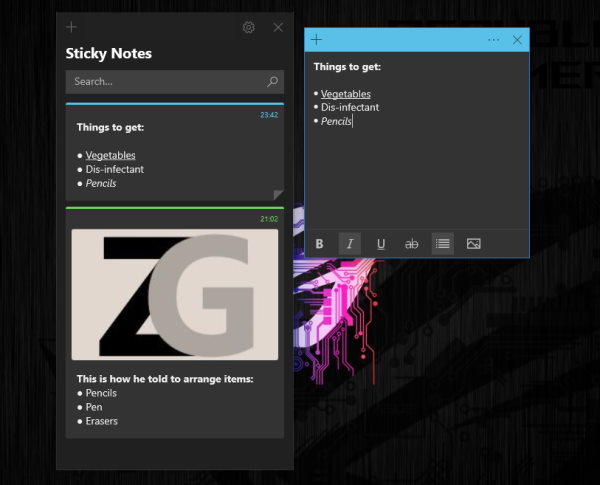 Quickness
Quickness depends on is which app can open fast and allow me to take notes quickly. From that perspective, we have a lot of variables like internet speed, processor capabilities, and much more. Actually, to quickly get the job done, Sticky notes proved to be the perfect option, at least for me.
I have a mid-range laptop on which Sticky notes take 5-10 seconds to launch the app, whereas Google keeps takes around 10-15 seconds. On Android, there is no noticeable delay. But were talking about the different app(One note>Sticky notes).
Conclusion
So the answer to the question, which is better for taking notes, would be Google Keep. Because of its features and compatibility, we can say so. Whereas Sticky notes is also a greater app for taking notes on PC, very quickly and efficiently. Although it's features are too limited and require different apps to access on mobile. But often, you can easily decide according to the services you use.
For instance, if you're a G Suite user; You can go with Google Keep notes and utilize its ecosystem. Else if you're a Microsoft 365 user, then its good to go with Sticky notes or One-note.