In this tutorial, we will show you how to buy PC games from Steam via the Cash on Delivery option. As of now, this guide will focus on the India Region. This video game digital distribution service from Valve is something that hardly needs an introduction or two. Apart from browsing through the plethora of games, it also has some other nifty features. These include digital rights management, server hosting, video streaming, and social networking services.
Apart from that, it also provides community features such as friends lists and groups, cloud storage, and in-game voice and chat. You could download the game's DLC packs right from there itself. Likewise, it also checks for missing in-game files and will automatically download the same. Acting as a complete gaming service provider, it also makes sure that users don't end up facing any issues when it comes to purchasing their favorite titles.
In this regard, it supports all the major payment methods, including debit cards, credit cards, bitcoin, net banking, and digital wallets. And now you could add Cash on Delivery to this list as well. While many users go for digital payment, there are some that still prefer the old way route. And if you echo those sentiments as well, then this guide will come in handy. Today, we will show you how to buy PC games on Steam via the Cash on Delivery option in India.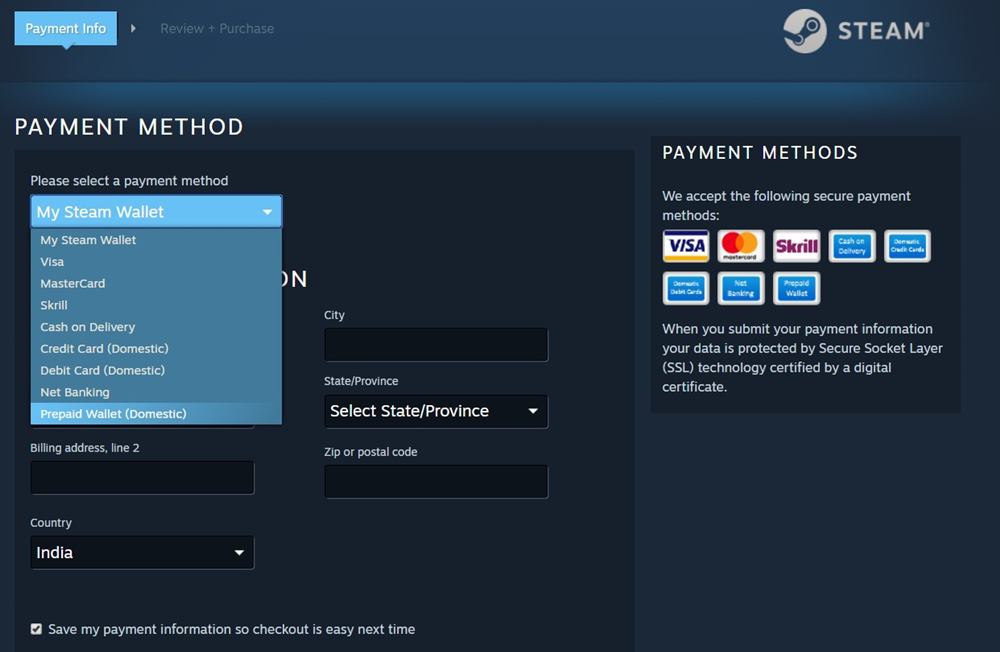 How to Buy PC Games on Steam via Cash On Delivery
Here are the required instructions to carry out the aforementioned task. Follow along.
Head over to Steam and add the desired game to your cart. Use the search bar to find your favorite game and then use the Add to Cart button to proceed ahead.

Then select "Purchase for myself" or "Purchase as a gift"- whatever is your purpose.

The payment method window will now appear. Click on "Please select a payment method".
From the drop-down menu, select the Cash on Delivery option.

Then fill in the rest of the fields including the Billing Address, Country, State, City, Postal Code, etc, and hit the Continue button.
After this, you will be redirected to the page handled by Novaplay, which is the Valve's partner in India
A Nova executive shall then get in touch with you shortly to collect the amount.
Once they receive the amount, your order will be emailed to you within 3 days.
That's all that was needed to make a purchase on Steam via cash on delivery. Steam really seems to have done a pretty decent job when it comes to handling the various payment methods. With Cash on delivery, the entire process has been streamlined so that the everyday user doesn't end up facing any issue. Just keep in mind that owing to the current scenario, the Novaplay executive might end up taking a little longer to reach your destination, than in the usual days.
Anyways, with this, we conclude the guide on how to buy PC games from Steam via the Cash on Delivery option. If you still have any queries left, let us know in the comments section below. Rounding off, here are some iPhone Tips and Tricks, PC tips and tricks, and Android Tips and Trick that you should check out as well.