Have you been on the lookout for ways to protect your shiny new Apple Watch? Well, look no further! Read on to discover some of the best rugged Apple Watch cases with the best protection you can get in 2020!
When it comes to wearables, the Apple Watch is the only successful attempt that has come out in the past decade. Several companies have tried to make their own unique wearables including smartwatches, fitness bands, smart glasses and so much more. However, none have really come into the same league as the Apple Watch. It is true that the Apple Watch costs an arm and a leg, especially the newer versions, but that's for a good reason.
The Apple Watch is built to run you smoothly for years together. Apple has had a reputation for having the best-in-class software support for all of its products, be it an iPhone, iPad or a Macbook. The Apple Watch is no exception, receiving major improvements with each WatchOS update that it sees. However, one area where the Apple Watch seemingly falls short is in durability. A single drop can cost you a hefty repair fee – something nobody wants to be liable towards.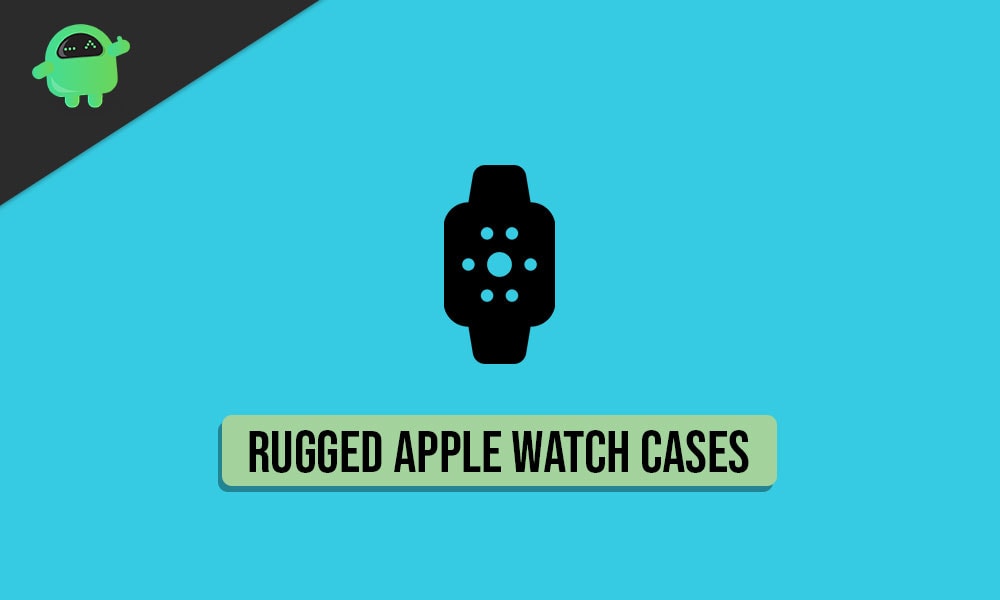 Luckily, the Apple Watch is really popular among case manufacturers for the same reason. While Apple itself wants you to use their products naked to shine the glorious metal build, most customers would rather like to protect their new expensive gadgets. If you find yourself wearing your Apple Watch to adventures and activities that have pretty harsh surroundings, this list is well curated for you. Down below you can find some of the best rugged Apple Watch cases that provide the best protection in the market as of yet. So sit back, relax, and enjoy the read!
Best Rugged Apple Watch Cases
#1 – Spigen Rugged Armor Pro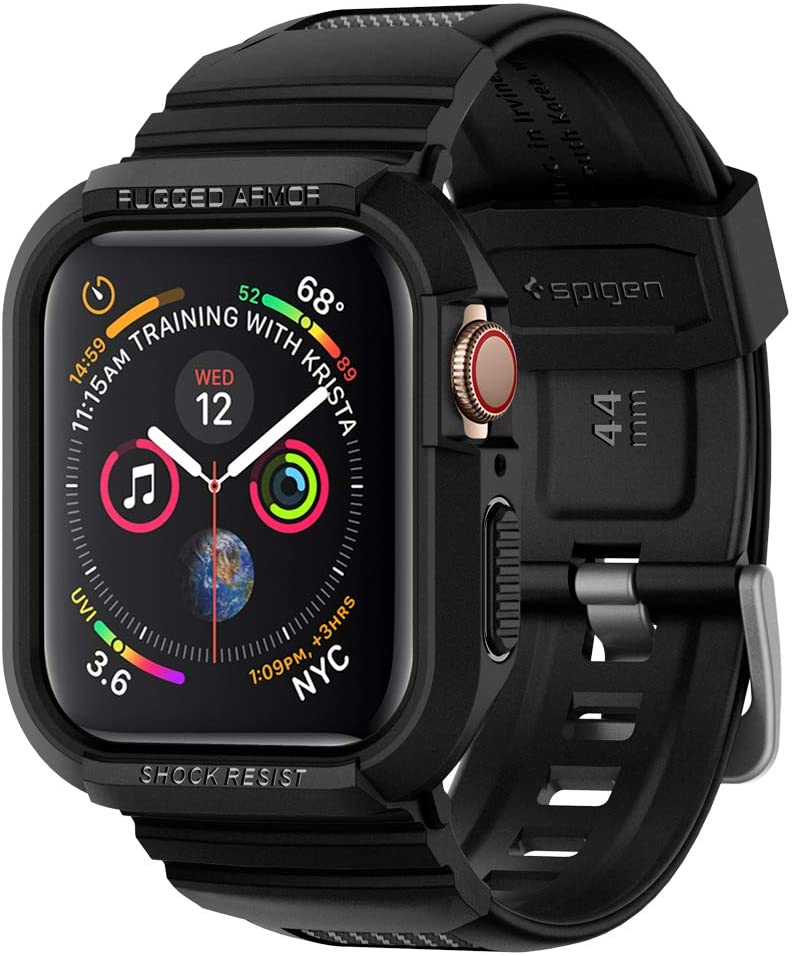 Spigen is one of the best-reputed companies in the case manufacturing industry for both smartphones and other gadgets. It appears that they also have managed to make a pretty flawless rugged case for the Apple Watch Series 4 and 5. The case will obviously protect your shiny Apple Watch against daily wear and tear such as scratches, but also protects it against falls thanks to the shock-absorbent layer. The case itself has a very modern and aesthetic look to it making it seem like a first-party accessory itself. The matte finish of the case also gives it quite a good feel. Lastly, the front has a raised bezel to protect the actual screen of your Apple Watch. For only $20 on Amazon, you cannot go wrong with the Spigen Rugged Armor Pro case for Apple Watch.
[buy_btn link="https://www.amazon.com/Spigen-Rugged-Armor-Designed-Apple/dp/B07HSSDV4S/ref=sr_1_2?dchild=1&keywords=apple+watch+rugged&qid=1596704420&sr=8-2″ type="amazon"]
#2 – Realproof Waterproof Case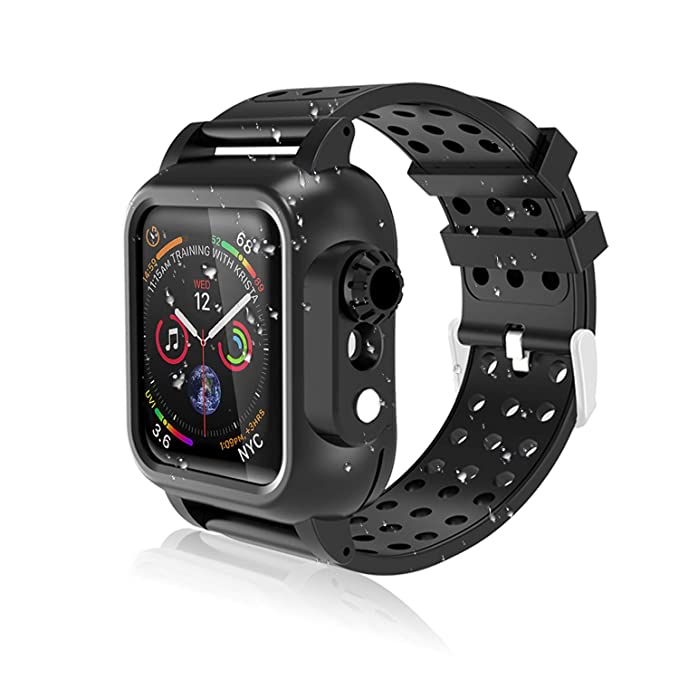 Next up on the list is a must-have for swimmers and people who find themselves in rain or near water a lot. Although the Apple Watch is IPX7 rated, it is always a good thing to double down on your protection. The Realproof Waterproof case does exactly that. It completely covers your Apple Watch from front to back, left to right. The front has a screen protector that works well with touch input as well. The case is also shockproof and thanks to its thickness, can withstand quite a lot of abuse. The installation is pretty straightforward as it comes in two pieces that snap together front and back. A great solution to those who have always feared water-damaging their Apple Watch. Get it now on Amazon for only $22.
[buy_btn link="https://www.amazon.com/Realproof-Waterproof-Dropproof-Shockproof-Protective/dp/B07P5XRLNB/ref=sr_1_4?dchild=1&keywords=apple+watch+rugged&qid=1596704781&sr=8-4″ type="amazon"]
#3 – Shellbox Waterproof Case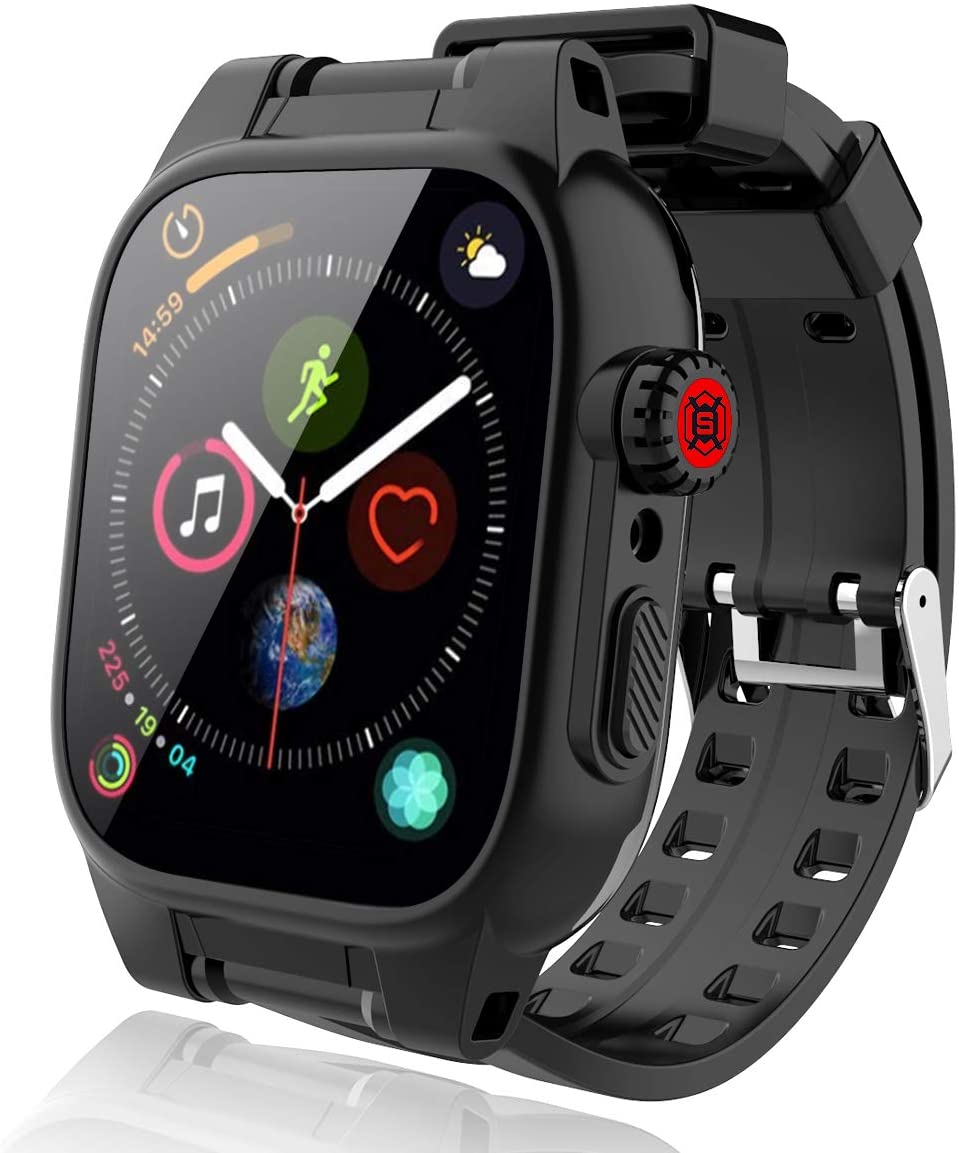 Yet another waterproof case for all the swimmers out there, the Shellbox provides a similar level of protection to the Realproof Waterproof Case that we've just talked about. The design is a bit boxier, and that's the reason why we've mentioned it on the list as it seemed quite appealing to us. You can expect this case to last you through any kind of weather, no matter how bad it might get. The case is fully IP68 waterproof and dustproof which makes it a really reliable option for any kind of adventurers out there. For a price tag of just $22.77, this case is on top of our recommendations to protect your Apple Watch.
[buy_btn link="https://www.amazon.com/Waterproof-Shockproof-Resistant-360%C2%B0Protective-Protector/dp/B07T6DWTCX/ref=sr_1_8?dchild=1&keywords=apple+watch+rugged&qid=1596704996&sr=8-8″ type="amazon"]
#4 – Carterjett Nylon Rugged Band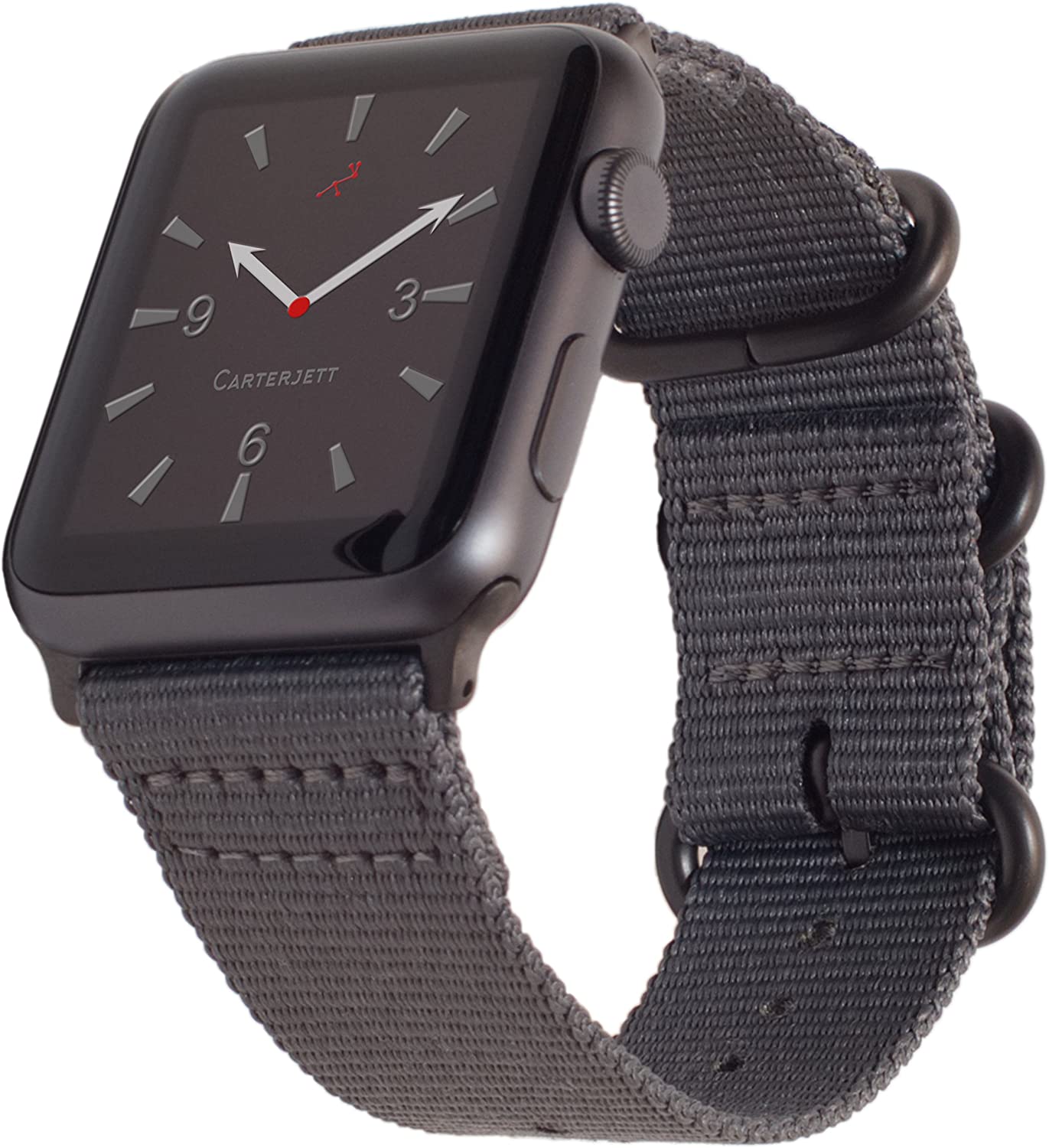 Ending our list of some of the best rugged Apple Watch cases that you can buy, we have a slightly different pick. We know that most people hate having extra bulk on their hands, seeing as how the Apple Watch in of itself is quite beefy. If you have been looking for just a rugged band for your Apple Watch as opposed to an entire casing, this is it. The Carterjett Nylon rugged band features one of the most durable bands that we've seen compatible with Apple Watch. There is a behemoth of colours you can choose from with varying sizes to best suit both men and women.
This band is best suited for those who exercise a lot and hate having no breathing room in their hands during intense workouts. The nylon rugged band will absorb most of your sweat and will not hinder your performance in other tasks as well. The band itself isn't screwed like most others and is a single piece, making it almost impossible to break. Overall, if you have been looking for a rugged yet stylish band for your Apple Watch, definitely give this one a shot. You can grab one of the many colours of the Carterjett Nylon Rugged Band from Amazon for only $22.
[buy_btn link="https://www.amazon.com/Carterjett-Compatible-Replacement-iWatch-Adapters/dp/B07477GRGX/ref=sr_1_9?dchild=1&keywords=apple+watch+rugged&qid=1596705320&sr=8-9″ type="amazon"]
Conclusion
That's all, folks! We hope you enjoyed our roundup of some of the best rugged Apple Watch cases that you must try out in 2020! Which one among the list is your favourite, and how many of these rugged Apple Watch cases have you already known or have been using? Know other good rugged cases for Apple Watch that you feel people might find helpful and durable? Do let us know in the comments section below, we'd be delighted to hear from you guys!