Emergency mode is a very special feature that allows your phone to help you contact the authorities with minimum construction possible. Although this mode is designed to turn on in several cases like freefall or accidents only. But in some instances, this mode can be turned on automatically. And when it's turned on, it is hard to get out and many users are facing a similar problem of Motorola Phone Stuck in Emergency mode and not sure how to get out.
The problem is not severe as the emergency mode does have some onscreen buttons or options which allow you to exit it. However, in many cases, the phone may get stuck and have no hope at all. If this situation sounds like you, then no worries as there is always a way out.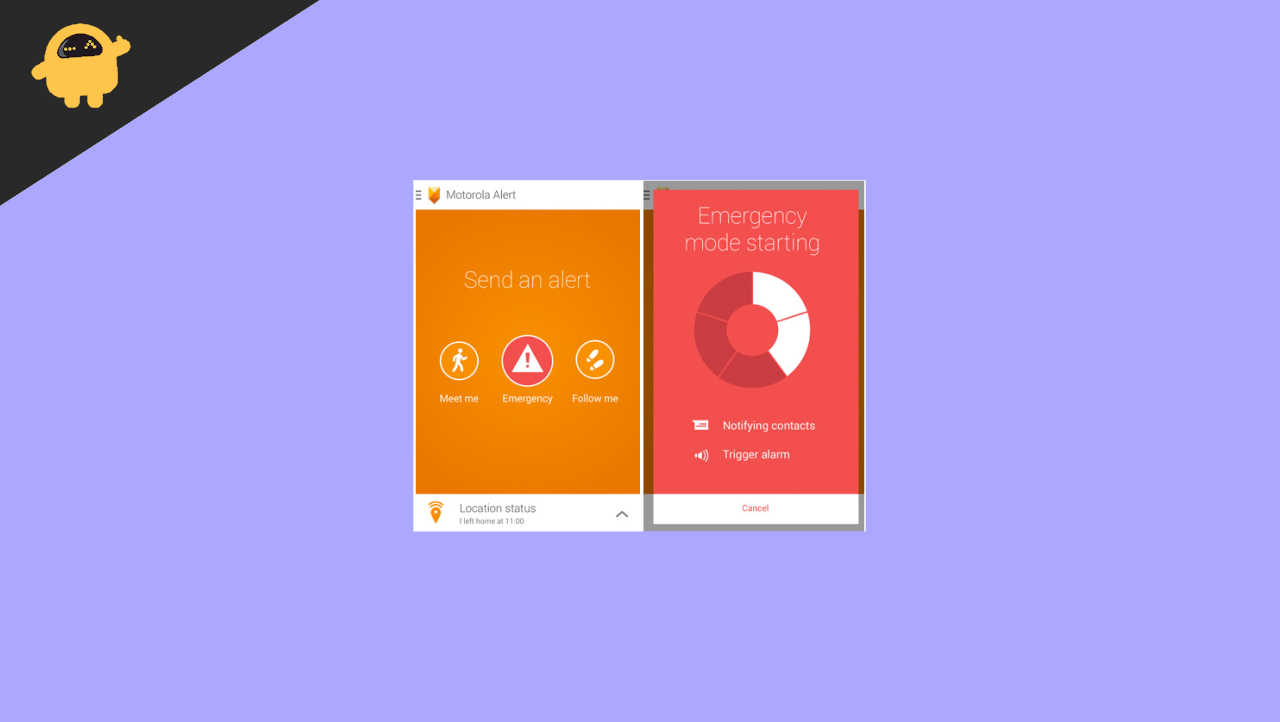 Motorola Phone Stuck in Emergency mode, How to Fix?
When your Motorola smartphone has gone into emergency mode, the screen will turn dark and most of the background apps will be shut down. This is to save battery and other CPU resources.
The mode also gives you the option to call the police, ambulance, or local fire authorities as per the area. It's a good feature for those in need, but in case it is triggered by an accident or software glitch, here's how you can turn it off.
Method 1: Follow Onscreen Buttons
Since Motorola works on stock Android OS, the emergency mode is straightforward to exit. Whenever the emergency mode is turned on, you will see an option to turn off the emergency mode. Once you click on that button, the phone will turn to its normal state without any issues.
If you're not able to find the exit button on the screen, it will be hidden in the hamburger icon at the top left corner of the screen. Make sure you search for the button and exit the mode.
Method 2: Reboot Your Device
Rebooting your Motorols smartphone shall fix most of the issues you are currently facing. Emergency mode is designed to help you in case you are met with an accident and need emergency services. But if you reboot your smartphone, then the phone will clear the emergency mod by itself.
It is recommended to first shut down your smartphone, then wait for 4-5 minutes before turning it on again. This will clear the emergency mode and you will be able to use your device without any issues.
Method 3: Battery Pull
New Motorola smartphones do not come with a removable battery, but the old ones do. In case you have a headset with a removable battery, you can remove the battery from the smartphone and then put it back again. This will clear the power cycle and remove the energy mode. Then you can restart your device and see if it helps.
In case you dont have the option to remove the battery (the battery is soldered on inside your smartphone) then you can wait until your phone discharges and then you can try restarting your device to see if it helps.
Method 4: Flash Stock Firmware
Since you're not able to get out of the emergency mode on your own, you can simply install the stock firmware again to make sure everything works alright. Although flashing stock firmware will delete all your personal files and data, but at least you will be able to use your phone.
WARNING: Flashing stock ROM or firmware on your device is a risky process and may also delete all the saved data as well. If you have never tried flashing firmware files before, we recommend you to check out our guide on How to Flash Stock Firmware Using SP Flash Tool or you can contact your local mobile technician, he will do it for you.
In case you do not wish to install stock ROM (in order to protect your data and memories) then you can also contact customer care. They will be easily able to help you out.
Method 5: Contact Motorola Service
If none of the above methods help you out, then it is better to contact customer care. The best approach will be to visit the local Motorola service center and show them the device. They are trained professionals and will easily help you to exit the emergency mode without losing any of your personal data.
Conclusion
This brings us to the end of this guide for fixing Motorola Phone Stuck in Emergency mode. Please note that this feature is very straightforward to use and in most case scenarios you will get an option to exit energy mode on the screen only. But in case you dont, you can always restart the phone as it helps to turn off the mode.