Dragon Center is a free software app with every MSI laptop pre-installed, so you don't need to do anything. Using the app, you can customize your laptop to play your favorite games or change all functions. Through this tool, users can change the settings of their computer hardware and monitor the status of their computers.
It becomes necessary for gamers who own an MSI laptop because it gives them an extra boost while gaming. But unfortunately, from the previous firmware update, the MSI Dragon Center is not working or not opening. Although this is unfortunate, I think fixing this problem isn't that tough.
However, don't worry if you don't know anything about how to fix this problem, as we have some workaround for you in this guide that will help you fix the MSI Dragon Center not working or not opening issue.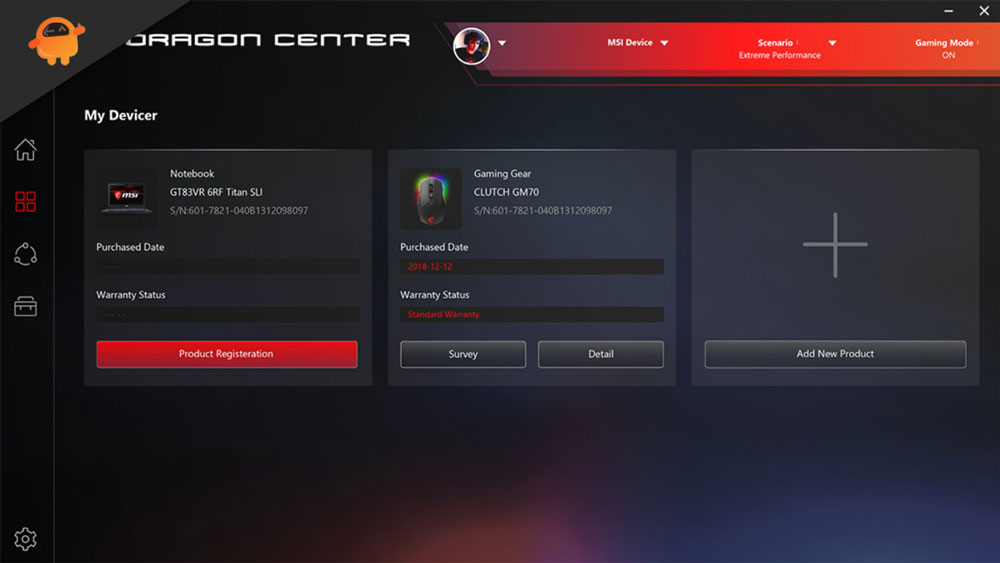 How To Fix MSI Dragon Center Not Working/ Not Opening
MSI Dragon Center is very important for gamers, and when it is not working or not opening, that is the worst case for them. But, now no more worries as we have some fixes that will surely help you get rid of this situation. Therefore, if you encounter this issue, make sure to perform each fix mentioned further in this guide until you find the correct one.
Fix 1: Restart Your Laptop
There is a chance that your MSI Dragon Center will stop working on your laptop due to caching. So, now to resolve this, you must have to delete the cache files. However, to do so, you must restart your laptop as this will not just start your machine again but also flush the RAM to give your system a fresh new start to function properly.
Fix 2: Make Sure Your GPU Driver is Update
Did you check if your GPU driver is updated or not? Unfortunately, there are possible chances that you may face this error just because your GPU driver is not updated. I know it generally happens that we always ignore updating the drivers of our PC. This is because we think that updating drivers has no practical use in increasing our system performance. But, that is not correct because it is as important as updating Windows. So, to check if your GPU is updated or not, you must follow these steps:
Initially, open the Device Manager.

After that, expand the

Display Adapter

tab and right-click on your GPU manufacturer.

Then, select the

Update Driver

option followed by Search For Updates Automatically.
Fix 3: Update Your OS
Another thing that you have to make sure of is whether your system OS is updated or not. There might be chances that your device may face compatibility issues with your MSI Dragon Center software. This happens when you update your applications to the latest version, but in return, you forget to update your OS (if available), then this type of compatibility issue occurs. So, you have to check if there is any update available or not using these steps:
Open the Windows Settings using the Win+I key and tap on the Windows Update tab.

After that, hit the

Check For Updates

button.

Now, wait until it searches for an update, and if available, then allow it to install. However, once your OS gets updated, you will find that the issue will automatically get resolved.
Fix 4: Wait For SDK
Many users reported that they are getting a Wait for SDK error while using the MSI Dragon Center. So, you must have to perform these steps if you are facing this problem:
Initially, press the

Win+R

button to open the Windows Run box.

After that, type

services.msc

and hit the search button.

Now, locate and right-click on the

MSI Central Service

.

Then, select

properties

.

Now, go to the

Startup Type

section and set it to

the

Automatic

option.

Finally, hit

Apply > Ok

.
Fix 5: Clear The Background Processes
It is worth mentioning that sometimes the background processes might become the root cause behind this type of error. Therefore, you must have to make sure to disable the background processes that consume lots of resources. However, to do so, these steps will guide you:
Right-click on the Taskbar and select

Task Manager

.

Then, switch to the

Processes

tab.

After that, select the apps that you think consume most of your system resources.

Then, finally, hit the

end task

button.
Fix 6: Reinstall MSI Dragon Center
Did you check if your MSI Dragon Center is updated or not? Well, there are also chances that you may not update this software in a while, due to which you may get this error. Therefore, if you are unsure about this, then simply launch the application and check out the version installed on your PC.
After that, visit their official website and match the version that you have noted with the version available on the internet. If both the version mismatched, follow these steps:
Initially,

download Dragon center

. Then, disconnect the internet.

After that, uninstall the software that is already installed on your PC from programs and features.

Now, hover to the

C:/Program files (x86)/MSI

and delete the dragon center file from there.

Then, restart your PC and install the latest exe file that you have just downloaded.

After that, again reboot your PC and check if the MSI Dragon Center is not working or not opening issue gets resolved or not.
Fix 7: Reset Your PC
If you find that nothing helps you resolve the error, then the chances are that something happens with your system. Therefore, you must try resetting your device using these steps and check if, after resetting the PC, the MSI Dragon Center is not working or not opening issue gets resolved or not:
Open the Windows Settings.

Tap on the

System

tab and hover to the

Recovery

option.

Click on it, locate the

Reset PC

option, and hit the button next.

Now, simply follow the instruction to reset your PC.
Fix 8: Contact Support
Lastly, if you find no luck fixing this annoying error, then try contacting the support team and ask them to help you get rid of this situation. However, they may suggest some more fixes that we have not mentioned in the above guide, depending on the situation.
So, how to fix the MSI Dragon center not working or not opening issue. We hope that you find this troubleshooting guide has helped you. But, if you still have any doubts, comment below and let us know.