This article will discuss MultiVersus Arya Stark Guide: Attacks, Perks, Unlocks, and Strategy. We will be covering all of the above topics in detail. So without any further ado, Let us get started.
Arya stark is the new character that is being introduced into MultiVersus. She is one of the main characters in Game of Thrones, and she is being added to MultiVersus because of her abilities and unique way of fighting.
MultiVersus is a free-to-play crossover fighting game developed by Player First Games and published by Warner Bros. Interactive Entertainment. The game was initially released on August 15, 2022. MultiVersus is available to play on PS4, PS5, XboxONE, Xbox Series X|S, and Windows(Steam & Epic Games). MultiVersus currently have 153,000 monthly players.
Basically, the game features a 2vs2 format gameplay. There are other modes where you can play 1vs1 and free-for-all. MultiVersus also has a perk system that allows the players to customize their abilities. There are over 15 characters in Multiversus, and many more are set to be released in upcoming seasons. The players love all these characters as the graphics and mechanics are very good and seem almost real.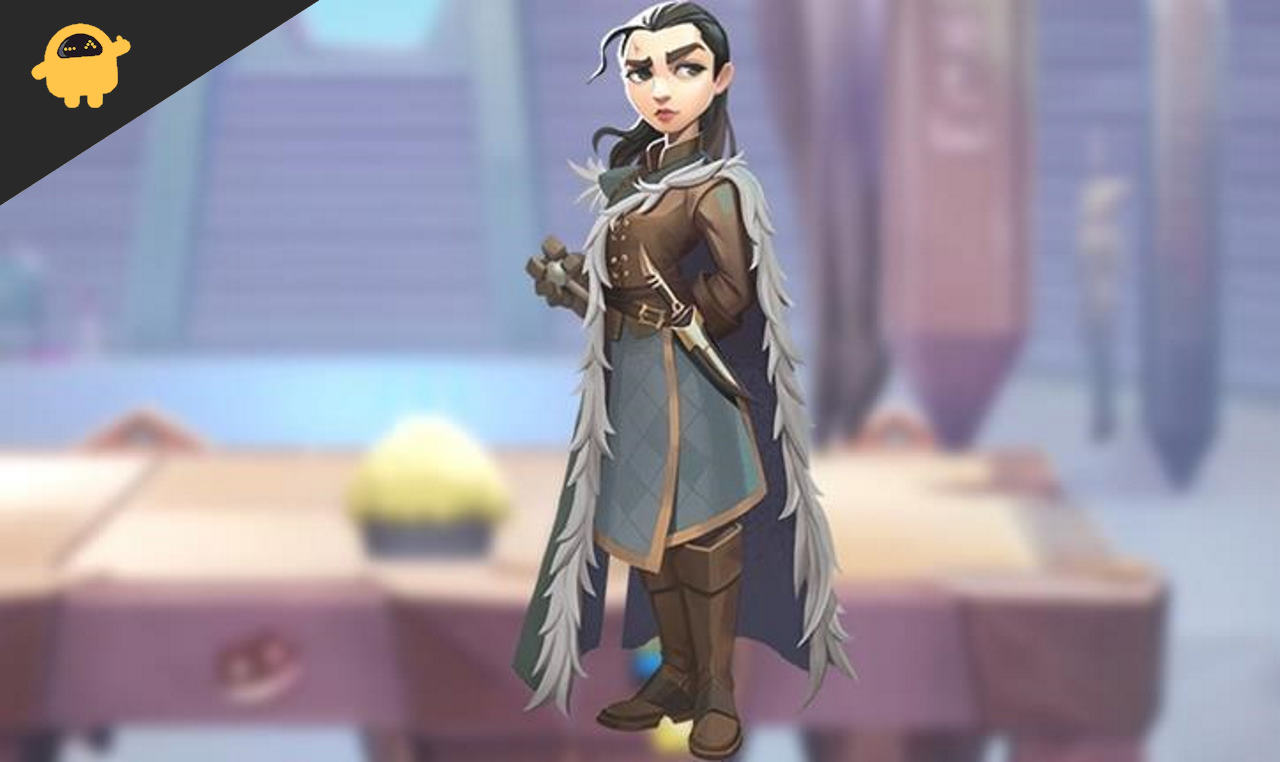 MultiVersus Arya Stark Guide: Attacks, Perks, Unlocks, and Strategy
First of all, let us talk a bit about Arya Stark and then dive into the other details. She is a character from the Game of Thrones show. Arya Stark is an Elite-level assassin in MultiVersus, as she can fight all kinds of opponents. She got some deadly moves to distract the enemy, and if you have watched Game of Thrones, then you know how good she is at sneaky or stealth attacks.
How to Unlock Arya Stark in MultiVersus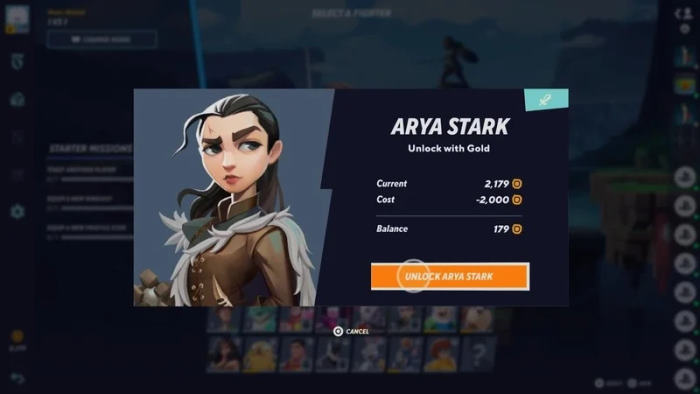 You can unlock Arya Stark in two ways:
Buy her character: Buying her is the first option to unlock Arya Stark. You can buy her by spending 3,000 Gold and 700 Gleamium.
Complete game challenges: If you don't want to spend money buying a character from a game, you can do it without spending money. You can play the game and complete a few challenges, and progress through the game. After you have progressed enough, you will get the character as a reward.
Arya Stark Attacks in MultiVersus
Arya Stark got some special attacks that are deadly and fun to use. Let us talk about each attack briefly:
1. Rolling Slash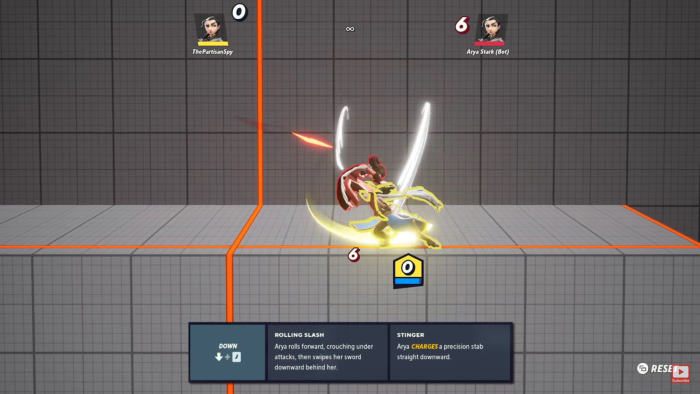 When you perform this attack, Arya rolls forward and rolls her sword in the downward direction.
2. Shark Edges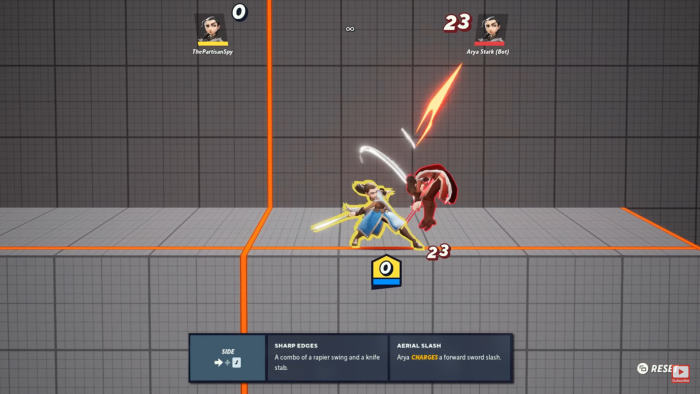 Arya performs a combo when this attack is used. She pulls her knife out and stabs the enemy, and rapier swings. This attack will take her enemy's guard and allows you to hit again.
3. Upward Slash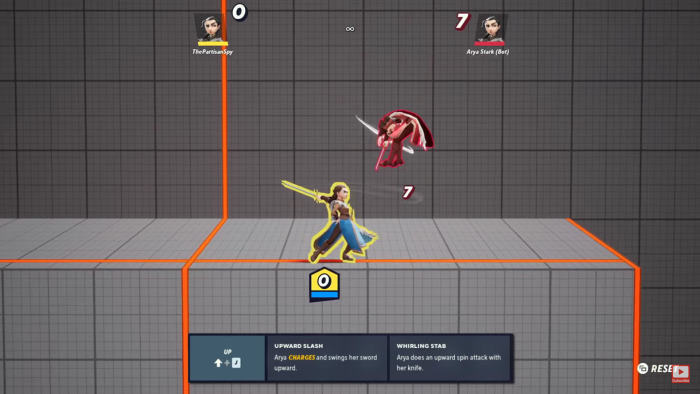 When this attack is performed, Arya charges her sword and swings upward. This attack is advantageous when trying to hit the enemy multiple times.
4. Needle Strike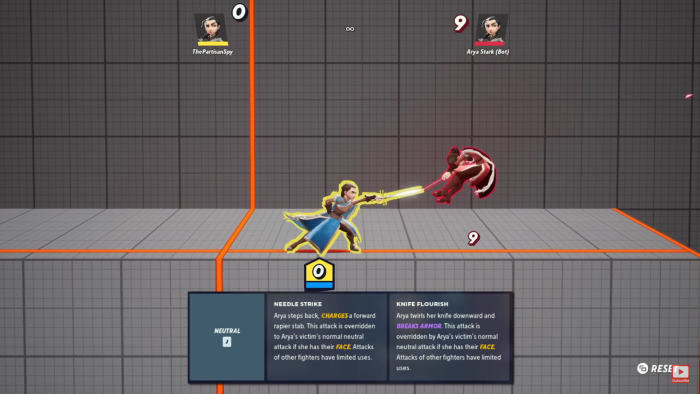 Arya steps back a little and charges herself first. Then she performs the rapier stab.
5. Stinger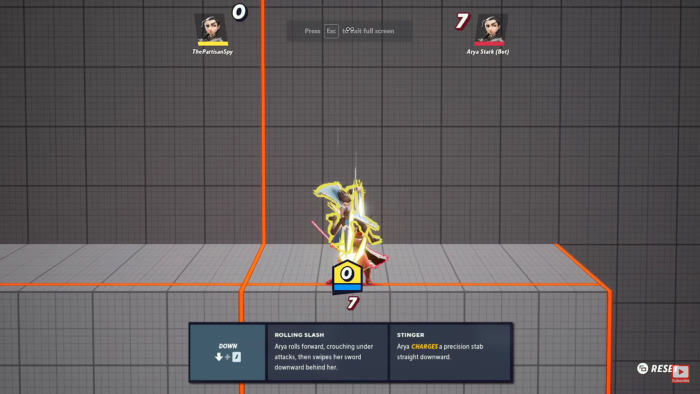 Arya Charges a stab downwards. When this attack is used, there is a high chance that the enemy will take a lot of damage. So, use this attack carefully.
6. Whirling Stab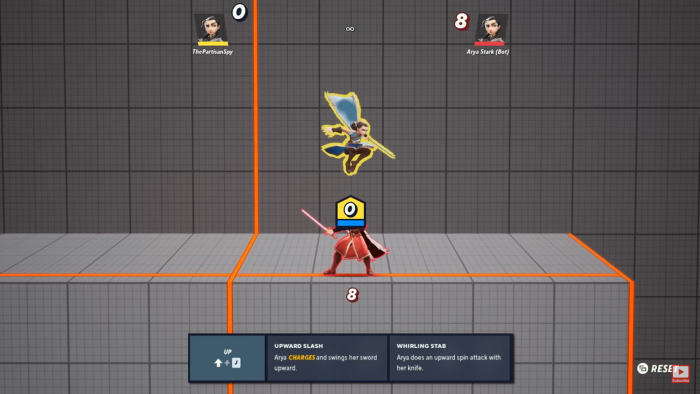 When this attack is used, Arya spins in the upward direction and puts her knife to use. This attack also deals a lot of damage in some situations.
7. Aerial Slash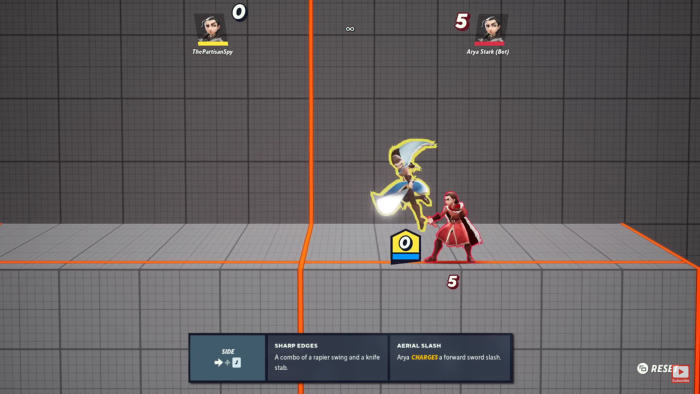 When Aerial Slash is performed, Arya performs a forward sword slash.
8. Knife Flourish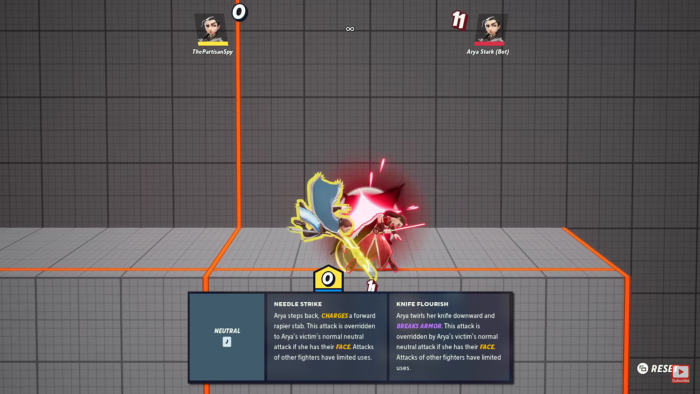 Arya spins her knife in a downward direction. This is a handy attack and works most of the time.
9. Blade Sharpener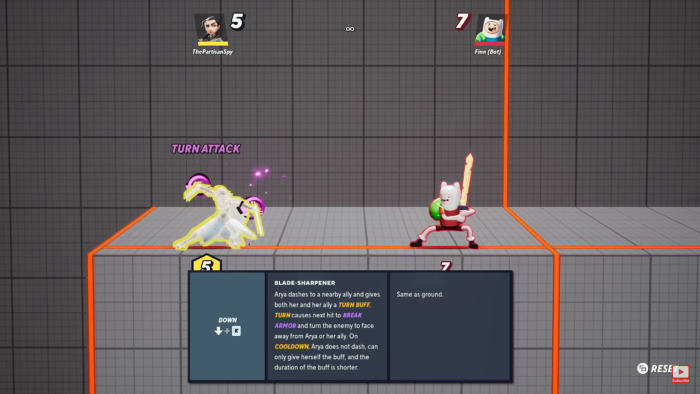 You can use this attack in the air or ground. When this attack is performed, Arya dashes to a nearby teammate and gets a turn buff (Her teammate gets too). If no teammate is nearby, Arya receives a buff but stays right where she was.
She also gets a power with which she can break the enemy's armor. When she receives the turn buff, all her enemies turn away from her allowing her to attack.
When Arya attacks someone from behind, they will receive more damage, and hence Blade Sharpener is an excellent ability as enemies can't block this move even with full armor.
10. Knife Thrower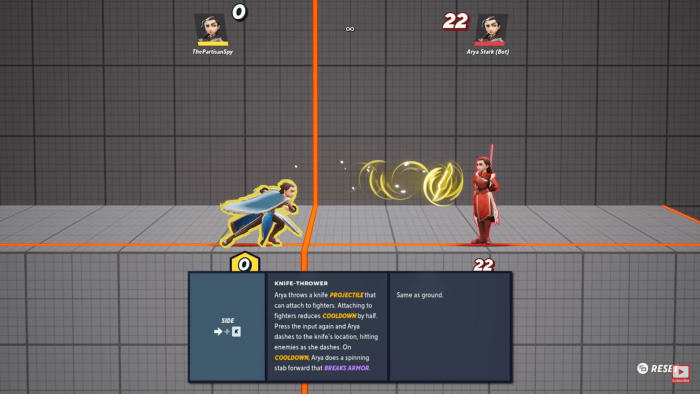 When Arya uses this attack, she throws a knife toward her opponents. This knife will distract the enemies and hence allow her to attack. The blade has a cooldown period; during the cooldown period, Arya can break the enemy's armor by stabbing them. The cooldown period is less if the knife is stuck to the enemy.
11. Dagger Slash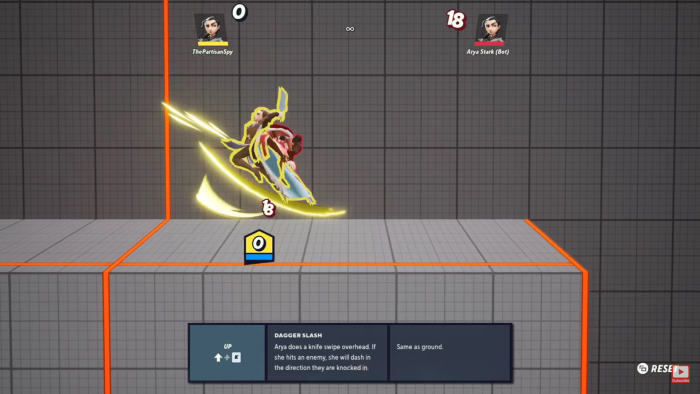 When this attack is performed, Arya slashes her dagger upwards, and if the enemy is in the air, she can get them with the knife. This is a decisive move if used in perfect situations. Use this attack in mid-air for more efficiency.
12. Face Stealer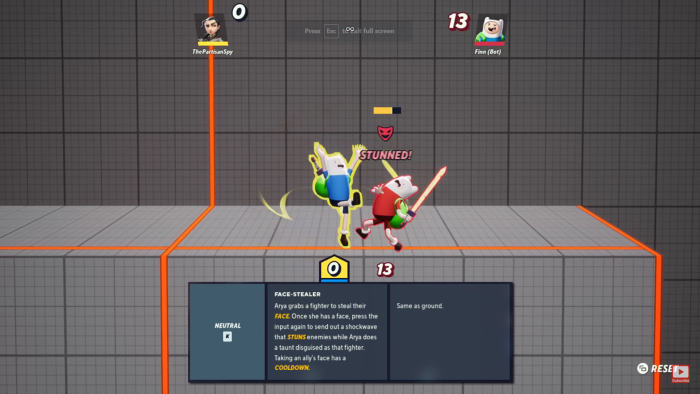 This is one of the best attacks of Arya stark because when she uses this attack, she can transform into her enemy. As soon as you change into the enemy, you have two options: stun the enemy and attack them, or use the Neutral attack, which allows you to use the enemy's attacks. You can perform the attacks up to five times.
Arya Stark Perks in MultiVersus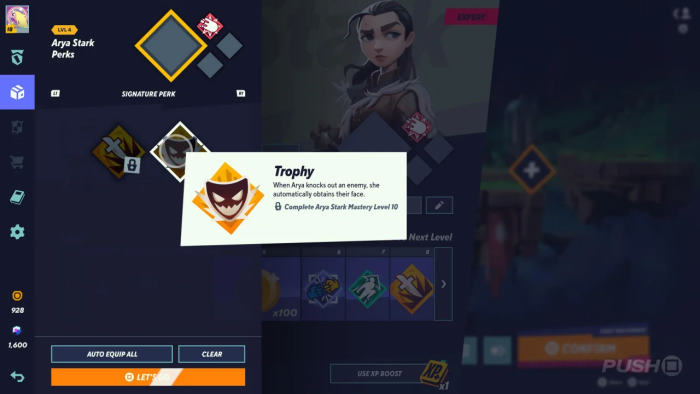 Fancy Footwork: The whole team receives a 5% increased dodge distance. It can be unlocked by reaching Mastery Level 4.
Leg Day Champ: The Whole team gets a 10% increased jump height. It can be unlocked by reaching Mastery Level 7.
Snowball Effect: The Whole team deals 7% increased damage against the opponent with the most significant damage. It can be unlocked by reaching Mastery Level 2.
Second Wind: The Whole team restores special air attacks after defeating an enemy. It can be unlocked by reaching Mastery Level 11.
Percussive Punch Power: The Whole team deals 5% increased damage with attacks that knock back enemies horizontally. It can be unlocked by reaching Mastery Level 12.
Armor Crush: The Whole team's fully charged attacks break enemies' armor. It can be unlocked by reaching Mastery Level 13.
Betrayal: Striking a teammate with Arya's dagger has a more extended cooldown, but the teammate is given an enraged buff. If Arya dashes to a sword on a teammate, she enrages herself. It can be unlocked by reaching Mastery Level 8.
Trophy: When Arya knocks out an enemy, she automatically receives their face. It can be unlocked by reaching Mastery Level 10.
How to Play Arya Stark in MultiVersus?
Arya Stark is the latest addition to Multiversus. To master her character, it might take some time. We got some strategies for that more efficiently. In this MultiVersus Arya Stark guide, we will give you tips to play efficiently with this character.
Arya is an Elite-level assassin who isn't the best in long-range battles. Always remember to engage in close-range battles to use Arya efficiently. With Arya, You can easily dodge enemy attacks.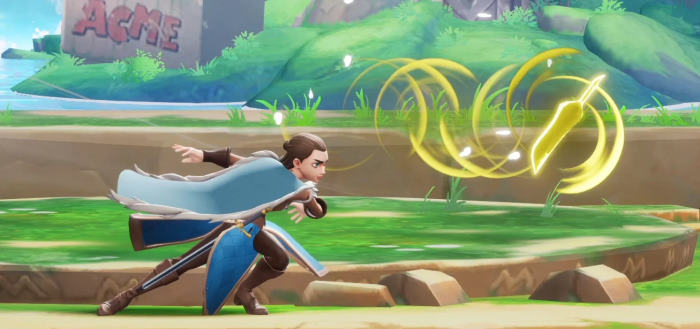 By dodging attacks, you will also get the very useful turn buff. We all know that when Arya strikes someone from behind, she deals significant damage. So always remember to attack enemies from the back whenever you get a chance.
You use the Face steal ability whenever you face a more powerful opponent because this ability allows you to use their powers five times which is more than enough to take them down. Also, try different attack combos whenever possible and learn new tricks to use Arya efficiently.
Conclusion
Arya Stark will be one of the most powerful characters in the Multiversus. We hope this article about MultiVersus Arya Stark guide helped you understand her abilities and perks. If you still have any doubts regarding this article, please comment down. Also, let us know which is your favorite Arya Stark attack, and that's a wrap.