If you're using the OnePlus 7 Pro and suddenly experiencing that your OnePlus 7 Pro randomly rebooting, again and again, there may be various reasons for this issue. But you can try to fix this issue with some possible steps which are mentioned below if your device doesn't die.
How to Fix Oneplus 7 Pro randomly rebooting again and again
Continuous restarts mostly come from software bugs or errors. Your OnePlus 7 Pro is most probably missing some software or app updates that may crash your system processes. The smartphone may also crash system data due to the corrupted cache. Here are the three simple and possible guides on how to fix it.
1. Perform A Force Restart
Press and hold the power button on your phone and reboot to the safe mode.
Tap on the Ok button to enter into the safe mode.
Wait for the OnePlus 7 Pro phone to restart. [You will see the safe mode symbol at the bottom left corner of the screen]
If the phone doesn't restart in the safe mode then there could be an issue with Duel Links app.
Try uninstalling this app then check again.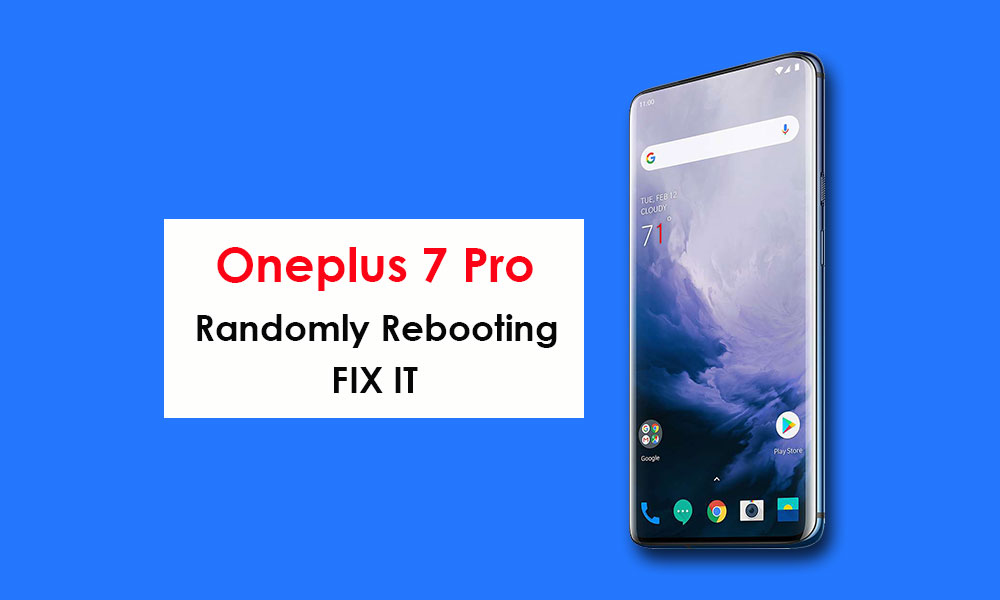 2. Wipe Cache Partition
A corrupted cache system data can cause Oneplus 7 Pro to randomly rebooting again and again. You should wipe the cache partition of your phone to solve this issue.
Turn off your phone then press and hold the Power + Volume Down buttons together to turn on the device.
Continue to press and hold these two buttons after the OnePlus start screen is displayed.
Wait until the phone starts in Recovery mode.
Tap on the language of your choice.
Tap on the Clear Data and Cache option.
Now, tap the language of your choice and the "Wipe Cache" option.
Tap on the Yes option to confirm.
Restart your phone.
Read More: Common OnePlus 7 Pro Problems and Fixes – Wi-Fi, Bluetooth, Camera, SIM, and More
3. Reset and Update to the Latest Software Version
Finally, you can try to update your device to the latest firmware version. This may fix your Oneplus 7 Pro randomly rebooting issue. But before updating your device, you should factory reset your device for once.
Go to the Settings > tap on Backup & reset.
Tap on Back up my data and choose an option.
Tap on Factory data reset.
Enable Erase internal storage option.
Tap on Reset Phone.
Tap on Erase Everything.
All data and settings saved on the OnePlus 7 Pro will be deleted.
Your device will automatically reset and reboot.
Then update your device to the latest version.
Hope this guide will help you a lot. If you have any queries, write down your comments below.