Multiplayer Online games are the top selling content in the gaming world. People love indulging themselves in a world of fantasy, action, and adventure. Mix that with the genre of Role Playing, and you have the ultimate game recipe. In today's article, I'm going to talk about a popular MMORPG game called New World and a particular problem related to it where users are encountering New World Unrecoverable Error.
New World is a relatively new game in the market. It was developed and published by Amazon Games Studios. Amazon took a fresh new concept in the ever expanding market of MMORPG and seems to be fairly successful while doing so. New World is the latest addition to their roster of games.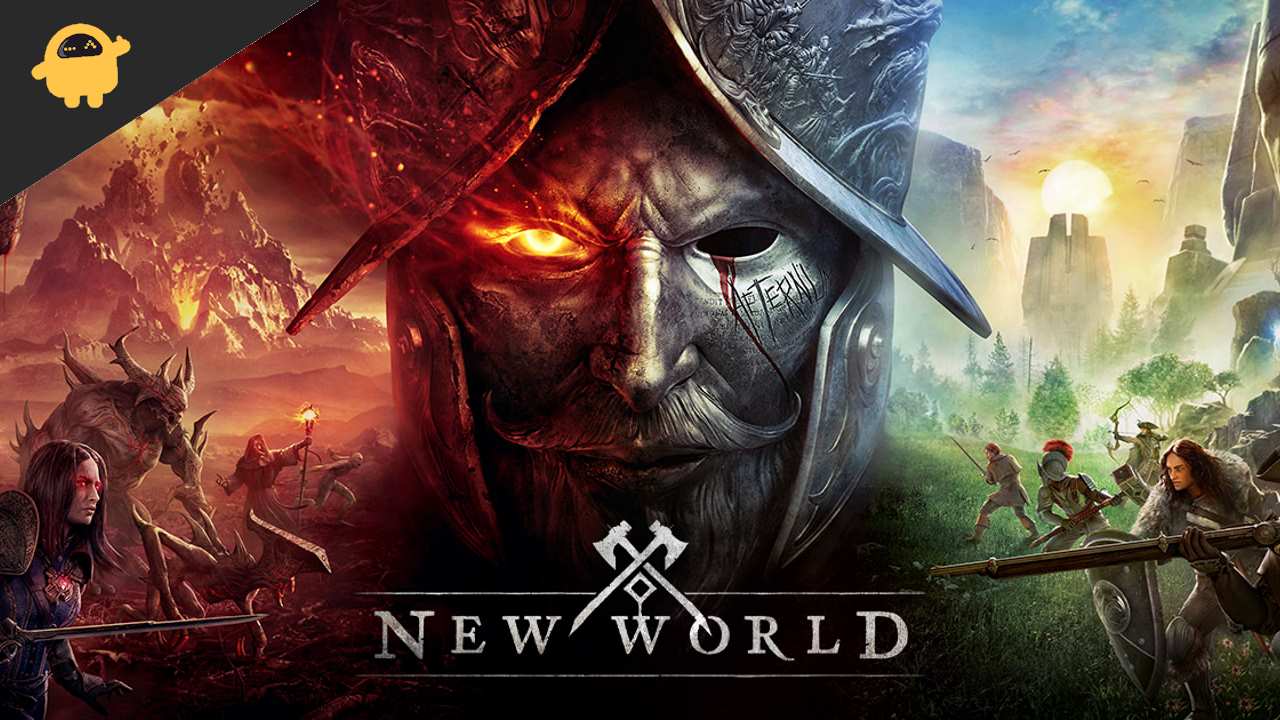 New World: Forge Your Destiny In This MMORPG
Recently the users are facing an issue with the game that caused a massive backlash. The game doesn't seem to run or it just simply crashes. The game seems to display two peculiar messages after booting up. The messages are as follows:
"No product Information found, cannot initialise game. Please contact customer service for this product"
"Steam must be running to play this game. Make sure you're logged into steam, then try again".
Prior to this message the game crashes or doesn't load at all. People are going crazy over New World unrecoverable error as it's hampering their experience.
Steps To Fix New World Unrecoverable Error
When it comes to game crashes and errors, there can be multiple reasons. It can be a third party software, your device hardware, or even the device system. These issues are hidden below the surface, and you have to dive deeper to recognize and fix the issue. Here are some of the possible reasons for the aforementioned problem and a few troubleshooting methods to fix it.
Method 1: Check Game System Requirements
New World is a heavy game; to run it smoothly, you should have a PC that meets the basic requirements. Although it's important to have your PC with the latest hardware, let's just see the minimum requirements for this Title.
For the game to run smoothly and without any issues you need-
Windows 10 or above
A minimum of 8 GB RAM
Available ROM storage upto 50 GB
GPU- Nvidia GTX 670 (2 GB) or AMD Radeon R9 280 or similar GPUs
CPU- Intel Core i5-2400 or an AMD CPU (4 Cores) clocked at 3 Ghz
DirectX Version 12
Note that these are the minimum requirements to run the game. But, even with these specifications you may face occasional issues. So, it's recommended to have a PC that exceeds these requirements. Although this build is completely fine as well and you shouldn't worry about it.
Method 2: Verify Integrity Of Game Files
Perhaps your game files are corrupted, and that can solely be the reason for the Unrecoverable Error. This is a common issue with most of the games, and it can be fixed in a jiffy.
Corrupted files are created when you have a faulty hard drive or when your PC crashes or turns off while in game. It can be caused by viruses too, which can be fixed easily with an antivirus scan. The corrupted files can also be created during a rough download phase, where you pause the download and resume again.
There can be multiple reasons. If the problem is with your Hard drive, then you should replace it with a new one and then try running the game. But, if the problem is with the files, then don't worry, I have got a fix for that as well.
You can fix the corrupt files by verifying the game files on Steam itself. To do this, head onto steam and go to the Library section.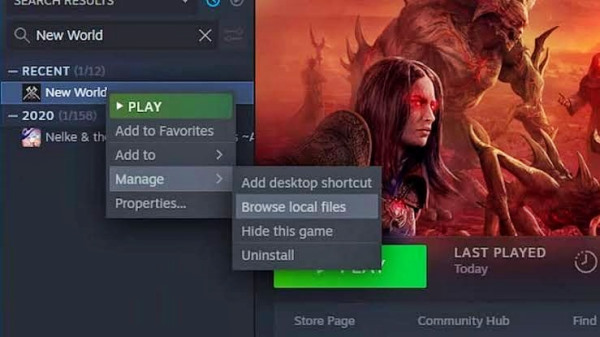 Beside the game, you will see three dots; click it. Click on Properties. There you will find the game files in the Local Files section.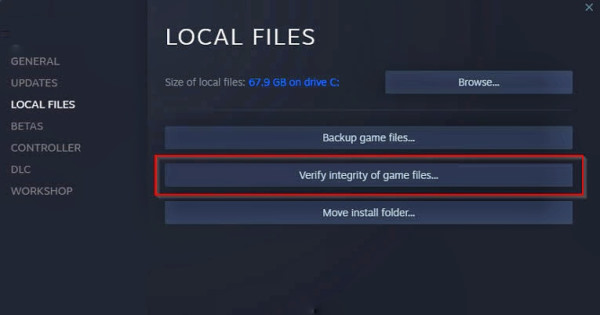 Now there, you'll get the option to verify the files. The process might take some time, but, after verification, the files will be repaired.
Now launch the game and check if the issue persists.
Method 3: Try Repairing Easy Anti Cheat
Easy Anti Cheat is a third party software that prevents hackers and cheaters from cheating in the game. This tool installs itself automatically with every online game. Although this is a great tool to ensure fair play, it can be the reason behind the Unrecoverable Error of your game.
To fix it, all you have to do is go to Steam and head towards the Library section. Click New World to see its settings menu. In the settings, you will see the Manage option.
Click it to see Browse Local Files. In between those folders, you see the EasyAntiCheat folder.
Double click to set up the EasyAntiCheat_Setup.exe file. Now click Repair service.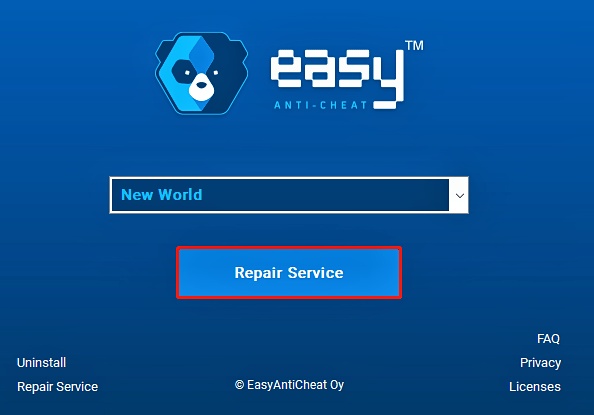 Wait for a few minutes for the repair to be over. After it's done, run the game. The issue will be fixed.
Method 4: Make Changes To Network Settings
Sometimes there's an issue with the network settings, and most people are unaware of it. Remember, for a game to run properly, every setting matters. To fix this network related issue you have to disable the IPv6 on your PC network settings.
Head on to the Control Panel of your PC. There you will see Network and Internet options.
After clicking it you are in the Network and Sharing Center menu. Now click Properties following network connection.
In the networking section, uncheck the box with IPv6 and click OK.
Now try launching the game again and see if the error persists.
Method 5: Reinstall New World
Now mind it, this is the last resort if none of the above methods work. Uninstalling and reinstalling the game clears the faulty files and game settings.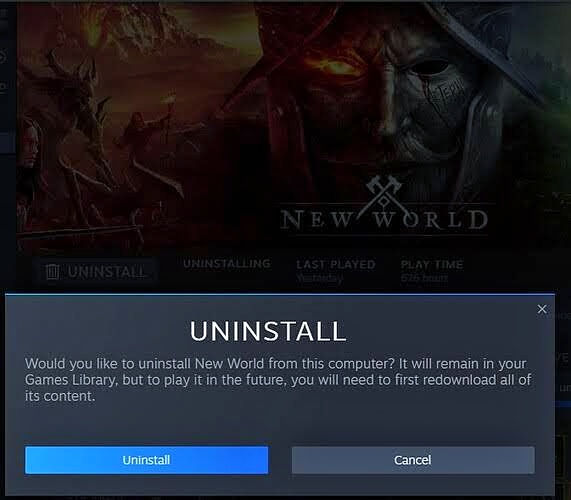 After you reinstall the game, try restarting the computer for additional safety. Restarting the PC clears all the temporary residual files. Now relaunch the game for a smooth issue-free experience.
Conclusion
This brings us to the end of this guide for fixing the New World Unrecoverable Error problem. Please note that the game is quite new, and such minor issues are common. So do check for regular in-game updates as they are often released to fix minor issues similar to New World Unrecoverable Error.