Nothing Phone 1 follows the warmly received Nothing Ear 1 true wireless earbuds as the second product from the London-based startup. Its stock has been raised further thanks to investment from Alphabet's parent company, collaborations with leading tech YouTubers, and influence from design luminaries such as Dyson and Teenage Engineering, boosted by the reputation of OnePlus co-founder and hypeman extraordinaire Carl Pei.
While the Nothing Phone 1 has high profiles, it's a far simpler and more modest device than you might expect. It has been Nothing's mission to promote simplicity and openness since it was founded in late 2020, and the Phone 1 continues in this vein while also maintaining the Ear 1's balance of eye-catching design, capable features, and an affordable price point.
However, despite its great features, this smartphone has some flaws due to which they are facing the issue. Many users started reporting that the Nothing Phone (1) cellular data is not working. But, Nothing to worries as we have some solutions to this issue. So, let's check out those fixes: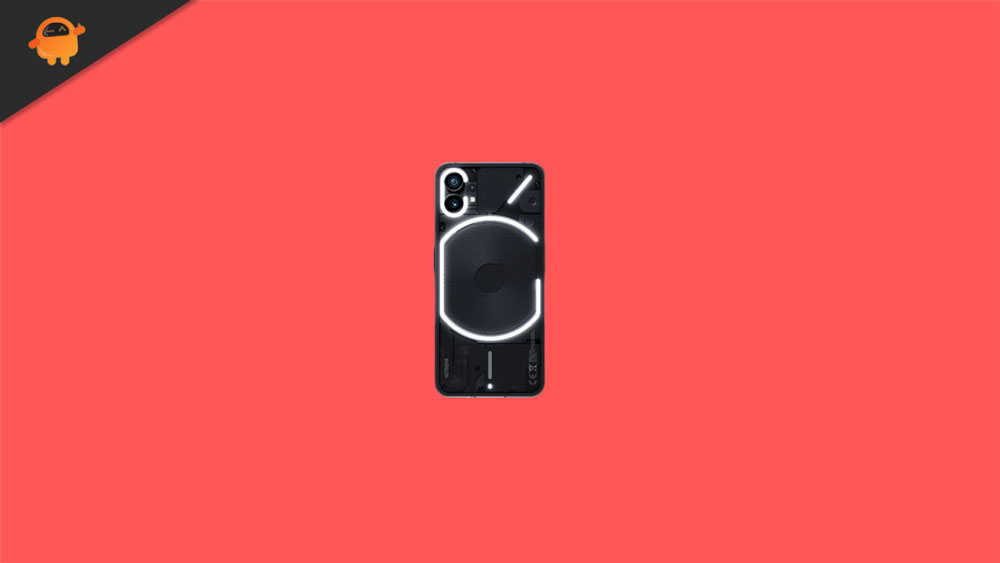 How To Fix Nothing Phone (1) Cellular Data Not Working
There are some fixes that will help you resolve the Nothing Phone 1 cellular data not working issue. Therefore, in case you are facing this problem, make sure to check out the fixes we have mentioned below:
Fix 1: Mobile Data Limit Surpasses
There is a wide variety of mobile data plans and services available from most carriers. Moreover, we often take roaming for granted without monitoring data usage. If your Android phone's mobile data does not work, then this may be the cause. Having an unlimited data plan eliminates the need for you to take this into account.
In your device's settings, you can easily check if your mobile data limit has been reached for the day, week, or month. Afterward, you can find your data usage for a certain period by tapping on "Data usage." If you have exceeded your data cap, you should contact your carrier to resolve the issue. However, if you didn't do that, you may need to keep searching for alternative reasons why your cellular data is not working.
Fix 2: Reboot Your Device
There have been jokes about restarting gadgets to try to fix them around the internet. In many cases, they work despite being clichés. Sometimes, a simple fix is all you need to make things work. Many people have observed that turning on Airplane Mode on their mobile phones works in most cases. Then, shut off your phone and switch to Airplane mode by going to settings and tapping "Wireless Networks" or "Connections."
Turn on your phone again after 30 seconds. The Airplane mode should be turned off in the same settings section. Once that's done, check to see if your cellular data not working issue gets resolved or not. You should make sure your mobile WiFi is turned off, and you should only be using your cellular data services.
Fix 3: Try AirPlane Trick
It is common for mobile data to not work due to setting errors. Despite what it might sound like, forgetting certain things is normal. It is possible that you just forgot to turn off "Airplane mode" after a long flight. The possibility is also that you turned it on accidentally and didn't realize it.
Your phone's settings will allow you to turn off Airplane mode if it is on. The "Wireless Networks" or "Connections" sections will vary according to your phone model and Android OS version. Check your mobile data to see if it works after turning off "Airplane Mode." After disabling it, wait for your networks to reconnect.
Fix 4: Check Your Mobile Network
Ensure you're using the correct connectivity to resolve your cellular data not working issues. Each network mode has its own limitations, and it may not translate perfectly on your Android device. In order to connect to an optimal internet connection, different phone models have different requirements. Some phones have 4G network capability but work poorly with 4G networks, whereas others have 4G network capability but operate poorly on those networks.
Therefore, it is important to ensure your phone's network settings are optimal for the device. Android phones provide you with a lot of flexibility when it comes to changing your network mode. The first thing you should do is go to your settings. You will then be able to select "Mobile Data."
Select the appropriate "Network Mode" from the list. Select the 2G/3G/4G Auto setting on your phone to use the best available mobile network in a particular region. Make sure that your mobile internet connection is working again after changing the network mode.
Fix 5: Reset Your APN
In mobile communications, the access point name, or APN, is used by your phone carrier. It is necessary for you to connect to the internet so that you know your IP address and gateway settings. No matter how important they are, they may still cause some issues from time to time. It might help reset your APN when that happens to fix your cellular data issues.
The first step in resetting your APN is to go to settings. Change your network settings by going to the section where they can be changed. There can be several names for this section, depending on the model of your phone, such as "Wireless Controls," "Wireless Networks," "Connection," and "Mobile Data."
After you've selected "Mobile Networks," tap on "Access Point Names." A list should appear displaying the APNs your phone is configured with. Afterward, click the menu icon on your screen and choose "Reset to Default."
Fix 6: Re-Insert Your SIM Card
If this problem persists, another way to fix it is to re-insert the SIM card. Restarting or resetting the phone/SIM card communication can sometimes resolve many cellular data issues. Turning off your phone before removing your SIM card is a must.
If your SIM card has been removed, wait 30 seconds before re-inserting it. Once your smartphone has been turned back on, wait for it to reconnect to the network. Once your mobile data issue has been resolved, check to make sure it has been resolved.
Fix 7: Factory Reset Nothing Phone 1
Your last resort should be a factory reset if none of the fixes on this list work and you still cannot resolve the problem. You might find that resetting the factory data can solve a connection problem you couldn't find anywhere else. You should make a backup of all of the important files on your phone before performing a factory reset. The reset will erase everything on your phone.
You can now access your settings after performing a backup. Choosing "Backup and Reset" will then allow you to reset your phone to factory settings. Usually, you'll receive a warning to make sure you're doing this on purpose once you do this.
You will have to wait for your mobile device to complete the factory reset after you confirm the reset. If your mobile phone connection is back after everything has been reset, you may set up your mobile phone connection again.
So, that's how to fix Nothing Phone 1 cellular data is not working issue. We hope that this guide has helped you. Meanwhile, in case you have any doubts or queries, comment below and let us know.