Open Gapps (GApps) is an open-source project that offers all the necessary and latest Google core apps & services useful for an Android device. Although every Android device does come with Gapps preinstalled, most of the custom firmware doesn't have it except for Pixel Experience ROM.
Simultaneously, some of the Huawei devices and all the Chinese region-specific variants don't have Google apps preinstalled. If you've already flashed a custom ROM or want to have it, you can download Open Gapps for ARM and ARM64 Devices (Android 13, 12, 11, 10, 8.1, 9.0 Pie) from this article.
Looking for Android 11 Gapps? then here is our new article to download the unofficial
Android 11 Gapps
.
You will definitely require a GApps package to install on your Android smartphone once you've flashed a Custom Firmware on it. Otherwise, you can't access or use your handset up to a full extent if you don't have Google Apps (GApps) installed. There are several platforms, Android OS versions, and GApps package variants that you will need to consider when downloading the Gapps package according to your handset.
What is Gapps?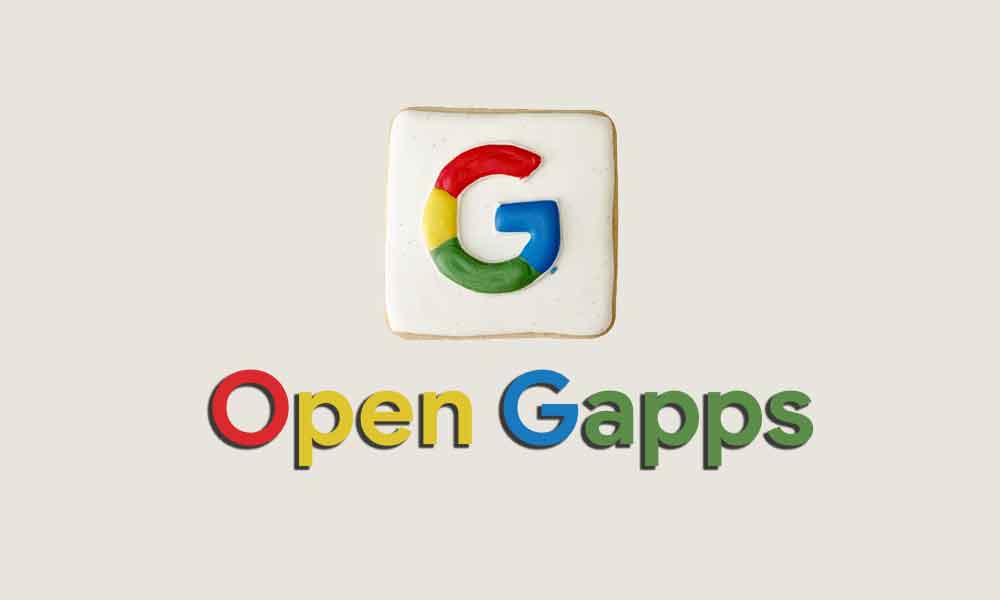 As the name suggests, "GApps" stands for Google Applications. Just like the Android OS, GApps, or Google Apps and Services are also open-source in nature and can be used seamlessly on any Android operating system running devices. Needless to say that you can't even use Google apps and services on your Android device if the GApps package isn't installed. Such as Google Play Services, Play Store, Gmail, Google Drive, Docs, Google Keep, Forums, Calendar, Phone, Messages, YouTube, Photos, Maps, etc.
Google Apps are the proprietary applications and services pre-installed on all the official Android running devices (except for Custom ROMs). Aftermarket firmware doesn't come with pre-installed GApps due to the licensing restrictions. But as we've already said, due to its open-source nature, Android users can manually install or flash the GApps package according to their preference on even Custom ROMs very easily.
Is Open Gapps a Best Google Apps Package?
Open Gapps is a third-party open-source project that brings all platforms & Android versions all in one place. The interested users only need to select the specific requirement and easily download it from the OpenGApps.org site. Unlike other GApps, the Open Gapps support DPI-optimization, the apps are being frequently optimized, smaller package sizes with strong compression, etc.
Additionally, it offers automatic backup when you update your Custom ROM. That means you don't need to re-flash the Open Gapps package. The Gapps installer always checks device compatibility mode, system partition size, multiple package variations, etc. So, in a single word, this is one of the most reliable and easy-to-use Gapps packages for the Custom ROM running Android devices.
Also Read: Download NikGapps
Can We Trust Open Gapps?
Now, that's a very tricky question that most Android users may ask before downloading or installing the Open Gapps package. Although this a third-party open-source project, the automatic script generation of Google Applications packages (up-to-date) is the most important thing for reliable and stable user experience along with system performance.
Google offers GMS (Google Mobile Services) as the main key to bring all the essential Google apps and APIs to install & run on your Android devices. It's a collection of all the Google apps and APIs that helps system functionality on devices. These apps work together for a greater user experience with ease. So, if your Custom Firmware has GMS support, then you can easily use the Gapps package, and it's fully legal. However, you can't install GApps on non-GMS Android devices (Such as Huawei).
Before downloading Gapps Package, make sure which variant of Gapps you want to download as there are different Gapps packages with different sizes are available on the download page of Open Gapps. With the increase in the size of the package, there is an increase in Google Apps. If your device internal memory is less, then I would recommend you to go with the less size of Gapps; if you want only the Google Play store and some basic Google Apps like Youtube, Gmail then downloads the smaller-size GApps and if you want to get all the available Google Apps then download the biggest one.
Official Open Gapps for Android 13
Sorry there are no Open gapps for Android 13 yet, but you can download the NikGapps for Android 13 from here
Official Open Gapps for Android 12/ Android 12L
Arm64 Nano Version: Download
Official Open Gapps for Android 11
Official Open Gapps for Android 10 Q
We have given the latest version uploaded on 9th August 2020 with build number Open Gapps 10.0 20200809.
Unofficial Open Gapps for Android 10 Q
ARM: Download Open Gapps 10 ARM Zip
ARM64: Download Open Gapps 10 ARM64 Zip
Unofficial Open Gapps for LineageOS 17.1
Official Open Gapps for Android 9.0 Pie and Oreo 8.0 / 8.1
It is the most downloaded GApps package as it is very small in size, it consumes very few spaces in your internal storage, and it has basic Google play services like Play Store, Youtube, etc., and it does its job very perfectly. It doesn't have any useless Google apps which you don't use.
It is bigger in size than the pico package and has some more Google Apps than the pico package.
It is bigger in size than Nano has some more Google Apps than Nano, like Youtube, Gmail, Hangout, Google Play Games, etc.
This package is made for those users who prefer to use only limited Google Apps. In this package, you will find Apps like Google Maps, Google Chrome, Gmail, Google Duo, Google Play Movies, Face detection for media, Face Unlock, etc.
If you prefer the option to use stock/AOSP apps, this package is designed for you. In this package, you will find the core Google system base, Google Android Shared Services, off-line speech files, Face Detection for Media, Face Unlock, Google Play Store, Google Exchange Services (replaces stock/AOSP Exchange Services), Dialer Framework, and the following Play Store applications:
This package is designed for those users who love all Google Applications, therefore, in this package, you will find all the Google Apps you get with any Google device.
How To Install Open Gapps Package
To install, you need the TWRP Recovery on your device. If you already have the TWRP Recovery, you can just flash the Open Gapps after installing any custom ROM of your choice.
First of all, Download and move the Gapps file to internal storage [root folder]
Tap on the Install Button
Look for the Gapps zip file in the internal storage
Tap on the Pie Gapps zip file
Now swipe to confirm the flash, and that's it! You have successfully flashed the Android 10 Gapps on your phone.
That's it! You can reboot your device to enjoy it!
So, that's pretty much about it. So, remember the points above and only flash the GApps that your custom ROM developer provided.