In this era, where cable TV is replaced by the streaming services such as Netflix, Amazon Prime Video, Disney Plus, HBO Max, Hulu, and many more, Paramount was successfully able to make its own space. But, in this category, a name that has a huge fan base is Paramount Plus. It is basically owned by ViacomCBS Streaming which is a division of ViacomCBS. However, with around 43 Million active users globally, Paramount is one of the most user-based streaming services presents.
But unfortunately, due to its immense user base, it looks like the developer may not be able to handle the rush. However, that's why users often suffer from various issues like black screen error, not casting to TV error, etc.
Well, we have already discussed about how you can fix the black screen issue; therefore, in this guide, we have decided to help you fix if Paramount Plus is not casting to your TV. So, just make sure to perform the steps that we have mentioned further in this guide. Therefore, let's get started then.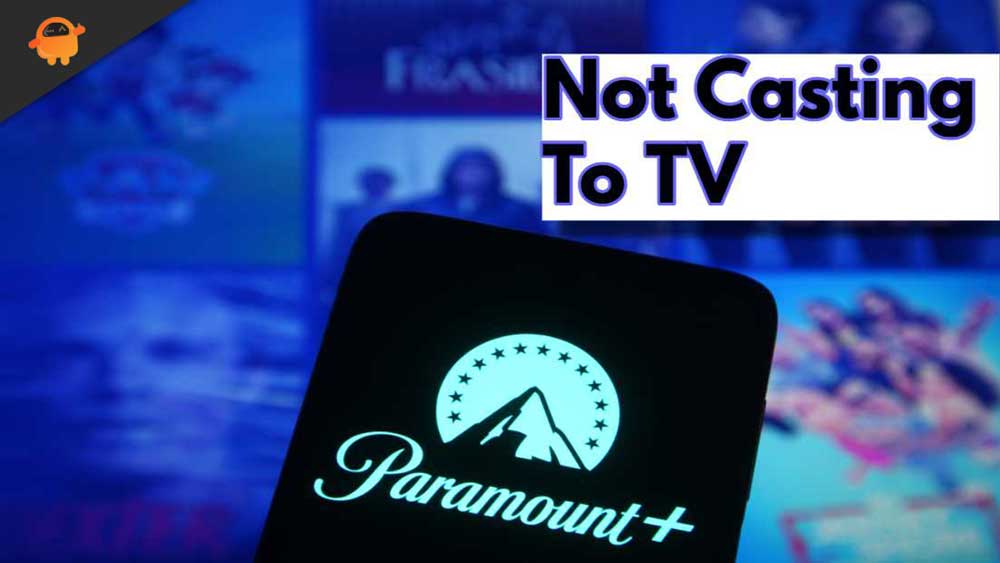 How To Fix Paramount Plus Not Casting to TV
There are multiple tricks available to fix the Paramount Plus not casting to TV issue. But, here, we have discussed only those that we have tried personally and got results. So, now without wasting time talking, let's get started with the fixes.
Fix 1: Restart The Paramount Plus App
First thing came first! Yes, many users have already found this fix really helpful and claim that the not casting on TV issue gets resolved. However, there are chances that some temporary bugs may be stored which prevent your app from functioning properly, due to which you are getting the error.
So, it is recommended to restart your application and check if you are able to cast it to your TV or not. Well, most probably, you notice that the issue gets fixed now, and you are able to enjoy your favorite content on your TV.
Fix 2: Restart Your Device
Did you try this before? Well, chances are there that there might be some bugs and glitches or temporary files that are stored on your TV, which causes it to not work properly and end up showing this type of error.
Actually, you may not know the fact that your system stores a stale copy of your actions so that next time you access the same thing in the future, you won't have to wait for long. But, when these files get damaged or corrupted, you start getting various issues. Therefore, it is highly suggested to reboot your device and then check again if the issue is appearing anymore.
Fix 3: Check If You Are Connected To a Stable Internet Connection
Sometimes, a bad or poor internet connection may be the reason behind this type of error. So, it is very important to check if your internet connection is good. We have seen that the issue automatically gets fixed once the user fixes its connectivity issue in many cases.
Therefore, in order to check your internet speed, you can simply hover to the Ookla speed tester website and test your WiFi connection speed. After that, if you've noticed that the internet speed is poor, you need to power cycle your router or modem to fix the connection issue. So, simply plug out all the cables and wait for 40-50 seconds before plugging in all the cables.
Once done, switch on the power button and again check the speed. However, if you still find that the internet issue is not getting fixed, contact the ISP provider and ask them to fix it.
Fix 4: Check For Software Update
There are also chances that your TV may have some pending software updates. So, in order to make sure that there is no reason from your side for the occurrence of this error, we suggest you check for the software update. Well, many users already reported that after updating their system software, the not casting issue automatically gets fixed.
Fix 5: Make Sure That Your Paramount Plus App Is Updated
Okay! Tell me, when was the last time you have updated your Paramount Plus app on your TV? We generally ignore these minor updates because we think this has no real value. But, you know what, that's not the truth. Yes, developers always work hard to give the best and top-notch performance by regularly updating their apps.
But, since you are using the older version, you may have to face multiple performance-related issues. Therefore, we suggest you check if your application is updated and then again try casting the Paramount Plus to your TV in order to check if it works now or not.
Fix 6: Clear The Cache Data
Did you clear the cache file of your application? There are chances that the reason behind this issue is the cache file stored on your application. So, we recommend you to depend upon your device; you may check the necessary steps to clear the cache files of the Paramount app, or even if you are watching the Paramount on your browser, clear the browser cache. Once done, make sure to check if the issue gets resolved or not.
Fix 7: Reinstall The Paramount Plus App
So, in case you find that the above-mentioned methods did not really work for you, then if you are using the Paramount App on your device. Then, make sure to reinstall the application. Well, many users previously reported that this helped them to resolve the casting-related issues. So, why not this time? Therefore, go and reinstall the app and let us know if it helps.
Fix 8: Reach Help Desk
There are chances that this issue may be occurring from the developer's end; therefore, if that's the case except contacting the official support team, you have no other choice. So, you can simply hover to Paramount Plus and your TV manufacturer's official support page and explain the issue.
After that, if you are lucky enough, then you'll get a reply back from the officials. Or the easiest method that I'll suggest you make a Tweet by tagging the Paramount Plus. However, if other users face this, they will automatically retweet your post and ask the officials to fix the issue.
Wrapping Up
Although Paramount Plus offers very good deals to its users, but still sometimes, due to these kinds of issues, people may have to think twice before purchasing a subscription for themselves. Anyway, that's on how to fix Paramount Plus is not casting to TV issue. We hope that this guide has helped you. However, for more info, please comment below.