Payday 3 open beta is live and those who have tested it are facing a host of issues. If you are greeted with the Payday 3 "Network Error, No Network Connection" message, rest assured you are not the only one. Beta builds are likely to contain bugs, and Payday 3 is no exception. However, there are potential solutions to fix the network errors in Payday 3, which I'll share with you in this guide.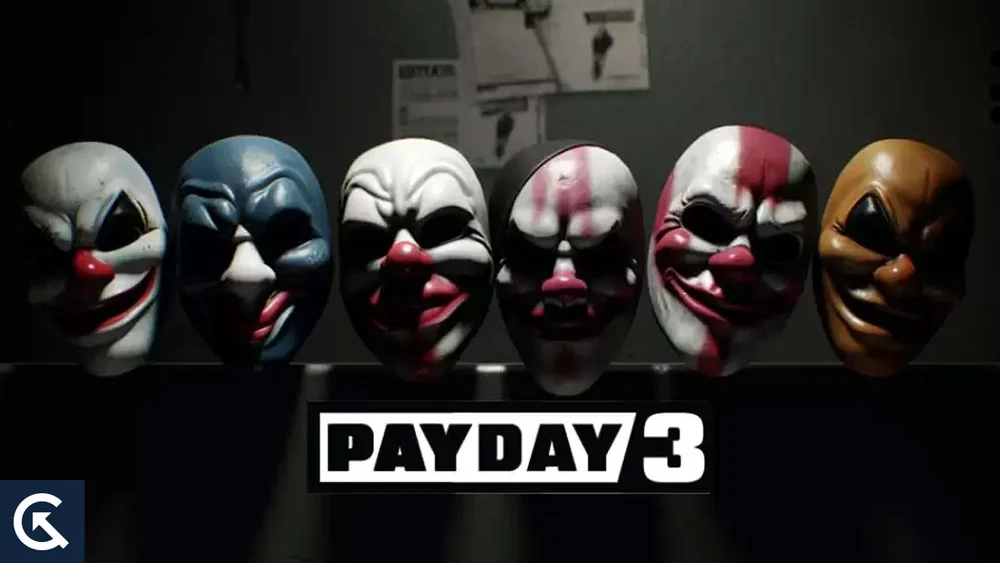 The third installment in the Payday series, Payday 3, is about to be released. Developed by Starbreeze Studios, the game is currently available in the form of open beta. It's for those who can't hold their nerves, but there's always a chance of bugs and errors. Unfortunately, although somewhat expected, Payday 3 is also facing issues while logging in or launching the game.
If you can't log into the game or play it because of network errors, try the solutions mentioned below.
How to Fix Payday 3 Network Error and No Network Connection
When getting network errors, the first thing to check is if the servers are up to the mark. During the beta phase, the servers are stressed a lot for testing purposes. It is done to check the performance and reliability of the game at its peak.
You'd also want to make sure that the internet connection is fast and stable. Here are a couple of troubleshooting steps that could address the network issues with Payday 3.
1. Check the Server Status
Payday has officially acknowledged beta issues, and the company is already working on it. If you keep getting network errors, check if something is wrong with their servers. Unfortunately, there's no official status page to review the real-time server status. But, you can follow Payday's official X and other social media accounts to stay updated about the latest problems and server downtimes.
If the servers are overloaded or facing technical difficulties, you should wait for an hour (at least) before trying again.
2. Test Your Internet Connection
For an online game such as Payday 3, you require a fast and stable internet connection. Hence, you must ensure that the connection is up to the mark. To test your connection, run an online game or do a speed test via speedtest.net or fast.com.
If the connection has issues, try rebooting the router. For this, unplug the power cable. Wait for 2-3 minutes and then plug the cable back into the outlet. Connect to the internet and launch the game to check if the issue has been sorted.
3. Restart Your Device
Your device may have network glitches causing issues with Payday 3. Restarting the device can sometimes fix this issue. It will try to reestablish the connection and fix network-related problems.
4. Temporary Disable Antivirus and Firewall
Your computer may block online access to Payday 3 leading to network issues. You must whitelist the game on all antivirus and firewalls. It will indicate to them that Payday 3 can be trusted. The antivirus and firewall on your computer won't restrict the game when it tries to connect to the servers.
If you can't whitelist the game, try temporarily disabling all antivirus and firewalls.
5. Get a New IP Address
If you are confident that there are no server or internet problems still the game is showing network errors, try getting a new IP address. Flushing the DNS is an effective solution to fix network-related issues on a PC. You can try it on your device to check if it can restore the network on Payday 3.
1. Make sure Payday 3 is closed.
2. Type CMD in the Windows search bar.
3. Right-click on Command Prompt and select Run as administrator.
4. Run the following command to release your current IP address:
ipconfig /release
5. Now, run the following command to get a new IP address for your computer:
ipconfig /renew
6. Run the following command to connect using the new IP address.
ipconfig /flushdns
Launch the game to check if the network errors have been resolved.
Wrapping It Up
Payday 3 is currently going through the open beta phase and therefore you may expect to see bugs and errors. If you keep getting the network error, probably the servers are overloaded. If not the servers, your internet connection, or some bugs could be blamed. Try the potential solutions we've mentioned in this guide.