Despite Google's best efforts, the Pixel line of smartphones failed to take off in India. In comparison to the Pixel 6a, the last smartphone to reach India was the Pixel 4a, which launched back in 2020. Previously, there had been a huge gap between the last devices launched in India, the Pixel 3 and Pixel 3XL. Therefore, Google's Pixel 3 series smartphones were India's last premium Android smartphones.
But, recently, they introduced the Google Pixel 6A to the Indian market. Unfortunately, it looks like Google is not ready for this launch, which is why they are facing criticism. Some users have reported recently that their Google Pixel 6A is not getting text messages. So, when we investigate this problem, our team found fixes to this issue. So, in case you are also not getting text messages on your Pixel 6A, make sure to perform the fixes mentioned below.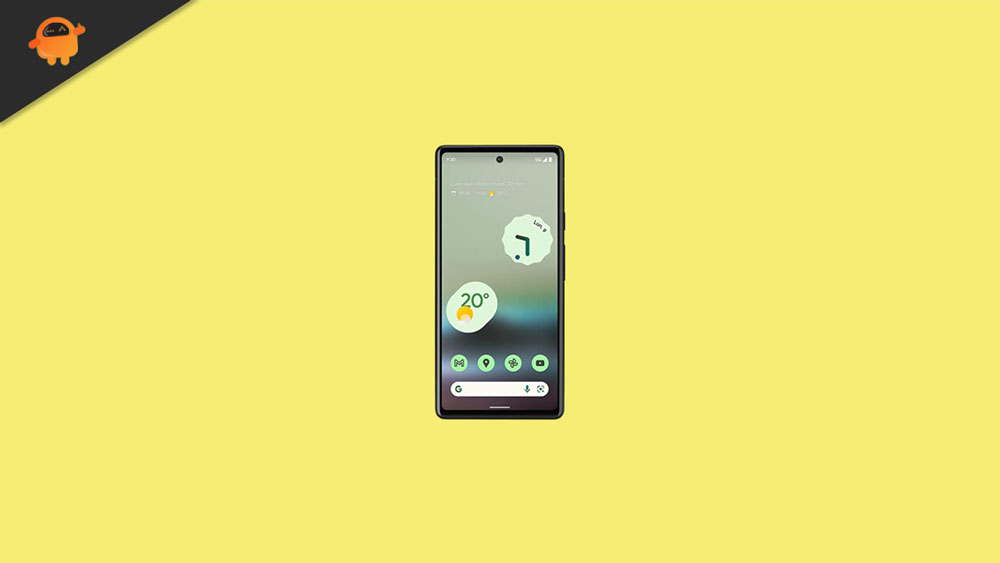 How To Fix Pixel 6A Not Getting Text Messages
So, if you are not getting text messages on your Pixel 6A, then make sure to perform the fixes to this problem that are mentioned below. Therefore, let's get started with them:
Fix 1: Reboot Your Device
As a first fix, you must try rebooting your Pixel 6A, as most of the time, issues like this get resolved easily just by rebooting. So, you must try this out and check if it helps.
Fix 2: Run in Safe Mode
It is possible that not receiving messages is caused by a third-party messaging app that has not been configured properly.
Try uninstalling this third-party app and then creating a text message for yourself.
Initially, press and hold the Power button until the

Power off

prompt appears on the screen.

You can press and hold Restart until you see the

Reboot to safe mode

prompt and release it.

To confirm, tap

OK

.

After restarting the phone, the

Home screen

displays a safe mode icon in the lower-left corner.
Generally, third-party messaging apps are the cause of receiving text messages in this mode.
The best way to determine if you are receiving text messages is to uninstall this app, exit Safe Mode, and then reinstall it.
Fix 3: Clear the Messages App Cache
There's a possibility that messages can become corrupted when they've accumulated a lot of temporary data. If the app had corrupted data, it was possible for you not to receive texts when the app had corrupted data.
It is feasible to fix this issue by clearing the cache of the messaging app in order to fix this issue.
Click the

Settings

icon.

Select

Apps

.

Go to the

Apps

tab.

Thereafter, in the top right corner, tap on Three vertical dots (More) and select Show system apps.

Go to the

Messages

app.

Click on

Storage and cache

.

Click on

Clear cache

. Afterward, check if you are receiving texts.
Fix 4: Perform a Soft Reset
There's a possibility that a temporary software glitch is causing the problem. The only way to fix this problem is to restart your phone and refresh the operating system. By reloading your phone services, you will be able to use it again. No changes will be made to your access to your personal files, apps, and data.
A couple of seconds after pressing the Power button, release it

Choose

Power off

from the power menu that appears.

By pressing the Power key, you can turn your smartphone on after a few seconds.
Try receiving a message using your Pixel 6A once you have completed the soft reset.
Fix 6: Reset the Network Settings
A change in your phone's network settings or corruption could be the cause. There is a possibility that this problem can be resolved by restoring this setting to its default values.
This will happen when you reset your computer.
Wi-Fi networks are deleted after they have been stored.

Tethering connections are deleted when they are no longer required.

Devices that have been paired with Bluetooth are deleted.

It is enabled to sync data in the background.

Default settings are reset in applications whose data restriction settings were manually enabled/disabled.

The automatic network selection mode has been selected.

It is set to the best mobile network type.
Here are the steps to reset your network settings:
Using the Home screen, swipe up to view your apps.

Reset Wi-Fi, mobile & Bluetooth settings can be achieved by going to

Settings > System > Reset Options > Reset Wi-Fi, mobile & Bluetooth

.

There is a chance that you will be asked to enter a PIN or password. Click Next.

Make sure you tap Reset settings again to confirm.
When you have completed this procedure, try sending yourself a text message and see if you are able to receive it.
Fix 7: Perform a Factory Reset
A factory reset is the last resort if you are still experiencing the same problem. As a result of this procedure, your phone will be wiped clean of all its data and returned to its original state.
Taking a backup of your phone data is highly recommended before proceeding. If you have photos, documents, contact lists, or notes saved on your phone, make a backup copy of them before deleting them.
To view your apps, swipe up from the Home screen.

Erase all data (factory reset) can be found in

Settings > System > Reset options > Erase all data

(factory reset). You will be prompted to enter your PIN or password when prompted.

To erase all data, tap Erase all data. In the process of resetting the device to factory settings, the device will reboot.
After you have completed the factory reset, try sending yourself a text message to see if you are able to receive it.
Fix 8: Contact your service provider

.
It is possible that the issue is not with the phone but with the network itself, or it could even be caused by a damaged sim card if the problem persists. To verify whether there are any outages, contact your carrier. Additionally, you can ask them if your SIM card has been properly provisioned.
So, that's how to fix the Google Pixel 6A not getting text messages. We hope that this guide has helped you. Now, in case you need more info, comment below and let us know.