Pixel watch is one of the latest offerings by Google in their smartwatch series. Pixel watch is packed with tonnes of advanced features like a heart rate monitor, GPS, and even fall detection. The fall detection feature is carefully designed in such a way that it can track and notify emergency services if the wearer falls downs or meets with an accident. However, many Pixel watch users face issues with the new fall detection feature and report that the feature is not working properly even if it's turned on.
Taking care of yourself and your loved ones is the most important thing in the modern era. And with smart gadgets like the Pixel watch, it's become easier than ever. Because with the fall detection feature, the watch itself can identify if the fall is deadly and if emergency services need to be informed or not. The feature has helped many people so far and is the talk of the town in the tech industry. Fascinated by the feature, many users try their hands on it. But there are instances where the fall detection feature may not work as expected, which can be a serious issue for people who are at risk of falls.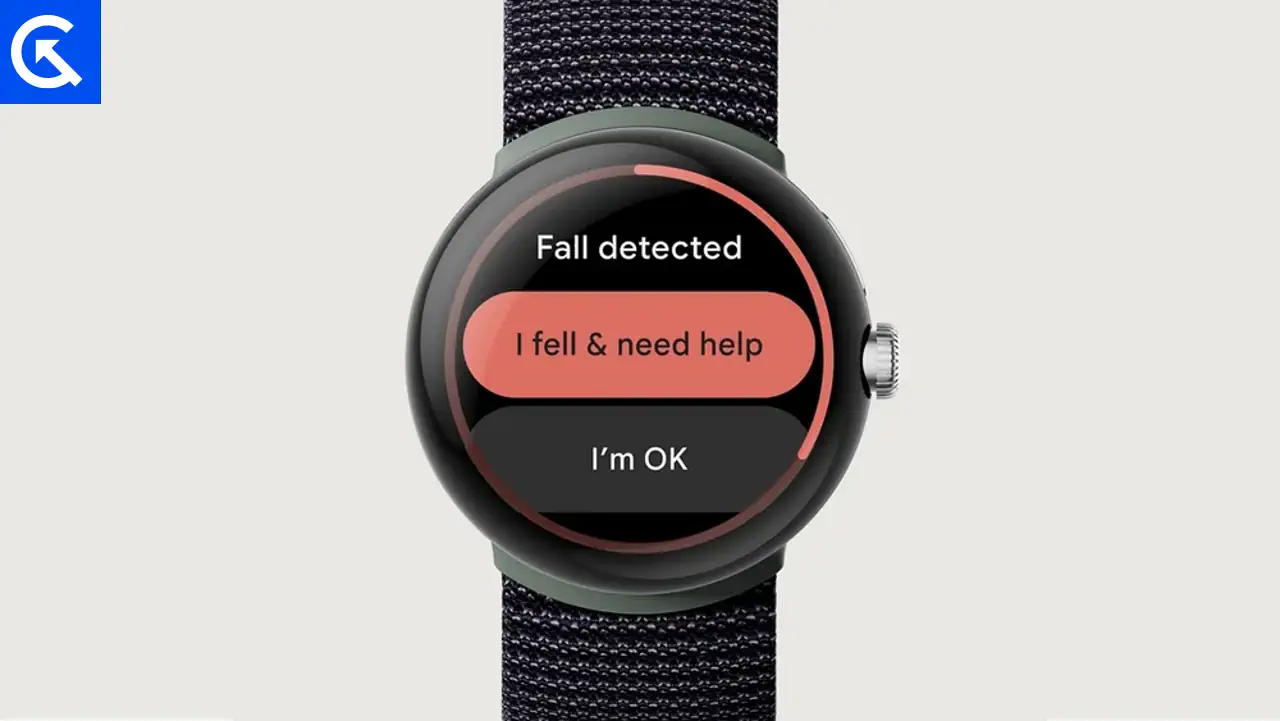 Pixel Watch Fall detection Not Working, How to Fix?
Many users have reported that the fall detection feature on their Pixel watch is not working properly. If you are experiencing problems with your Pixel Watch's fall detection feature, you can try a few things to fix the issue. Here are some methods you can follow to troubleshoot the problem:
Technology can be fun and life-saving at the same time. However, it is not advisable to be depended on your Smartwatch to keep track of fall detection. Please consult your doctor for any underlying health issues and try to keep a guardian or helper if you are at risk of falling or getting hurt.
Method 1: Restart Watch
According to a recent Google blog on fall detection feature, it's clear that they have worked very hard to train and develop a machine learning model so it can detect falls easily. However, due to technical glitches, this may not work all the time. So it is better to restart your device, which will restart the feature, and the feature will work again.
Method 2: Configure Watch Settings
It's important that you configure the fall detection feature first. By default, the feature is turned off and needs to be configured manually. If you have never done this before, don't worry it is simple as follows:
Open Google Pixel watch app on your device.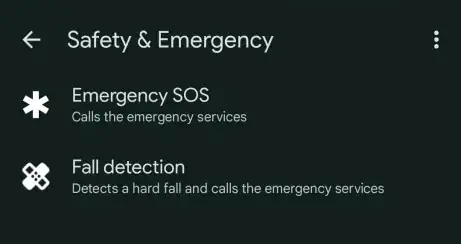 Open watch preferences window and navigate to Safety and Emergency > Fall detection.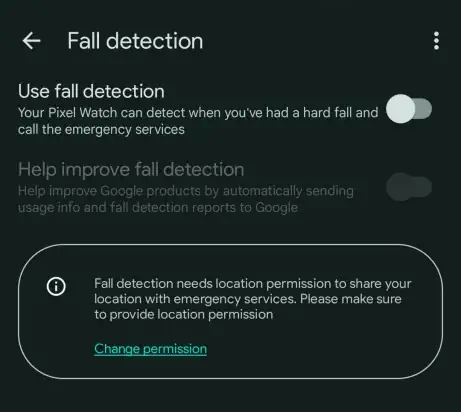 Here, make sure you turn the feature on.
Once you turn on the feature, the app will show you instructions to calibrate the feature for the first time use.
Method 3: Configure Emergency Contact
The fall detection feature is essentially designed so people can get immediate help when needed. The process includes the steps when the information about the fall and the exact coordinates are sent to your emergency contacts. In order to do this, it is important to set up emergency contact information first. Without this information, the feature might not work or even crash. You can set up your emergency contact via the contacts app or the Fall detection feature.
Method 4: Ensure proper wearing
Your Pixel Watch needs to be worn properly for the fall detection feature to work correctly. Make sure that the watch is securely fastened to your wrist and that it is snug but not too tight. If you use any wristband accessories, ensure those accessories do not cover the sensor behind the Pixel watch. It is also good practice to clean the sensor every week to make sure the fall detection feature is working correctly.
Method 5: Update Pixel Watch Firmware
It's possible that there may be a software issue causing the fall detection feature to not work. Check for any available software updates for your Pixel Watch by going to the "Settings" app, selecting "System," and then selecting "System Updates." If there are any updates available, install them and see if the fall detection feature starts working again.
Method 6: Reset Pixel watch
If none of the above steps work, you may need to reset your Pixel Watch to its factory settings. This will erase all of your data and settings, so make sure to back up any important data before resetting your watch. To reset your watch, go to the "Settings" app, select "System," and then select "Reset Options."
Method 7: Contact Support
There are instances where the feature might not work due to hardware problems or failures. In such a case, the above methods will not be of much help. It's better to connect with Pixel watch support executives and ask for a resolution. They will be able to fix the issue or give you a replacement device if eligible.
Conclusion
This brings us to the end of this guide for fixing the Pixel Watch fall detection not working issue. Please note that that feature is designed to be used in an emergency feature, and it's difficult to mimic a fall situation to trigger the feature. So eventually, the feature is working correctly in most cases, but you can follow the above troubleshooting methods to confirm for sure.