If you own a Qualcomm tablet or a smartphone and your device has been hijacked by a malicious file or some firmware damage; then you would want t fix it, but what can you do? You can reset and wipe all existing data, but what if that doesn't help? Then you would have to flash or install the Stock Firmware on the device.
Specifically for installing ROM on Qualcomm devices, the QCOM Phone Download Tool is the application for Windows users that enables you to install the firmware on Qualcomm devices. Recently, the developer has updated the application to v2.2.0.0.
The new version comes packed with lots of features that will be very resourceful for installing a ROM on Qualcomm devices. The previous bugs are fixed, and new additional features are added to the application. The tool supports all versions of Windows, including XP.
To utilize the app and its features, first, you will have to connect your Qualcomm device to your Pc via USB cable, after that, you can launch the application and use it.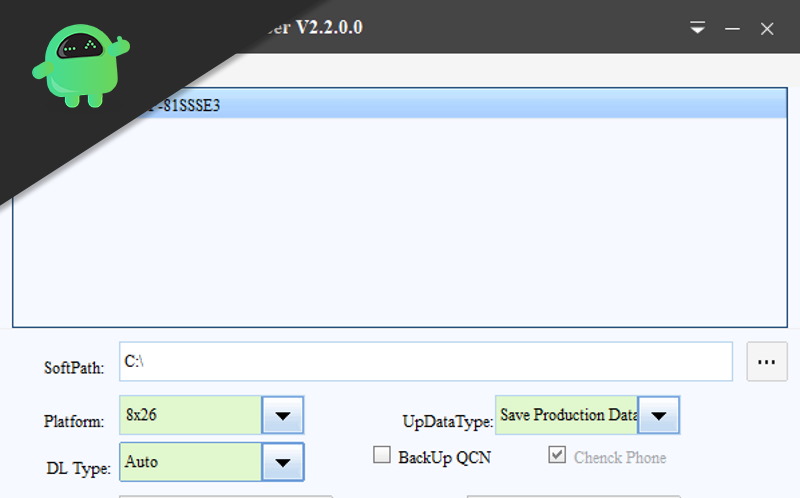 QCOM Phone Download Tool v2.2.0.0 Features
Multiple Language Support: The application supports all the major languages across the globe; you can access the app in any language you want. You will notice multiple tabs for various languages for languages like Chinese, Russian, etc., but for English, you won't see any tabs because it is the default language of the application. To change and select language, click on the dropdown menu near the minimize button of the application window.
Multiple Platform Supports: Using the app, you can install stock firmware on multiple platforms, including 8×26, 8974, etc.
Multiple Download Type: You can select multiple download types like FireGose, Sahara, and Auto during the installation of the stock firmware. Auto is the default, and it is compatible with almost every Qualcomm device. Using a Download type, you can have the Qualcomm device firmware data in a flashable file.
Multiple Download Data Type: You can select accordingly what you want to keep on the phone while installing firmware. If you select the Save user data option, then the feature will preserve personal data like pictures, etc during installation. Moreover, if you wish to wipe everything out, you can also do that by selecting the Wipe All Data option. Even more, after installation, if you have selected the Save User Data option, the already present data will be intact with Apps and contacts.
Download QCOM Phone Download Tool – Latest Version 2023
Download and extract the file using WinRAR or 7-Zip, click on the QCOM application to launch. To make it work properly, make sure that you have installed all the necessary drivers according to your PC and QCOM device.
Download QCOM Phone Download Tool v2.2.0.0
Old QCOM Phone Download Tool Version
| | |
| --- | --- |
| Version | Downloads |
| QCOM Phone Download Tool v 2.2.0.0 | Download |
| QCOM Phone Download Tool v2.1.0.1 | Download |
Conclusion
For those who are using QCOM devices, the QCOM phone tool is an important application to install a ROM on Qualcomm devices. Damaged OS can be simply fixed by reinstalling the stock firmware. Hence, the application is important.
The app supports all the previous Windows versions and comes with multiple language supports. The recent version of the app comes with a few additional features and bugs fixed. There are multiple download types and multiple platform support.
If you are installing or flashing a stock ROM on a Qualcomm device, you can select the Save User Data option to save all of your previous phone data like Contacts, apps, etc. Even more, you can also select the wipe All Data option to format and install the ROM completely.