If you are using an Android smartphone with the Qualcomm chipset and looking for a way to flash stock ROM firmware in your phone then, you have stumbled on the right place as in this post, we will be giving you the links to download the latest QcomDloader and also a guide on how to flash Qualcomm supported device using it. With the help of this guide, you will be able to flash stock ROM on your Qualcomm powered Android smartphone or tablet pretty easily.
This tool was created by Wingtech and is meant to flash the stock or original firmware of any Qualcomm powered smartphone or device. In fact, the flashing process does not take much time and can be done quickly. You can update your phone and moreover changes some settings like download mode, eMMC programmer, Chipset number, RAW program, etc. Basically, it supports all the smartphones, just it needs to be housing a Qualcomm chipset. So, that being said, let us take a look at the article itself: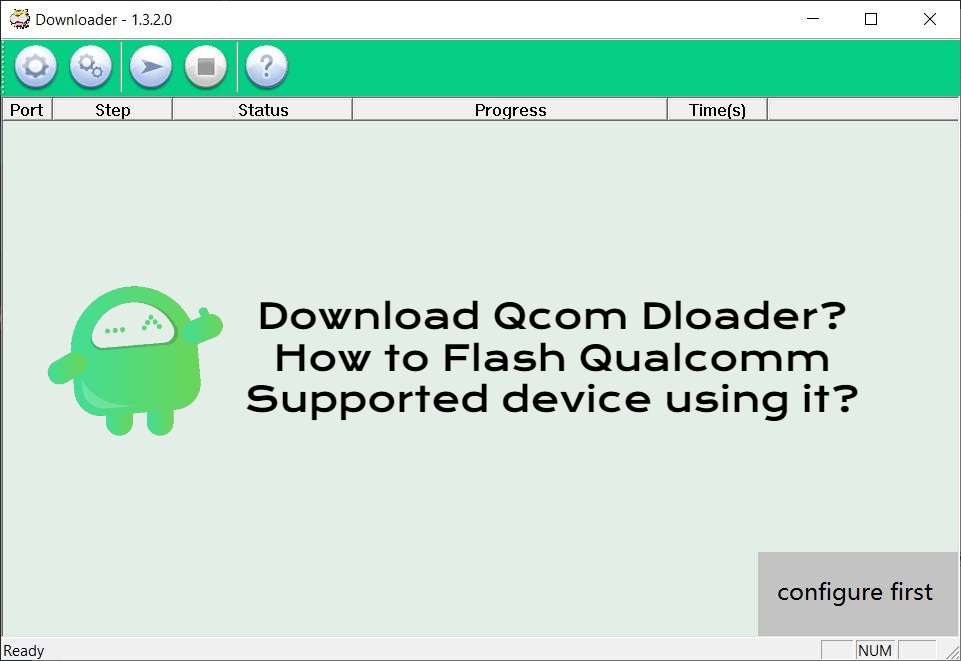 What is QcomDloader?
QcomDloader is a tool specifically created for the Qualcomm chipset phones and tablets to flash firmware without the need of any instruction manual. It has simple to user interface and does not clutter you with several options and buttons. Besides, it is an open-source tool that is available for free. However, you need to install Universal ADB Driver on your PC before you can go ahead and use this tool. It is developed by Wingtech so all credits must go to them.
Features of QcomDloader
Below are some of the advantages or plus points of using QcomDloader:
Supports all Windows versions
It supports all the Windows versions, be it Windows 10, Windows 8.1, Windows 8, Windows 7, Windows Vista and Windows XP. Make sure that you are not using this tool on Mac or Linux PCs.
Supports all Qualcomm powered devices
This tool is meant for all smartphones and tablets that are running on a Qualcomm chipset. Moreover, it supports all the devices and there are no devices apart of devices running on other chipsets that are not supported by this tool.
Simple user interface
Very minimal user interface but provides you with advanced setting options. You just need to launch the application and boom! you are all set to flash the firmware on your phone. Using this tool is pretty easy.
Requirements
Note that the QcomDloader tool is only meant for Windows computers and should not be operated on Mac or Linux.
Make sure that your smartphone is powered by a Qualcomm chipset.
Download appropriate firmware for your device.
Install Universal ADB drivers on your PC before using the QcomDloader tool.
Download QcomDloader
Warning!
I would strongly recommend you create a backup of your device storage and all your files stored on your device before you use QcomDloader tool for flashing or installing stock firmware. As installing stock firmware will wipe off the entire data on your device. Moreover, it is advised to follow the steps mentioned in this post very carefully to avoid permanent damage or bricking of your device. If anything goes wrong the author or GetDroidTips is not responsible for it.
How to install QcomDloader?
Firstly, download the latest QcomDloader on your PC and extract the contents of it.

Now, you need to download the stock firmware of your phone or device.
Then, install the Qualcomm USB drivers on your PC compatible with your phone.
Now connect your phone to the PC using a USB cable.

Open the QcomDloader.exe file.

Once it is launched, you will see a home screen of the tool.

Click on the Load button and locate the firmware file on your PC.

Click on Settings button >>and set Download Mode as Upgrade.

Make sure to tick the Validate Download ROM option as shown above.
Leave everything as is. (You need to change it if the name of the file is not the same as written in the box)
Under the Chipset ID write the Chipset number.
Now click on OK to exit configuration.
Then press Start to begin the installation of the firmware.
You will be presented with a green pass message once the flashing is successful.
Disconnect your phone and voila! Your device has been successfully flashed.
So, there you have it from my side in this post. I hope you guys liked this post and were able to successfully flash the stock firmware on your Qualcomm powered phone or any device. Let us know in the comments below if you come across any issues while following the above-mentioned process. Until the next post…Cheers!