A lot could go wrong when you are trying to connect to a wifi network or browsing internet over wifi such as wifi isn't turning on, the wifi is connected but there is no internet or the phone is showing authentication or connection problem. Other issues could be a weak network or the wifi is not working on your phone to name a few. But not for long as Get Droid Tips brings this extract on how to fix Alcatel Wifi Problems which is easy to follow. As there are many methods you can employ to fix any and every wifi problems that you have been facing so proceed and follow the procedure explained below.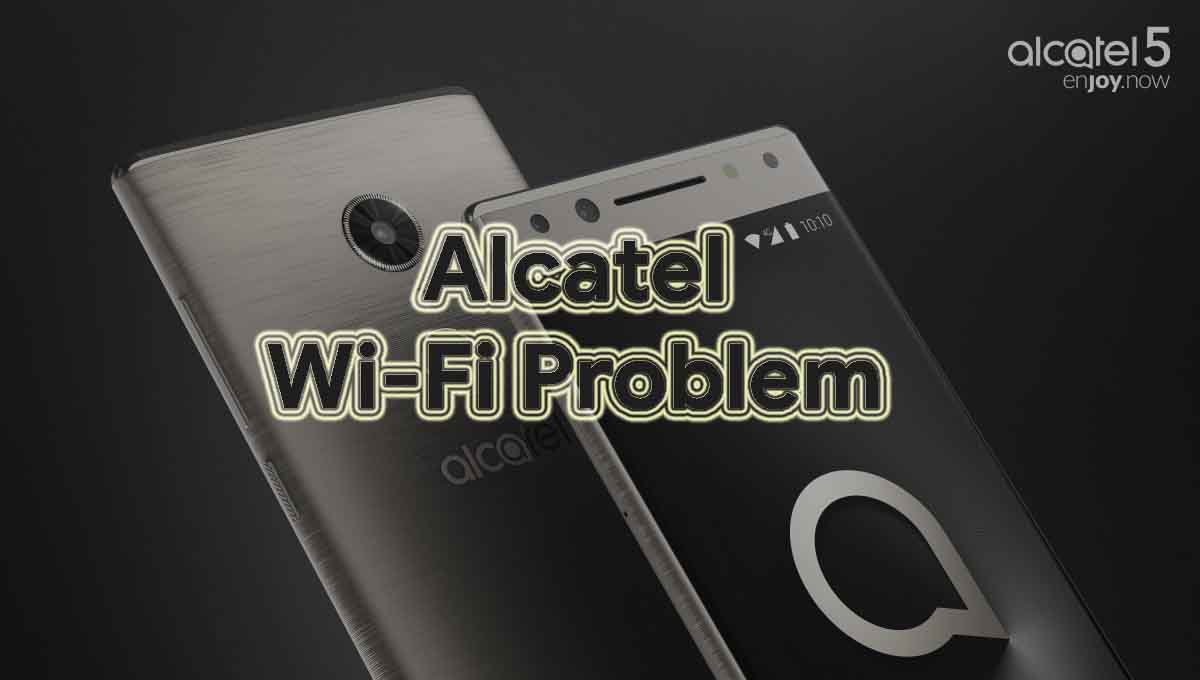 Quick Guide To Fix Alcatel Wifi Problems
Check for intermittent issues?
You were able to connect to a wifi but there's no internet? In such situation, you must check if its an intermittent issue with the ISP or not. If that's not the case, try resetting the WPS button behind the router or restart the router and check if the internet is restored or not.
Toggle the Wifi
You tried turning on the wifi using shortcut icon available in the notification panel but it didn't turn on. What should you do now? Simply tap on it again to turn off the feature and wait for few seconds. Turn it on again and hopefully, the phone will search for available networks and connect accordingly. If it doesn't connect on its own, go to 'Settings >> Wifi'.
Switch On/Off Airplane Mode
Wifi is one of the most features on a smartphone and it's too common to face issues while turning it ON or while connecting to an available network. If you face such an issue, toggle the airplane mode and keep it active for a few seconds. Then, deactivate it and check if the wifi is working or not.
Reboot the device
You tried turning on wifi or connecting to a wifi network but the phone didn't connect? It might be a temporary software glitch occurred when starting the wifi service. To fix it, simply reboot the device and see the magic. When you reboot the system, it refreshes the memory and resources in use and thus, relieves the phone of any strain and the memory and resources hoarded by other apps as well as fixes temporary software glitches.
Forget & Reconnect
You tried connecting to a wifi network but it is not connecting? OR it is showing an authentication problem? If that's the problem you are facing, forget the wifi network you want to connect and try to reconnect again by entering the password (If any). Note that if you fail to connect to a new wifi network, try deleting the SSIDs or network names from the Settings >> Wi-Fi as if there are many wifi networks connected simultaneously, your phone might not be able to add another network.
Check Power Saving Mode
If you rely on power saving mode on your phone to prevent the phone from using excess battery power, you must know that power saving mode restricts the phone from using too much power and other resources. It is also known to disable wifi, location, and other services and that is the reason why you aren't able to access wifi on your phone. To verify it, turn off the power saving mode and then, turn ON wifi to check if its working or not.
Update/Rollback Android OS
Leaving the firmware outdated can have an adverse impact on the device as you won't be able to use new features made available by Android or your device manufacturer. New updates make it possible for the users to use new features while these updates have new drivers and other essential pieces of software that refreshes the system and enhance its performance and much more. New firmware updates bring fixes for any errors or bugs that were discovered in the last update that makes it easier for the user to fix any software-related issue without much hassle. You can check out if your device has received any update or not by going to the Settings >> About Device >> Software Updates >> Check for updates. Note that Android OS doesn't update the smartphones that are out-of-support and thus, to fix wifi problems in such devices, the user can rollback the firmware or Android version to a previous stable version and that will fix the problem once-and-for-all.
Update the router's firmware
You could be using a modem or a router and these devices have their own firmware on which they operate their functions. Now, you need to make sure that the firmware is updated which you can check out on the manufacturer's website under the Downloads section where you can check and download it. Note that to update the router's firmware, you must be connected to the router through ethernet cable although there are other requirements that you need to fulfill before proceeding with this method.
Restart the modem/router
It is similar to how and why you would reboot the phone to relieve the device from any strain as well as resolve any glitch. When you turn off the modem or router, you must keep it turned off for 10 to 15 minutes before restarting it. This is the duration recommended by ISPs in case if they need to restart the services for its customers using wifi at their home or office.
Check if any third party app is causing the issue
This is one of the major cause of any software-related issues where the third-party apps are the reason why a perfectly working smartphone isn't performing optimally. It could be an outdated third-party app or it could be a recently downloaded app which has introduced the error or bug or other threat or its just causing conflict between the various functions of a smartphone. You need to get rid of such third party apps as well as update the installed apps to avoid such issues.
Clear cache storage and cache partition
Cache files are bits of data stored by all apps and the system as a while that enables faster access to the said app or service without wasting much time in processing. But if it's corrupt, it can have an adverse effect on a perfectly working smartphone and therefore, it must be treated well in advance. The user can clear the app-level cache by going to Settings >> Apps. Further, they can delete storage cache by going to the Settings >> Storage >> Cache Memory.
Also, you can wipe off cache partition stored on your device by accessing the Recovery Mode on your phone for which, the procedure is prescribed below.
Turn off the phone.
Press the power button and volume down button at the same time and keep it pressed until the phone boots up showing the Android logo on the screen.
Proceed by selecting the option titled 'wipe cache partition'.
Restart the phone when you are done with clearing the cache partition.
Reset the device
Resetting the device in its original factory settings can resolve minor and major software-related issues which is why, if you aren't finding any of these methods helpful, you can reset the device using the Recovery Mode for which, the procedure has been discussed in the previous method.
Once you are in Recovery Mode, you need to select 'wipe data/factory reset' and confirm it by tapping on 'Yes — delete all user data'.
The system will perform reset function automatically after which, you must reboot the system so that the actions take effect properly.
Consult a service center
What if there's nothing wrong with phone's software, router, as well as the internet from the ISP? It is possible that the wifi antenna mounted beneath the back cover of your phone might be damaged or might have gone haywire. It is recommended to consult a service center for such issues.
Read More: