You were watching a movie on your Realme Narzo 50A on WiFi and suddenly the network dropped? Or you connected a wireless earphone with your phone via Bluetooth and the connection dropped or you were unable to connect the phone to Bluetooth anyway. What do you do? Well, these can be categorized as WiFi and Bluetooth connectivity issues. There is a tonne of connectivity issues and bugs you can face with these two connectivity features. Turns out there is a tonne of troubleshooting methods to fix 'em as well. Here's more about it.
Turns out both WiFi and Bluetooth on Realme Narzo 50A can have issues borne out of the same bug or glitch. This post caters to fixing issues related to Bluetooth and WiFi and here are all the troubleshooting methods that you can use to fix various WiFi and Bluetooth connectivity issues. This ensures that you have enough ways to fix the 'n' number of issues Narzo 50A users could face.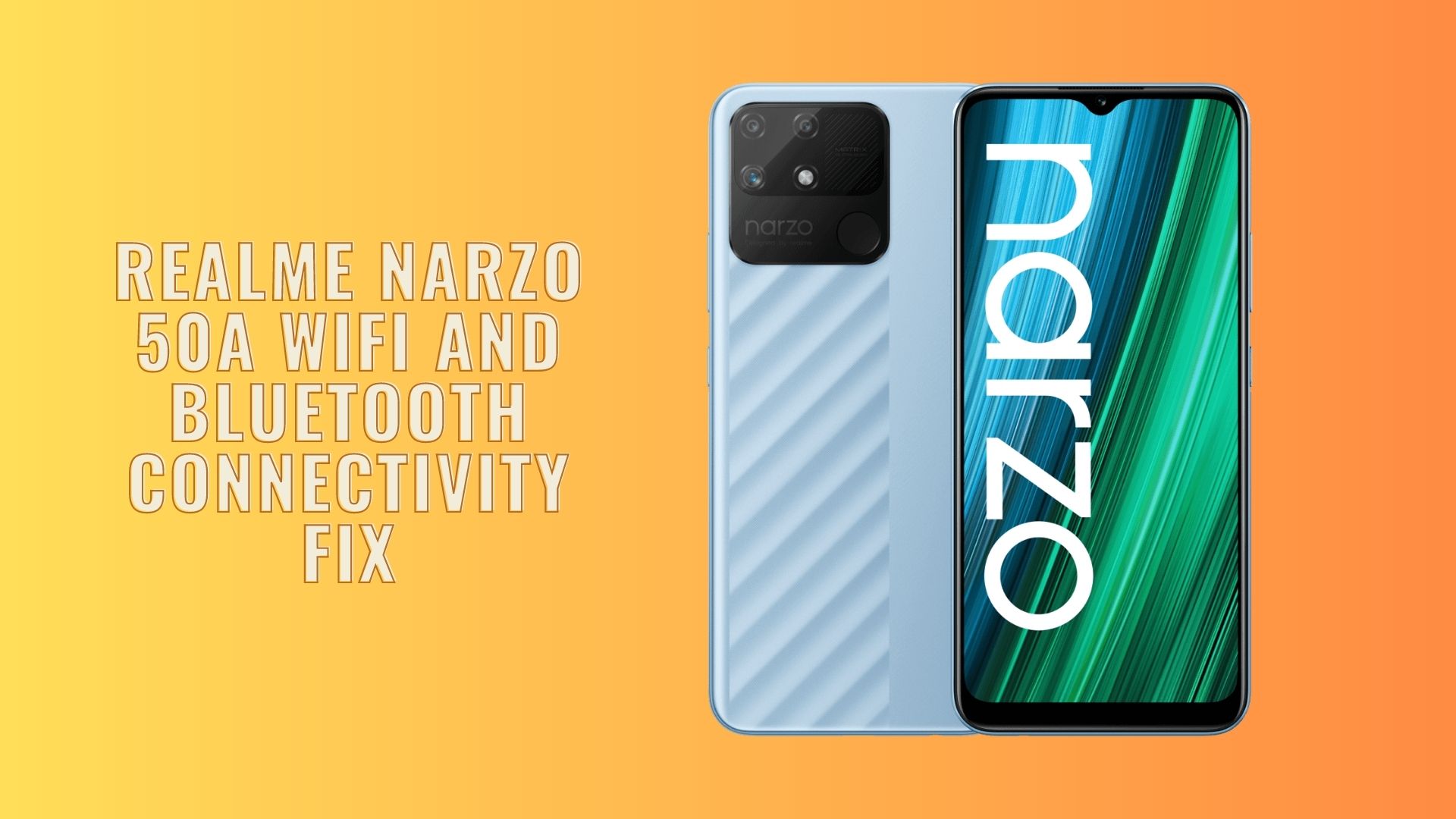 How to Realme Narzo 50A WiFi and Bluetooth Connectivity Issues?
#1: Toggle WiFi/Bluetooth
Isn't that the first thing you'd do in case the WiFi or the Bluetooth doesn't work? Well, the idea behind this method is that you have a tonne of ongoing processes on your Realme Narzo 50A. When you tried to use WiFi/Bluetooth, the startup met with a glitch that could be minuscule. Anyway, since you are facing issues connecting to a WiFi network or Bluetooth device, you need to use this simple troubleshooting method with the instructions mentioned below.
Drag down the notification pane by making a swipe down gesture on the home screen twice.
Tap on WiFi/Bluetooth to toggle it ON. Since you started with these features ON in the first place, tap it to turn it OFF.
Tap on the quick tile several times before setting it to ON position and check if it worked.
This method kickstarts the said connectivity feature i.e. either Bluetooth or WiFi (in this guide) and you should be able to access the feature right away. If not, check out method #2.
#2: Airplane mode
Airplane mode has authority in fixing many network-related issues and both WiFi and Bluetooth are not exceptions. If you are facing issues be it not able to connect or pair or others, you can simply hail the airplane mode for which, I have listed the instructions below.
Firstly, drag the notification panel now and access the quick tiles. You can do it by making a swipe-down gesture twice.
Locate the Airplane Mode icon (also called Flight mode) and tap on it to enable it.
Now that all the cellular and other networks have been disconnected, wait for a few seconds and tap it again to disable it.
Repeat it a few times and try if the Wi-Fi or the Bluetooth is working properly or not.
#3: Disconnect & reconnect
For WiFi
You tried connecting to the said WiFi but it didn't connect at all. This could happen to both saved and new networks. If that happens, you can use the disconnect and reconnect method. Here's how you can do it.
Firstly, go to the quick tile settings on the notification panel and long-press on the WiFi settings. You can also go via Settings >> WiFi.
Locate the WiFi network you wanted to connect with and long-press or tap on the 'gear' icon against the SSID.
Tap on "Forget".
Wait for a few minutes and reconnect to the said network by entering the correct password, if any.
For Bluetooth
The process is more or less the same with Bluetooth as well. You need to forget the Bluetooth device you were trying to connect to and reconnect.
Long-press on the Bluetooth icon on the notification panel.
Locate the Bluetooth device you were trying to attach and long-press or hit the 'gear' or 'cogwheel' icon against the device.
Hit 'Forget' and it is done.
Wait for a few seconds before trying to reconnect to the Bluetooth device in question.
#4: Restart the phone
Turns out this method works on any connectivity feature or otherwise but it should be related to network or software because hardware issues require professional's help. It is quite possible that when you were connecting to the WiFi network or Bluetooth devices like your earphone or your in-car entertainment system, the device realized some glitch preventing you from establishing a connection between the two nodes. The quickest troubleshooting guide you can deploy is to turn OFF the device and turn it back ON.
This process takes merely a minute but works in many ways as it kills all the foreground and background apps, clears cache and resources that were already allocated, and so on.
#5: Restart the router
Just like how your smartphone could intercept glitches and bugs and require a reboot, the router requires it too in case you are facing difficulty connecting to the WiFi network. Simply turn off the router, wait for a few seconds, and restart the router and you are done.
#6: Check if you are in the range
For WiFi
This particular section is for WiFi only. There's no doubt that your router has a specific range and there's no way you can expect it to cover a range further than what it could cover. Plus, if there are walls between you and the router, no doubt your phone or any other device accessing WiFi will suffer due to less network strength unless you add an amplifier or create a mesh network to cater to all the rooms in your house without loss of strength.
You need to check if you are in the range. There are plenty of apps that will help you find sweetspots where the WiFi is strong and where it isn't. Remember, a wall can halve the network strength by almost half so do consider the walls. Also, it need not be just a wall because any obstruction between the two nodes counts.
For Bluetooth
Unless you are in a suitable lab environment, Bluetooth on your device has a practical range of a few dozen feet. Just like WiFi, Bluetooth works on the radio frequency of the spectrum and is susceptible to obstruction. Check if you are in range with the Bluetooth device or not. You may have steered out of the range or are standing almost at the perimeter that could cause Bluetooth connection to connect and disconnect repeatedly.
To verify if it's your device or the recipient device at fault, simply use a separate phone to check whether it connects normally or not. If it behaves just like your device, either you are almost out of the range or the recipient device is at fault. On the other hand, if the other phone connects without a glitch, your primary phone is the culprit here. You can follow other methods listed here but if you don't get a resolution, you will have to retreat to the bottom of this post to get a permanent fix.
#7: Check for intermittent issues
This is a common WiFi issue wherein you will be able to connect to the WiFi but there's no internet access. If that happens, call your ISP and confirm whether or not the internet is disrupted due to any reason. Usually, your ISP should inform you about maintenance or repair work in your region that may affect your internet access but it is common that many times, you would instead have to reach out to them to see if there's an intermittent issue or not.
In case if the operator says no, this means the problem is on your end. You can ask the operator to refresh the connection hoping that it would solve the problem, if not, here's what you can do.
Firstly, repeat troubleshooting method #5 titled "Restart the router". If this doesn't work, you can go for method #4 dubbed as "Restart the phone". You can click on the quoted titles here to jump to the said method or read the whole post as you please.
#8: Check if you have compatible devices
This applies to both WiFi and Bluetooth connectivity features on your Realme Narzo 50A. When it comes to WiFI, your phone already supports dual-band WiFi ac, and assuming that the router you are connecting to supports it, you must be able to register to the network. However, if there's some compatibility issue, you will have to check both the nodes to verify which one is not compatible.
On the Bluetooth, Narzo 50A supports Bluetooth v5.0, and depending upon its backward compatibility, it should be able to connect with most Bluetooth devices with or less than v5.0 but it may not cover. Check if the Bluetooth connectivity issue you are facing is due to incompatibility. Discard if the problem arises out of the blue.
#9: Check if a third-party app is interfering
You can download any apps from the Google Play Store as well as sideload from n number of websites on the internet. Turns out there's a possibility that a third-party app may be interfering, preventing WiFi or Bluetooth from working properly. Go on descending order of installation so that you can trace back when the problem started. Uninstall the apps you don't need or are skeptical about and check whether WiFi and/or Bluetooth are working properly or not.
#10: Clear cache
Cache plays a vital role on an Android smartphone as it speeds up processes. However, it accumulates over time and may pose a problem. It is crucial to get rid of it. Here, you can clear app-wise cache from your device. Also, clear the cache for Bluetooth and WiFi apps on your phone within the Settings >> Apps >> System Apps.
#11: Update all the apps
Just as a third-party app can interfere, there's a possibility that an outdated app can throw the phone's ability to connect to WiFi or Bluetooth down the drain as well. It is however recommended to always keep the apps updated no matter what. You can update your apps one by one or use the "Update All" option within the Google Play Store >> My apps and games. This allows the system to automatically look for updates and if any, update them.
#12: Update the Android software
You should update the Android software i.e. Android 11 (powered with Realme UI 2.0 on top of it) to steer away from any problems whatsoever. You can check out the Settings >> About Phone and check out if you have received any updates or not. If yes, download and install the update right away. Reboot the phone so that all the changes are saved and the device starts working properly.
#13: Perform a restore factory
Unless you can find a fix to the Realme Narzo 50A WiFi and Bluetooth connectivity issue from the aforementioned troubleshooting methods, you will have to resort to a factory restore. Here's how you can do it via the Settings app. Note that there's a hard reset option available too.
To pull off a restore factory, navigate to the Settings app on your Narzo 50A.
Proceed to "System >> Advanced".
Next, tap on the "Reset Options" from the menu given and select "Erase all data (factory reset)".
The device will prompt the user to tap on "Reset Phone" and then, tap on "Erase Everything".
Enter the PIN or pattern when prompted and it is done.
Reboot the Realme Narzo 50A and it is done. Do check out if the WiFi or Bluetooth connectivity issue is sorted or not.
#14: Authorization failed (WiFi)
This is a WiFi-only problem where the device doesn't allow connecting to the said network even when the password entered is correct. To fix this, you can use method #3 to get try and resolve the issue.
#15: Report the issue to a service center
Be it the ever-annoying WiFi issue or if something's wrong with the Bluetooth connectivity on your Narzo 50A that you weren't able to fix using these methods, you will have to report the issue to a service center. This is what you would do when you think it's a stubborn software issue that didn't go away even when you pulled off a factory reset or if there's a hardware issue with any of the components.
In any case, you have two options right now. Either get the phone repaired or the problem fixed by an authorized service center (which is expensive but retains warranty) or you can walk into a local service center (which is way cheaper but voids the warranty). Keeping this in mind, you can decide which way to go.