Realme is a Chinese OEM that is known to produce good-specs-to-price ratio devices. As you might know, in a big market like India, which is currently dominated by Chinese OEMs like Oppo, Vivo, Xiaomi, and South Korean Samsung, Realme has done a good job in creating its own place. Moreover, the push of regular updates and constant release of a new smartphone has kept Realme as a brand very popular. In this post, we will give you a complete software update tracker for the Realme XT smartphone.
Note that the device came out back in 2019 and is still considered a good value-for-money device. Here in this post, we will give you all the updates of the device since its inception along with the download link. All the latest updates will be added to this post so, we would advise our readers to check this post very often. Moreover, we will also give you all the information about the update, along with the changelog as well. So, with that being said, let us get straight into the article itself:
Realme XT – Device Specifications
As already mentioned the Realme XT was launched back in 2019. It comes powered with Qualcomm Snapdragon 712 chipset which is coupled with 4-8 GB of RAM. The phone comes with an inbuilt storage of 64/128GB of memory. There is a provision of expandable storage as well. The phone runs on Android 9 Pie out of the box and is now currently sitting at Android 10 OS with Realme UI.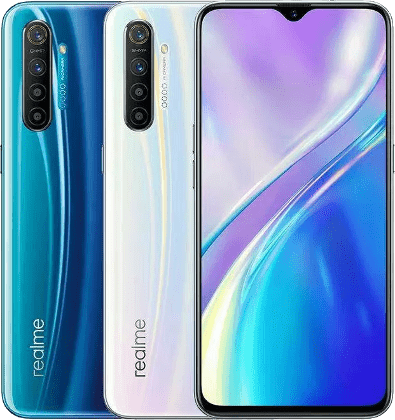 Talking about the cameras, the phone is equipped with a quad-camera setup. There is a 64MP primary camera, 8 MP ultrawide lens, 2MP macro, and 2MP depth sensor. The primary camera is capable of recording videos at 4K@30fps, 1080p@30/60/120fps, 720p@960fps, and supports HDR and panorama. In the front, Realme XT comes with a 16MP camera.
The display of the phone is a 6.4-inches Super AMOLED screen and comes with a resolution of 1080 x 2340 pixels, at an aspect ratio of 19.5:9 ratio with 403 PPI density. There is Corning Gorilla Glass 5 protection as well. Under the hood, Realme XT is powered by a 4000 mAh battery and supports Fast charging 20W, and VOOC 3.0.
Software Update Tracker
Here we will give you the links to download all the updates for the Realme XT. Notably, we will add the latest updates on the phone at the end of the table. So, make sure that you keep checking this post very often.
Software Version
Changelog
RMX1921EX_11.F.03

Personalizations

Android 11 Update with Realme UI 2.0
Personalize the user interface to make it your own
You can now create your own wallpaper by picking colors from your photos.
Third-party icons for apps on the home screen are now supported.
Three Dark mode styles are available: Enhanced, medium, and gentle; wallpapers and icons can be adjusted to Dark mode, and the display contrast can be adjusted automatically to ambient light.

High Efficiency

Optimized the editing page of Smart Sidebar: Two tabs are displayed and the order of items can be customized.

Improved Performance

Added "Optimized night charging": An AI algorithm is used to control charging speed at night to extend battery life.

System

Added "Tone tunes": Consecutive notification tones will be linked to form a single melody.
You can now determine a time period when Do Not Disturb is on.
Added weather animations to provide you with a more interesting experience.
Optimized vibration effects for text input and gameplay.
Optimized "Auto brightness".

RMX1921EX_11.C.14

Security

Integrates the June and July 2021 Android security patches.

System

Improves system performance and stability.

RMX1921EX_11_C.13
Security
● Updated Android security patch: May, 2021Settings
● Fixed the probabilistic switching language failure issue when changing SIM cardsSystem
● Optimized the system performance and improved the system stability
RMX1921EX_11.C.11

Security
● Updated Android security patch (2021#2 & 2021#3)System
● Optimized system performance and improved system stabilitySetting
● Optimized the switch logic of the Control Center
● Fixed the probabilistic restoring to default ringtone issue in call ringtone
● Fixed the probabilistic voice failure issue in PUBG

RMX1921EX_11_A.10

Camera

Improved quality of photos
Improved the performance when the camera previews

Security

Android security patch level: September 5, 2019

RMX1921EX_11.A.11

System

Added Dark Mode
Optimized part of the system interface

Camera

Added wide-angle video shooting feature
Improved camera quality of Zoom
Optimized camera quality in a low light environment
Optimized white balance effect
Optimized camera noise in some scenes

Sensor

Improved compass accuracy

Known Issue Fixed

Fixed the flash color abnormality in a few scenes
Fixed the white balance instability in some scenarios

RMX1921EX_11.A.12

Security

Android security patch: November 2019

Camera

Added nightscape of the front camera
Optimized photo clarity while using WhatsApp
Optimized wide-angle video quality of the rear camera
Optimized the noise in dark environments
Optimized the clarity of the ULTRA 64 MP mode
Fixed the crash issue while switching to ULTRA 64 MP mode
Optimized camera quality reddish issue

Fingerprint

Improved fingerprints recognition probability

Known issue Fixed

Fixed the issue that could not be registered VoWiFi to partial carrier
Fixed partial display issue

RMX1921EX_11_A.13

Security

Android security patch: November, 2019

Camera

Added Nightscape to front camera
Optimized photo clarity when using WhatsApp
Optimized wide-angle video quality for rear camera
Optimized the noise reduction in dark environments
Optimized the clarity of the ULTRA 64 MP mode
Fixed app crashing when switching to ULTRA 64 MP mode
Optimized camera quality for reddish color issue

Fingerprint

Improved fingerprints recognition

Fixed Issues

Fixed the issue that could not register VoWiFi to partial carrier
Fixed text display issue in some interfaces
Fixed crash issue for some applications (such as Google Suite)

RMX1921EX_11_A.14

Security

Android security patch: December 2019

Notification Center and Status Bar

Added fast switch toggles of dark mode in the notification center

Camera

Updated nightscape algorithm of font camera, fixed the probabilistic blackspot issue

Theme Store

Updated font change supporting in Theme Store

Known issue fixed

Fixed the issue of app startup animation splash screen when white wallpaper

RMX1921EX_11.C.01

Visuals

Updated UI to Realme UI
Brand new Real Design makes visuals more attractive and operation more efficient.

Smart Sidebar

Optimized user interface and improved one-handed operation.
Optimized Smart Sidebar: Replaced File Console with File Manager; removed OSIE Visual Effect and No Notification Alerts.
Drag an app out of Smart Sidebar to open it in Split-screen Mode.
Added two new features: "Assistive Ball Opacity" and "Hide Assistive Ball on Fullscreen App".
Optimized the Floating Window feature for more apps.
Added Bubbles: A bubble is displayed when you open an app in a floating window from the Smart Sidebar. Tap the bubble to collapse or open the app.

Screenshot

Optimized 3-Finger Screenshot Gesture: Use 3 fingers to touch and hold the screen, and swipe to take a screenshot of the selected part of the screen (partial screen capture). Use 3 fingers to touch and hold the screen, and swipe your fingers outwards to capture a long screenshot.
Added screenshot settings: You can adjust the position of the screenshot preview floating window and set the screenshot sound.
Optimized screenshot preview floating window: After taking a screenshot, drag it up and release it to share it, or drag it down and release to take a long screenshot.

Navigation Gestures 3.0

Optimized: New Android 10 navigation gestures
Optimized gestures: All gestures are supported in landscape mode.

System

Added Focus Mode: Minimizes outside distractions when you are learning or working.
Added whole new charging animation.
Optimized the Quick Settings user interface for easier one-handed operation.
Added pause feature for screen recording.
Added a floating window and settings for screen recording.
New sounds added for file deletion, calculator key touches, and compass pointer.
Optimized system built-in ringtones.
Added TalkBack floating prompts for Accessibility.
New management feature for recent tasks: You can view memory of recent tasks and locked apps.

Games

Optimized visual interaction for Game Space.
Optimized loading animation for Game Space.

Homescreen

Added new live wallpapers.
Added artistic wallpapers.
Added option to open Global Search or the notification panel when swiping down on homescreen.
Added option to customize the size, shape, and style of app icons on homescreen.
Optimized the graphic design of password unlock to facilitate one-handed operation.
Support for animated wallpapers on the lockscreen.
Added a Simple Mode for homescreen, featuring larger fonts, icons and a clearer layout.

Security

Random MAC address Generator: When your phone is connected to Wi-Fi network system generates a random MAC address to avoid targeted ads and protect your privacy.

Tools

In Quick Settings or Smart Sidebar, you can open Calculator in a floating window.
Added the trim feature in Recordings.
Added the Weather (dynamic) ringtone, which automatically adapts to the current weather.
Added weather-adaptive animations in Weather.
Added audio source selection for screen recording.

Camera

Optimized the Camera UI for better user experience.
Optimized the Timer UI and sound.

Photos

Optimized the Album UI for a clearer structure and photo thumbnails.
Added Album Recommendations that recognize more than 80 different scenes.

Communications

Realme Share now supports sharing files with OPPO, Vivo and Xiaomi devices.
Optimized the Contacts UI for a more efficient experience.

Settings

Search Settings now supports fuzzy match and contains a search history.

Music

Added Dual Mode Music Share in Realme Lab.

RMX1921EX_11_C.02

Security

Android security patch: February, 2020

Network

Added Airtel and Jio VoWiFi feature(India)

Fixed

Fixed the issue that the task lock up limitation prompt in the recent interface
Fixed the issue that the countdown pop-up window was still dark while switching off the dark mode during the power off countdown.

RMX1921EX_11_C.03

Security

Android security patch: March, 2020

Fixed

Optimized the effect of game audio
Fixed the probability error of boot animation display
Fixed the low probabilistic stuck issue while using third-party applications
Fixed low probability stuck issue due to the memory leak of system
Fixed the probability issue that photos or screenshots are not displayed after upgrading

RMX1921EX_11_C.04

Security

Android security patch. April 2020

Known issue fixed

Optimized audio effects for third-party apps
Added arrow to the right of the list of recent location information requests in dark mode
Fixed the issue that the prompt tone appears every time when the client plays music
Fixed the issue that the alarm is automatically turned off after being cleared by the background task

RMX1921EX_11_C.05

Security

Updated Andriod security patch(June,2020)

Applications

Added Realme PaySa
Added Realme Link

Battery

Added charging animation on the lock screen
Added charging decimal display on the lock screen while charging

Settings

Modified default state of power-saving mode auto-off switch
Modified default state of screen brightness reduction switch in power-saving mode

Optimization

Optimized transparency of the slide back gesture style
Optimized screen recording icon size

RMX1921EX_11_C.06

Security

Android security patch: July 2020

Realme Lab

Added the smooth scrolling feature

Settings
Screen recording

Optimized screen recording feature

System

Optimized the transparency of swipe back gesture style
Optimized Bluetooth being turned off when flight mode is turned on mechanism
Fixed some known issues and improved system stability

RMX1921EX_11_C.07

Security

Android Security Patch: September, 2020

realme Lab

Added Super nighttime standby feature and improved standby performance
Added DC dimming feature: Formerly known as Low-brightness flicker-free eye comfort

Applications
Settings

Added default audio recording device options
Added Deep Cleanup feature and improved background cleaning ability
Added a return button in screenshot preview
Added long press to copy IMEI in the status information interface
Added automatic download option for app updates when connected to Wi-Fi
Added time display options for the status bar
Added shortcuts at the bottom of security settings
Added shortcuts at the bottom of other settings
Optimized the experience in Wi-Fi settings

Status bar

Added the OTG switch
Optimized the pop-up window for system updates notification
Optimized ""Mute-Bell-Vibrate"" icon state

Screenshot

Added auto scrolling feature in scrolling screenshot
Fixed the probabilistic issue in scrolling screenshot

System

Added the feature of long press the icon to uninstall the app in the drawer mode
Fixed the font size issue of charging animation
Fixed the probabilistic stalling issue while using front camera in SLO-MO mode
Fixed the issue that the fingerprint names are set to default when restarting the system in Multi-User mode
Fixed the crashing issue of the search field in app list

RMX1921EX_11_C.08

Security

Android Security Patch: November, 2020

Bluetooth

Added a new icon for phone calls with Bluetooth earphone

Screenshot

Added Scrolling screenshot feature in horizontal mode
Added a toggle for physical button screenshot in screenshot settings

Settings

Added Super power saving mode
Added a toggle for displaying keyboard when entering app drawer
Added Icon pull-down gesture
Added From Sunset to Sunrise option of eye comfort
Added shortcuts at the bottom of Battery settings
Added shortcuts at the bottom of Security settings
Fixed the probabilistic issue of unable to adjust the color temperature after turning off eye comfort

Album

Fixed the probabilistic screen flicker when entering the album
Fixed the probabilistic crash issue when browsing in the album

System

Fixed the probabilistic freezing issue of Clone Phone

RMX1921EX_11.C.10

Security
● Updated Android security patch: December, 2020, January, 2021
Settings
● Added short-press the power button to turn off flashlight feature while screen-off
Apps
● Fixed the issue that two cancel buttons appear when the input box is clicked multiple times in the weather
● Fixed the issue of abnormal system permission acquisition when the radio is turned on
Bluetooth
● Fixed the probabilistic issue of failure to open Bluetooth scanning
Photos
● Fixed the probabilistic issue that Photos cannot play HDR videos
Alarm
● Fixed the probabilistic issue of crashing when entering the alarm details
Networks
● Fixed the probabilistic issue that VOLTE be registered
How To Check For Software Updates On Realme Devices?
For your context, the updates are pushed via OTA in batches. So, it might take some time in hitting all the units. So, you should always keep an eye on the Settings menu. Follow the steps below to check for the new update notification by following the below-mentioned steps:
Go to Settings
Tap on System Updates.
This will start checking for new updates.
If there is a new update available then, you can tap on the update to download it.
How To Manually Flash Firmware On Your Realme Device?
Make sure that you have taken a backup of the data stored in your device to avoid data loss if things go south. Also, keep the battery of your phone charged to about 50% or more. More importantly, download the latest firmware compatible with your device to avoid any issues.
Via Simple Mode
Grab the update file from the link provided in the above software update tracker section.
Paste the firmware file into the internal storage.
Then tap the firmware file and hit the Update Now button.

This will start the installation of the firmware file on your smartphone.
Via Recovery Mode
Firstly download the firmware file from the link provided in the above software update tracker.
Put the update package file in the root directory of your internal storage.
Turn your Realme device off.
Now, press and hold the Power + Volume Down buttons to boot into Recovery Mode.
Once in the Recovery Mode, select the language.

Under ColorOS recovery, select Install from Storage Device option.
Now, locate the update file either on your internal storage and select it.

Tap on the firmware to start the installation of the new update.
That's it!
Wrap Up!
So, there you have it from my side in this post. I hope you were able to update your Realme XT smartphone with the latest update. Note that all the latest updates and information will be put up at the bottom of the table. So, we would advise you to keep a check of this post regularly.
In the meantime, if you liked this content and want to read more content, for more such awesome coverage, you can head over to our check out our Windows Guides, Gaming Guides, Social Media Guides, iPhone, and Android Guides to read more. Make sure to subscribe to our YouTube Channel for awesome videos related to Android, iOS, and Gaming. So, until the next post…Cheers!