In this guide, we will show you how to recover deleted text messages on your Android device. In Windows or Mac, if you accidentally delete a file, you could easily restore them from the Recycle Bin or Trash Can. Along the same lines, apps like Gmail also keeps the deleted emails inside the trash. This gives the user an option to restore the deleted messages until a specified time. Unfortunately, there is no such option on Android. Once you have deleted an SMS from your smartphones, it is no longer accessible from your end.
But these data aren't completely removed from your device until the OS needs to replace that data with something new. For the time being, those sets of data will just remain inaccessible and invisible to normal users. As an when you execute a new task, the system will then replace the existing data with a new one. So there still exists a small window of opportunity that you could use to recover deleted text messages on Android. And in this guide, we will be making use of just that. Follow along.
How To Recover Deleted Text Messages On Android
First and foremost, your carrier might still have a track of the deleted messages. But the chances of them sharing the data with you stands minimal, that too simply because you have accidentally deleted the data. Until there is some legal aspect involved, this method wouldn't be of much use. So keeping that aside, here are some other methods to recover deleted text messages on your Android device.
Recover Deleted Messages via Google Drive
This method would be applicable to those users who have enabled Google backup and sync functionality. Most of our readers might already have done so, but to be on the safer side, you could recheck it.
Launch the Google Drive app on your device. Sign in with the account that you are using on your Android device.
Now tap on the hamburger menu and select Backup.
There you should see your device's backup along with the date of that backup.

If the backup has been made before the deletion of the messages, then is every chance that the backup might have the deleted message.
Now bring in another Android device and log in with the same Google Account. Then proceed with the on-screen instructions to restore all the data. This might bring your deleted message as well.
You could also use your current device as well, but for that, you will need to take a backup and then format your current device and then restore the data. But there is a risk involved in this. Once you take a backup, it will replace the earlier Drive backup (that might have your deleted message) with the newer one. So to be on a safer side, we would recommend you restore the data on another Android device.
Once that is done, head over to the Messages app and check if you are able to access or recover deleted text messages on your Android device. If you aren't able to do so, then here are some other workarounds that you could try out.
Using Third-Party Software
You could also give a shot to one of the third-party apps. These apps don't have a cent percent success rate and you will also have to give access to all your messages. So decide accordingly whether you really need to access that deleted message or you cannot trade off on the security front. If the former is your answer, then here are the concerned steps:
Download and install the Android Data Recovery app on your PC.
Then connect your device to the PC via USB cable. You will also have to enable USB Debugging. Refer to our detailed guide on What is USB Debugging? How to Enable it on any Android device?

Now head over to the Messages tab and click on Next.
The software will install the FonePaw app on your smartphone. Once that is done, the app will ask permission to read your messages.
Grant it the said permission and head back to the Android Data Recovery software on your PC.
Now click on Scan Authorized files. Once the scanning is complete, see if it is able to get a hold of the deleted messages. If it does, then hit the Restore button.
So with this, we conclude the second method to recover deleted text messages on your Android device. Now here is something important that you need to keep a check on, as mentioned below.
Making Sure that it Doesn't Happen Again
Well, to err is to human. So while the accidental deletion of messages might happen with any one of us, we should at least make sure that the next time we are well-equipped to deal with this situation. In this regard, the best bet is to take a backup of all your messages after a regular interval of time. And the SMS Backup & Restore app is suited for this very purpose. It allows you to create manual and automatic scheduled backups of all your messages in an XML format.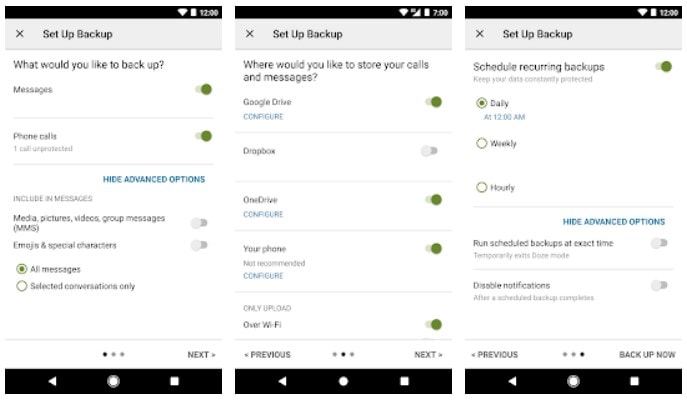 You could then save this file onto your device or much better on the clouds like Dropbox. But some of you might ask that since the messages are already backup up to Drive, why to take the help of the third-party app. Well, this is because each Google Drive backup replaces the earlier one and there is a possibility that the one having the concerned message might be replaced with the newer backup. But this isn't the case with this app.
It creates a standalone backup file and you could individually restore the one as per the need. Hence, launch the app and take a backup of all your messages. You will now get the backed up file in the XML format. Save it onto your device or over to the cloud and restore it as per the need. With that said, this was all from this guide on how to recover deleted text messages on your Android device. Here are some other iPhone Tips and Tricks, PC tips and tricks, and Android Tips and Trick that you should check out as well.