In this guide, we will show you how to rollback or downgrade to Android 10 from Android 11 in Vivo iQOO 3 4G/5G. Each year, Google releases a new Android build. But it doesn't directly roll out the stable versions. They first release a few Developer Previews, which is then followed by the Beta builds. And then only the stable builds make their way over to your devices. All this makes complete sense too. The initial release aka Developer Previews is only intended for the developers. These versions contain quite a few bugs and it isn't recommended to try it on your devices.
Next up, comes the Beta update packages. Although they also shouldn't be used as a daily driver either, anyways they are more stable than their predecessors. At this point, many OEMs also releases the beta updates optimized for their devices. These include OnePlus with their OxygenOS, Oppo with ColorOS, Realme with their Realme UI, all based on the latest released Android version. In this regard, the Android 11 Beta 1 Update, after a few delays, is now finally available for the users. Pixel device owners could easily download the package and install the said update. Likewise, the Project Treble owners could also give the GSI images a shot.
Furthermore, we also saw how other OEMs like Oppo and Vivo have joined the bandwagon. While Oppo has announced the Android 11 for its bunch of devices, Vivo went a step ahead and released the same. As of now, the Vivo iQOO 3 4G and 5G variants are the lucky ones. If you are among the set of users those who wish to try out cutting edge and new features, then you might have already tried out the said build on your Vivo build. But since the build is unstable and also has quite a few bugs, you might wish to get back to the stable previous Android build. In this guide, we will help you do just that. Using the given instructions, you could now easily rollback or downgrade Android 11 to Android 10 in Vivo iQOO 3 4G/5G.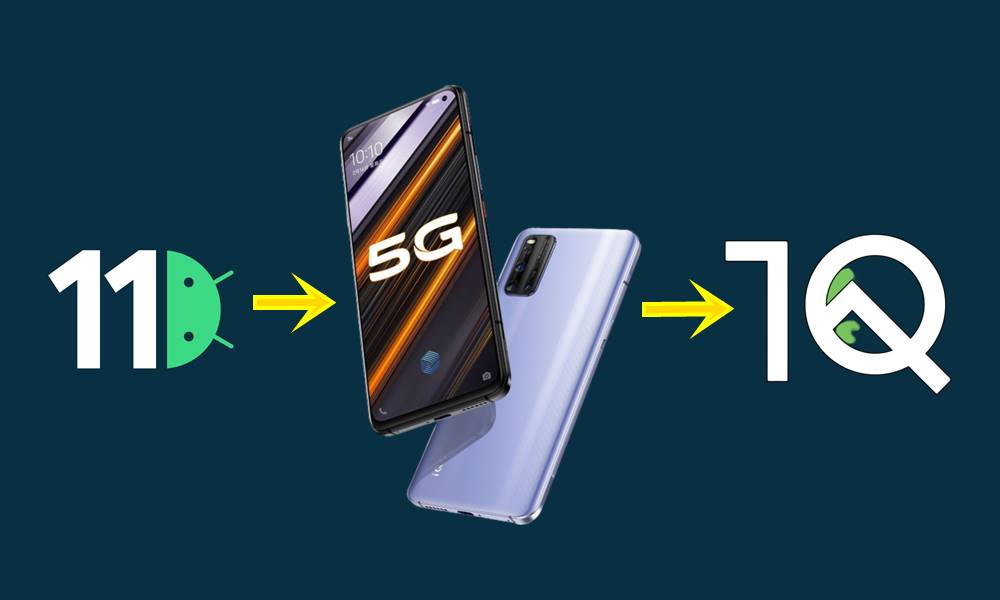 Android 11 in Vivo iQOO 3 4G/5G: Worth the Try?
We aren't denying the fact that the latest iteration of Android has bought along a ton of goodies. These include Separate Notification Channels, Bubble Conversations, Media toggles in Quick Settings. New Additions to Power Menu, New Features in Recent Menu, Location Permissions, and New Screenshots UI. Well, this is just the tip of the iceberg. For the complete list, please check out our comprehensive guide on Android 11.
However, here is the thing. You should only try out these features once it is available in the stable build. Although the Beta packages could also be installed, you will be then sacrificing on the stability front. And if it is your only device, then installing these builds might not turn out to be a good idea. With that said, some users like to try out the latest features as and when they get released. If you belong to this domain and have a Vivo iQOO 3 device, then you might have already tried out Android 11. However, the thing is the Beta package has quite a lot of bugs, namely:
Android 1 Beta Vivo iQOO 3 Bugs
Here are the known issues with this update package for Vivo iQOO 3 (4G/5G variants):
The under – screen fingerprint feature is not available.
The front lift camera is not available.
Status Bar icons display exception: camera notch and screen corner are overlapped with icon.
When Chrome is started for the first time, "Turn on sync?" screen doesn't show any existing Google account sign-in information.
In Settings, the last item is "About emulated device" instead of "About device". Minor issue.
[Minor issue] There are 2 system upgrade pages in Settings (One in "Settings > System update", the other in "Settings > System > Advanced > System update"), user might be confused.
So if these bugs are causing way too much difficulty in normal device usage, then you could perform a downgrade to the earlier stable Android version. Here are the required instructions to rollback or downgrade Android 11 to Android 10 in Vivo iQOO 3 4G/5G.
Warning
Before we begin with this procedure, I would strongly recommend you to create a backup of your device storage and all your files stored on your device. Moreover, it is advised to follow the steps mentioned in this post very carefully to avoid permanent damage or to brick your device. If anything goes wrong the author or GetDroidTips is not responsible for it.
Rollback From Android 11 to Android 10 in Vivo iQOO 3 4G/5G
Before we list the instructions, please make a complete backup of your device. This is because the process is going to wipe off your device. Once you are done with the backup, grab the Android 10 firmware for your device from the below section and then proceed with the steps.
Download Android 10 Firmware
Device: Vivo iQOO 3
Channel: China Stable
Version: PD1955F_EX_A_1.14.3
Android: 10
Type: Recovery
Instructions Steps
Download the Vivo iQOO3 Developer Preview firmware package.

Copy the firmware package to the root directory of Vivo iQOO3 storage.
Follow the above steps, click on the package in the system upgrade, and start uninstalling the Developer Preview after verification is completed.

Wait for the upgrade to be completed.
Once that is done, your device would boot to the Android 10 stable build. The first start might take some time, it is completely normal. Furthermore, your device will also need to be set up from scratch as it had been reset. And with this, we conclude the guide on how to rollback or downgrade to Android 10 from Android 11 in Vivo iQOO 3 4G/5G. If you still have any queries, then let us know in the comments section. Rounding off, don't forget to check out our iPhone Tips and Tricks, PC tips and tricks, and Android Tips and Trick section as well.