New Update Story:
Updated on March 10, 2022: Samsung FRP Helper Tool v0.2 is released, and you can find the download links for the same down below.
For most Android devices, Factory Reset Protection is essential. It is a security method, which makes sure that somebody other than you can't just wipe your phone data. So if your phone is stolen, no one can rest your device, and your data will be safe.
All the Samsung devices have FRP; the initial setup screen of the Smartphone will set up the details for the FRP. So if you have a Samsung device and want to reset it, you have forgotten your FRP details. How will you turn FRP off or bypass it to wipe your device data?
Well, for Samsung devices, there is a tool that can bypass and unlock FRP. The tool is for Laptops and PC. You will have to plug your phone into the computer through a USB and use the Samsung FRP helper tool application on your PC to bypass FRP.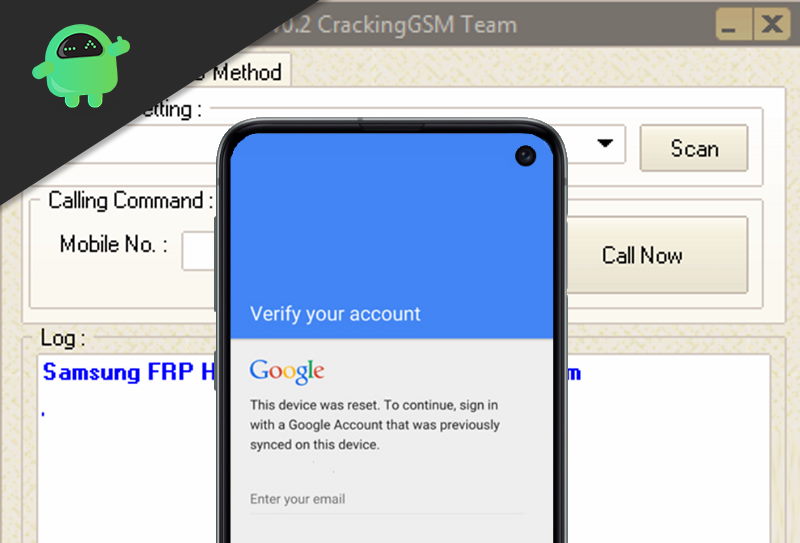 Samsung FRP Helper Tool v0.2
The developer of the Samsung FRP Helper tool has recently upgraded the tool to V0.2.  The new version comes with all the previous bug fixes and compatibility with more Samsung devices. The application is convenient if you think of selling your device and want to reset your device.
To use the Samsung FRP Helper Tool, first, you will have to plug the USB into your phone and computer. Then launch the application; it should recognize your device automatically. However, if it doesn't, then you must download and install Samsung drivers in your PC according to your device model.
Once the application has recognized your device, you can go through the wizard and unlock your device. You can also use the Call method, but usually, the ADB method works the best. Make sure that you have ADB and ADB drivers installed on your PC. Samsung FRP Helper will install an anti-locker in the Smartphone that will unlock the device.
However, to make it really work, you will have to shut down your phone, detach and reconnect the USB to the PC. Turn on your Smartphone and then launch the app, go through the wizard to install the anti-locker, and unlock the FRP on your Samsung device. Moreover, the application can also be used to FRP lock a Samsung phone.
Download Samsung FRP Helper Tool v0.2
The tool works fine with Samsung Galaxy devices. However, the application is not officially from Samsung. It is also freeware, and using it is very simple.
Name: samsung_Frp-Helper_v0.2.rar
Size: 2.86 MB
Uploaded: 23-11-2018 08:57
Last download: 17-07-2021 22:09
| | |
| --- | --- |
| Version | Links |
| Samsung FRP Helper Tool v0.2 | Download |
Conclusion
If you own a Samsung device and you want to sell it. Then you know you will have to wipe everything from your phone, but what will you do if you forgot the Google id and password. Well, you can reset or recover your Google id and Password from another device, but what if that is not an option.
Due to the FRP, you can't wipe your device data until you know the FRP details. However, there are plenty of tools to bypass the FRP lock. For Samsung devices, an unofficial application Samsung FRP Helper Tool, is the best bet.
The application requires a PC to work, supports Windows. Also, you would need a USB cable to connect your phone to the PC. You can then go through a simple wizard and unlock the FRP. However, the app doesn't work on all Samsung devices, and it works fine on Samsung Galaxy devices.