The Samsung Galaxy M52 5G, M32 5G, and M42 5G are recently launched smartphones. All of these come with a high-resolution display, powerful processor, high-class camera, and 5G compatibility. However, regardless of how updated they are, none of these devices are left alone with glitches. Recently, the Samsung Galaxy 5G series users were found looking for a solution regarding Bluetooth issues. As per the users, their Bluetooth either won't pair, or even if it does; it doesn't work.
However, while going through the issue, we found that the Bluetooth issue in Samsung Galaxy 5G devices is basic and resolvable. Following that, we have also compiled a long list of fixes for the same. Going forward, this guide will introduce you to all the related information. Have a look: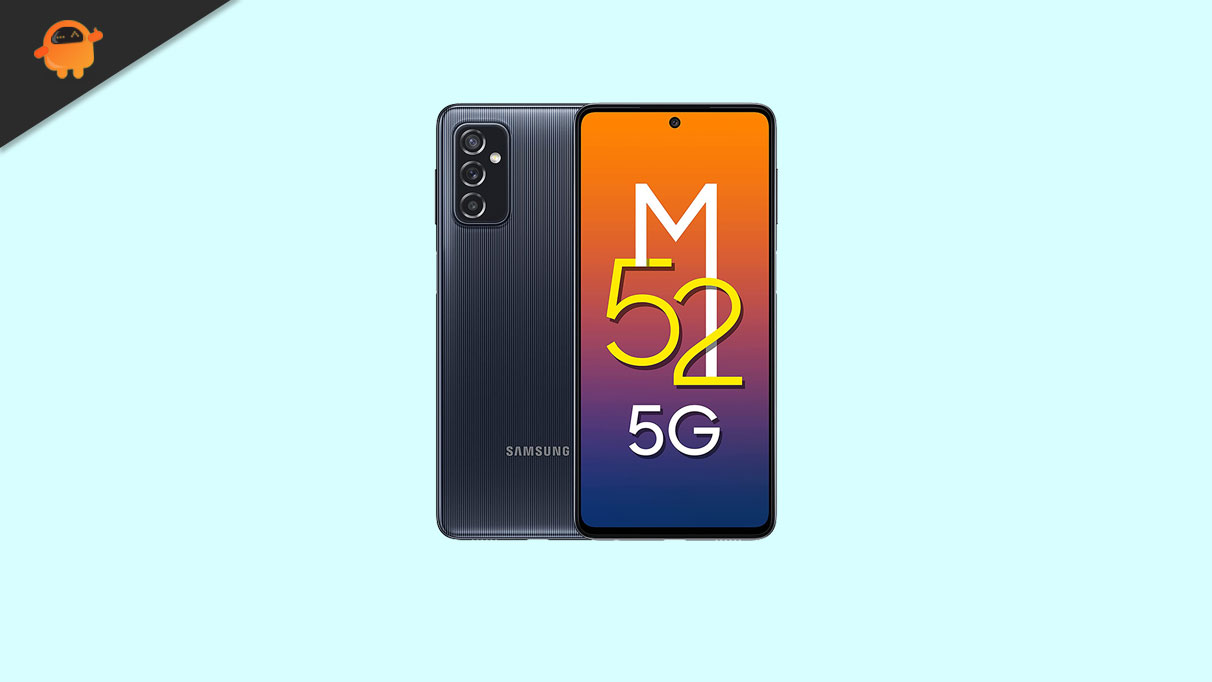 Why Bluetooth isn't pairing or working?
Signal Interference.
The extra distance between two connecting devices
Software issues
Incompatibility issues including improper pairing
Low power
List of Basic Troubleshooting
Make sure the two devices you are connecting are rightly configured to receive Bluetooth signals from each other. For that,
Both the devices need to be Powered On
None of them shouldn't go in Airplane Mode
Bluetooth is turned On at both ends.
Proximity/ Range is the major consideration for Bluetooth pairing. If both your connecting devices aren't within 30 feet (ideal distance), you may find it a hard time to pair them both.
Ensure there is no physical obstacle, including metal, wall, individual, or electromagnetic environment, between the two connecting devices. This, as a result, may hamper the connectivity between the two Bluetooth devices.
Ensure that no third-party device is connected to your second pairing device. If it is, then your Samsung Galaxy M52 5G, M32 5G, and M42 5G devices won't pair.
Make sure both your Samsung Galaxy Smartphone and the Bluetooth device have enough power. At times, due to low power, Bluetooth fails to connect.
How to fix the Samsung Galaxy M52 5G, M32 5G, and M42 5G Bluetooth won't pair or not work?
FIX 1: Force Reboot your Samsung Galaxy device
Force Reboot refresh and reload the system and eliminate several minor glitches, including the Bluetooth connectivity issue. Thus, here too we recommend you to try the same and check whether it helps or not. For doing so, follow the steps given below:
Firstly, press and hold the Volume down key and the Power key for at least 10 seconds. Or wait until the device power cycles.
Keep the keys pressed and wait for the Maintenance Boot Mode screen to appear.
Here, navigate using the Volume keys to reach Normal Boot. Now use the Power key to select the same.
Lastly, wait for the next 90 seconds, and your Samsung Galaxy smartphone will reset completely.
FIX 2: Reset your Smartphone's Network Settings
Network Settings basically control all the Network related functioning of mobile, including Bluetooth. Thus, at times of certain connectivity and pairing issues, a quick Network setting reset comes to help. Follow the steps given below and reset your Smartphone's Network Settings:
Firstly, on your Smartphone's home screen, swipe up to launch the App menu.
Now tap and navigate to Settings -> General Management -> Reset -> Reset Network Settings.
Further tap on Reset Settings -> Reset, and you are done. (If asked for PIN or Password, enter your Smartphone's lock screen PIN/ Password).
Lastly, pair your Samsung Galaxy device with other devices using Bluetooth and check for improvement.
FIX 3: Clear Cache Partition
As per a few suffered users, when they cleared the Cache Partition, the Samsung Galaxy M52 5G, M32 5G, and M42 5G Bluetooth won't pair or not working issue resolved for them. You can also try the same y following the steps given below:
Power Off your Mobile and then press and hold Power Key and Volume Up key altogether.
Once the SAMSUNG logo appears on your Mobile's screen, release both the keys.
Now your mobile screen will flash a message stating, 'Installing System Update' for the next 30 seconds to 1 minute, and then finally, the Android Recovery Menu option will appear.
Here using the Volumes key and Power Key (for Navigation and Confirmation, respectively), select the option Wipe Cache Partition.
Now select the option, Yes using the same key combination.
Lastly, select the Reboot System Now, and your Smartphone will restart thereafter.
Once done, reconnect the Bluetooth and check whether it is working or not.
FIX 4: Perform Factory Reset
Though a Factory Reset may make you lose all your Mobile's data, it will, however, resolve the Bluetooth pairing and working issues completely. Thus, if you can afford to lose your data and settings for resolving the Bluetooth issue, perform a Factory Reset. Here's how you can do the same:
Note: Moving forward, consider creating a backup for all your device data, or you will lose it in the process.
Now press and hold the Power Key and Volume Down key for a few seconds until the device switches off.
Further press and hold the Volume Up and Power Key for a few seconds until the Recovery Mode logo appears on your Smartphone's screen.
And using the Volume key and Power Key, select the option Wipe Data/ Factory Reset.
Then select the option Factory Data Reset -> Reboot System Now.
The Factory Reset process is done now.
Consider connecting Bluetooth and check whether it helps or not.
These were the top 4 tried and tested solutions for the Samsung Galaxy M52 5G, M32 5G, and M42 5G Bluetooth won't pair or not work issue. All of them have helped the real-time users, and thus we hope they will work in your case as well.
However, if none of them resolves the Bluetooth issue for you, then, at last, install the latest device update. With every new update, Samsung resolves the existing bugs, and thus the Bluetooth issue may resolve along as well. If you have any queries or feedback, please leave a comment in the below-given comment box.