Samsung has introduced quite a good amount of flagship phones that holds a great record in terms of its performance level. However, recently Samsung has officially announced to launch three new flagship smartphones, namely the Galaxy S20, S20 Plus, and S20 Ultra. All these devices have got an excellent design and slim body. And speaking of design, they all might come with latest IP68 water-resistant design and can add features like underwater photography and calling. This is why Galaxy fans want to know about waterproof measures for these devices.
Since there are a lot of expectations with this new series of smartphones, users eagerly want to know if these phones come with a waterproof rating as well. So today, in this post, we are going to conduct a waterproof test on all of the three phones. In the early 2020s, already a lot of waterproof devices had been manufactured. We hope that the new S20 family from Samsung will add three more names in the list of waterproof devices. After the test, we will come up with the answer we are looking for.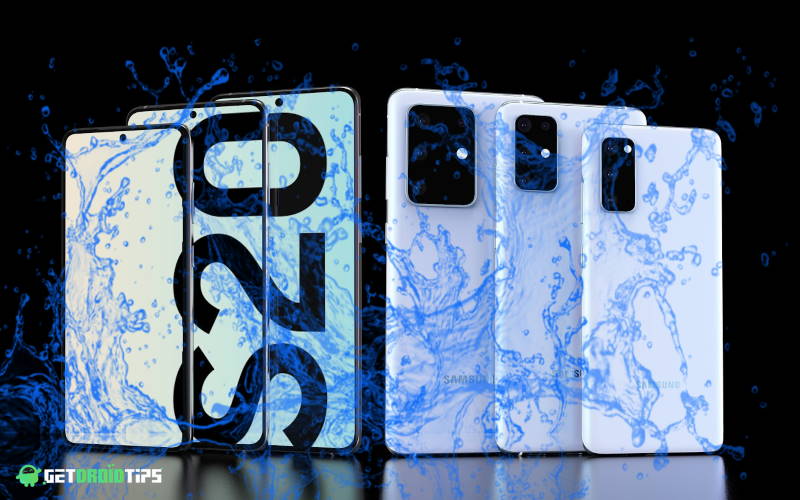 Samsung Galaxy S20, S20 Plus, S20 Ultra Are Waterproof?
The demand for waterproof smartphones is increasing in the market day-by-day. This is because it adds an extra layer of protection to the devices. The phones also get much secured in terms of hardware-related problems. However, for any device to be waterproof, it must have a specific IP waterproof certification.
Nowadays, people love shooting underwater pictures and videos. And a waterproof smartphone completes all such desires. You can enjoy using your phone in dusty and windy conditions too. Moreover, a waterproof device adds several more features which makes it worth buying.
What Is A Smartphone IP rating?
For any smartphone to be waterproof, it must possess a special IP waterproof rating. An IP rating is an international standard that is used to define levels of sealing effectiveness of modern smartphones. These IP ratings are presented in the form of IP, followed by two numbers. And it can be convenient when you need to use your device in rainy weather, to talk, or to play games while in shower. You can also enjoy underwater photography or videography etc. Or if you're crazy enough, you can video call your friends while going for scuba diving.
The possibilities are endless, but only if the new Samsung Galaxy S20 series is properly waterproof and IP68 certified. Most manufacturers are also providing official waterproof ratings to their devices. This rating set a particular level of sealing effectiveness of the device. With a proper IP68 waterproof rating, you can enjoy underwater activities with your device. This includes any underwater photography, calling etc.
Samsung Galaxy S20, S20 Plus, And S20 Ultra Waterproof Test
Since the Galaxy S20 family has given an official IP68 waterproof rating, it is expected to do great even in tough conditions. No matter which S20 device you go for they can work well in dusty or windy conditions. Moreover, they can withstand for quite a long time underwater. So, you don't have to worry if you somehow drop your device in the pool or somewhere. These devices are built to survive in extreme conditions. So, an accidental splash of water or coffee spills is not a matter to worry about.
warning
This waterproof test's results are purely based on individual/team observation. These tests will only give an idea of whether a device is waterproof or not. We recommend users not to try this test at home, as it might damage your device. We are not responsible for any damage that might occur by mimicking these tests.
| | | | |
| --- | --- | --- | --- |
| Device Name | Official IP Ratings | Splashproof | Water-Resistant |
| Samsung Galaxy S20 | IP68 | Yes | Yes |
| Samsung Galaxy S20 Plus | IP68 | Yes | Yes |
| Samsung Galaxy S20 Ultra | IP68 | Yes | Yes |
As you can see from this result, that al the devices from Galaxy S20 series lineup does come with official IP68 water-resistant support. We are happy to say that you dont have to worry about getting water damage if you own one of these devices.
Conclusion
Finally, if you have reached this very part of the article, I hope you got an overall idea about what IP rating actually is. And since the Samsung Galaxy S20, S20 Plus and S20 Ultra are already certified with an official IP68 waterproof rating by Samsung; it is clear that they hold a good score in terms of being water-resistant. As a result, these smartphones can handle accidental water splashes, coffee/tea spills, dusts quite comfortably.
So, you can make use of these devices even for shooting some great videos and pictures underwater. However, you must take care of your phones against corrosive liquids like alcohol, vinegar, saltwater, etc. Remember, these liquids can damage the outer coverings of your smartphone like the rubber seals. Stay careful while using your phone against such elements.