Finally, after a long wait, Poco has launched its first phone Poco X2 on 4th February 2020. Yes, you heard it right, Poco which was earlier a sub-brand of Xiaomi is now a completely distinct company. Poco has made it clear that it is now an independent brand and is ready to compete with the rest on the market. And because of that, Poco might launch Poco X2 with waterproof specifications. So people are asking if Poco Launched Poco X2 With Waterproof IP Rating or not. However, the Poco X2 can be considered as a carbon copy of the Redmi K30 which was launched by Xiaomi a few days back. Poco has done a great job considering its design, features, display, performance and all.
After the launch of the earlier Pocophone, the Poco F1, which had made a great impact on the market. People are now more curious to know about the new Poco X2 device. Also, after many waterproof smartphones been already launched in early 2020. people also want to know if the new Poco X2 is a waterproof device or not. So, today we will be conducting a Poco X2 waterproof test to see if it has a waterproof IP rating or not.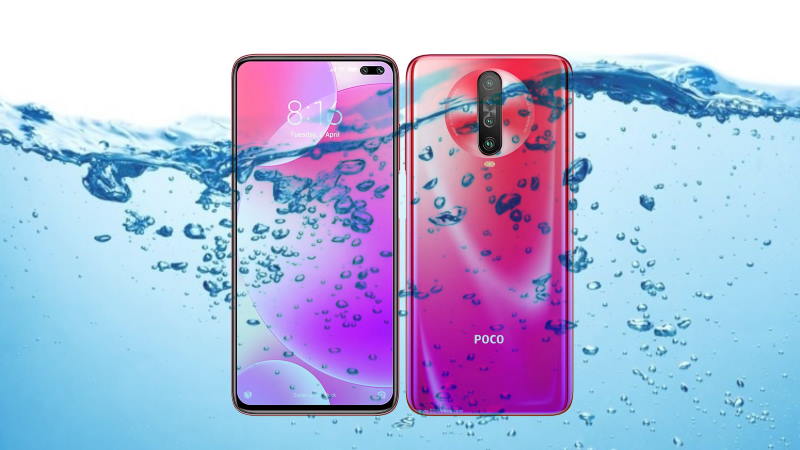 Did Poco Launched Poco X2 With Waterproof IP Rating?
Today most people love using waterproof smartphones, as it allows them to shoot underwater photo/video. A waterproof device also unlocks many more features for you. As people are getting smarter day-by-day, they love the experience of using more technical and functional devices. Thus, it increases the demand for these waterproof devices in the market.
For a smartphone to be waterproof, it must have a special IP rating certification. IP stands for Ingress Protection Rating, which implies the degree of protection of any device against any solid or liquid material. Most manufacturers nowadays provide official waterproof ratings on their devices as well.
Poco X2 Device Specifications
The Poco X2 is a brilliant device at its price range. It comes with a 6.67-inch FHD+LCD display. It runs on the latest Android v10. The device features a Qualcomm Snapdragon 730G octa-core processor and an Adreno 618 GUI which allows you to do high-end gaming. It comes in three different colour variants Atlantis Blue, Pheonix Red, and Matrix Purple. There are three RAM and Storage variants comprising 6GB RAM + 64GB Storage, 6GB RAM + 128GB Storage, 8GB RAM + 256GB Storage. It has a 4500 MAh battery which gives a quite good battery backup with a 27Watt fast charging onboard.
Talking about its camera, Poco X2 features a quad camera setup for its rear camera including a 64MP Sony IMX686 main sensor, an 8MP wide-angle, a 2MP depth sensor and a 2MP macro sensor. You can shoot 4K videos, and it also provides 960fps super slow motion. The front camera consists of a 20MP+2MP dual in-screen camera setup. Other features include Light sensor, Proximity sensor, Accelerometer, Gyroscope, Compass and many more. It also gives a side-mounted fingerprint sensor that is well responsive and gives a sophisticated feel. It is quite impressive in terms of looks too; it has corning Gorilla Glass v5 with a curved screen and a great design at the back camera section. However, there are no official IP waterproof ratings available. So, we can say that it is not a waterproof device.
Poco X2 Waterproof and Splashproof Test
However there are no IP ratings available, but the official site does mention p2i Splash-proof coating. Therefore we can expect it to work well even in wet conditions. So, we will conduct a water test comprising all waterproof, splashproof as well as dustproof test. And after this test, we will come out with the answer we are looking for that if Poco X2 is waterproof or not.
| | |
| --- | --- |
| Device Screen | The screen is ok and in working condition |
| I/0 ports | Volum button malfunction |
| Speaker/ Camera | Camera works, but earpiece speaker is damaged |
After conducting the water test on Poco X2, the device failed to work normally. The device had developed many faults, and the I/O ports are not working properly. The volume buttons stopped working. As a result, we can say that Poco X2 is not a waterproof device. Since it has a p2i Splash-Proof coating, it has great water-repelling capabilities. Therefore, it can handle accidental water splashes quite easily. However, it is not fit for using underwater as it cannot withstand underwater long enough.
Conclusion
After successfully conducting the water test on Poco X2, it is observed that the device failed at it. It stopped working, the device malfunctioned, and the hardware is much affected. Finally, we can consider it as a dustproof and splashproof device but it Poco X2 is not a waterproof device. It failed to survive underwater long enough, so we cannot consider it as waterproof. In conclusion, Poco X2 can be used in dusty or windy situations, but it is unfit to be used in rainy of underwater conditions.