Ever wanted to take some notes quickly but don't know which app will be perfect for the job? If you have a Samsung device, you should already have the Samsung notes app installed on it. But there is also another efficient note-taking app available called the Evernote.
So here in this article, let us compare Samsung Notes vs Evernote and find out which one of them will be suitable for your Samsung Galaxy smartphone.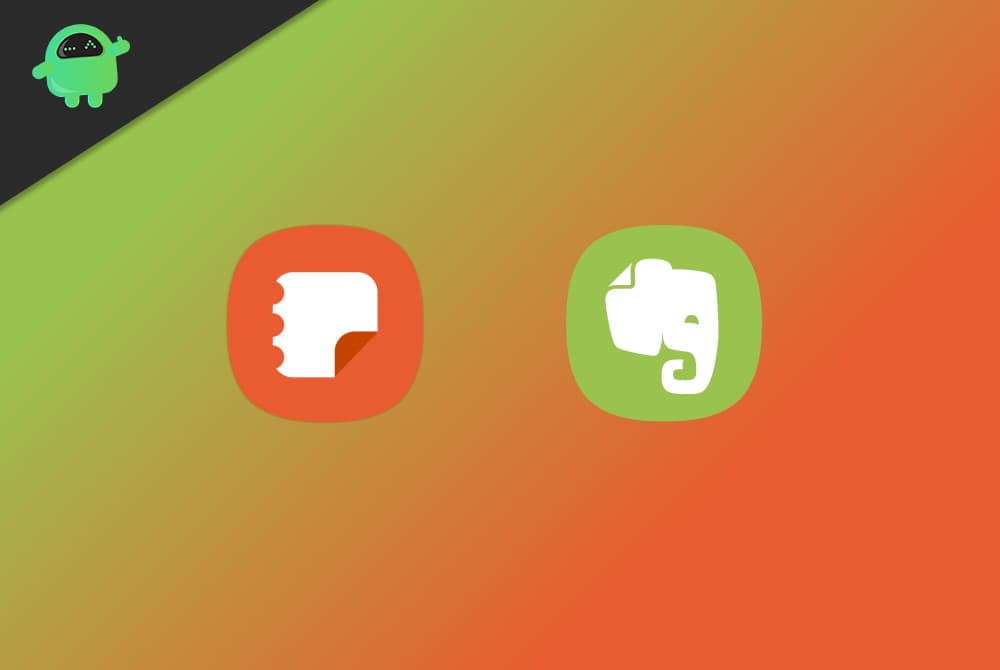 Samsung Notes vs Evernote: Which Note App is Better for Galaxy device
Let's break this comparison to three main parts and compare them on its basis.
Look and feel
Features
Note Management
Look and feel
Samsung Notes
The Samsung notes is a built in app for Samsung smartphones, made with One UI in mind. Hence it blends with your phone UI very well. The system-wide dark mode will affect your app and feels at home. So when you launch the app, you'll be given a minimal interface with a + sign to create new notes. If you already created any notes, it will show up there as well.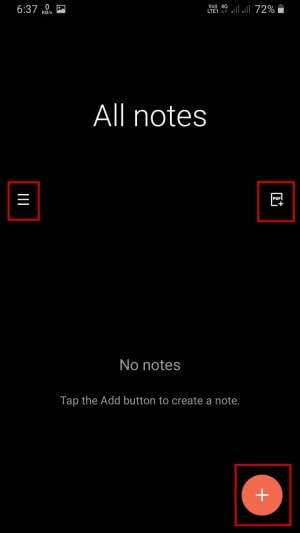 You can also search, edit, and sort all your notes by tapping on the three dots on the top right corner. There is a hamburger menu to adjust the setting and add or manage folders.
EverNote
Evernote, on the other hand, is a third party app by Evernote Corporation. This app has to be installed from the play store. When you start the app for the first time, you'll get a blank screen labeled as "All notes" with a +New note symbol at the bottom.
Unlike Samsung notes, you can directly add reminders, record audios or simply start sketching using the Arrow mark near the New note button.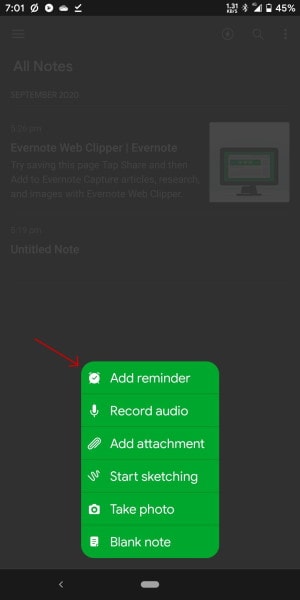 Although the app has a dark mode, it won't respect your system theme. Instead, you have to manually enable it from the hamburger menu, which also gives you access to other options like settings and notebook management.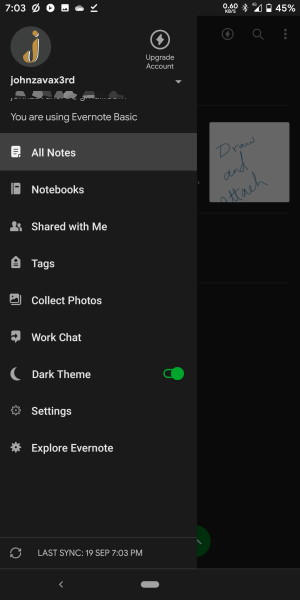 Features
Samsung Notes
Samsung notes some serious note-taking features. Like you can write or draw on top of texts. One of the very useful features is that it can import PDF files and lets you type or draw on top of it.
Apart from it, you can select, mark, and highlight essential texts or parts of your note. For note-taking, you have features like brush, pencil, pen underdrawing tools. You can resize and change the color of your brush. You can also utilize the Highlighter to mark important.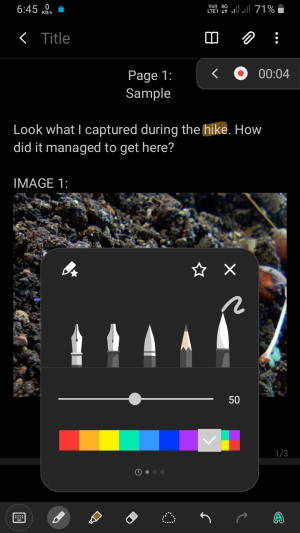 The selection tool allows you to select cut and place drawings and texts to anywhere on the note. You can apply formatting to text such as alignment, background color. This also gives the ability to add images, PDFs, record audio, and insert media files.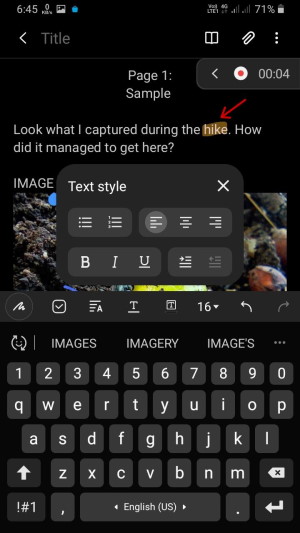 Samsung notes can be configured to work with multiple pages or a single infinite scrolling pages.
Personally, I prefer multiple pages since it is an excellent way to manage and organize your note. As a feature of convenience, you can move the toolbar across your screen and place it at the place.
Evernote
Evernote also provides you similar features for note-taking. Hence features such as drawing, typing, and inserting files are also available.
As an additional feature, you can add files directly from your Google Drive. You can start typing as you would do in Samsung notes or select a template and start using the template for quickly creating lists and memos.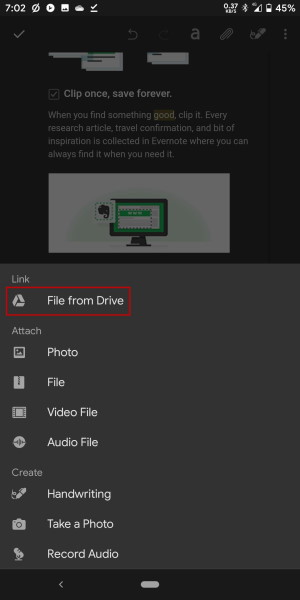 Apart from typing, this app also lets you draw on it. Although you cannot draw over existing text or image as you would with Samsung notes.
Also, the highlighter feature will work differently. Here you have to select the text which you would like to highlight and tap on the highlighter icon. This makes it impossible to mark over images.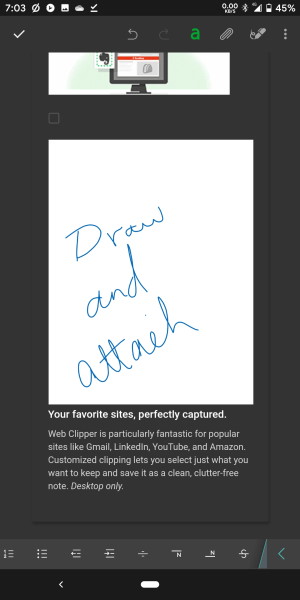 Although you can directly capture articles and images from the web and use it with the Evernote app. Which can be really useful for grabbing the source off the internet quickly.
Note Management
Samsung Notes
Samsung notes can be organized into folders. As mentioned already, you can create new folders and organize your notes to separate your work notes form personal ones. You can share and access shared notes.
Although you can only share notes with other Samsung notes users, which means only Samsung smartphone users. There is no option to collaborate on all platforms on notes as you would get on other alternatives like Google keep or OneNote.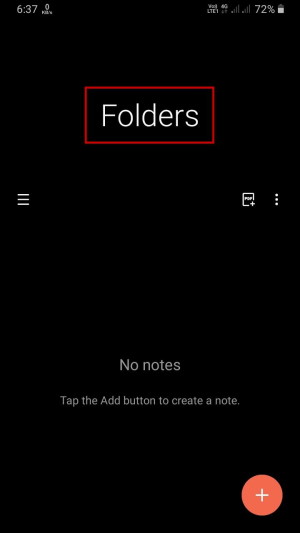 There is a sync option to sync your notes with your Onedrive. However, you could access only if you have another Samsung device (Smartphone, Samsung laptops).
Evernote
With Evernote, you can access your notes using any of the devices. Since Evernote is available across all major platforms like Android, iOS, Windows, and Mac its a perfect option for cross-platform note-taking.
For organizing things, Evernote implies a tag system. You can add tags while editing notes and access your notes using that tag.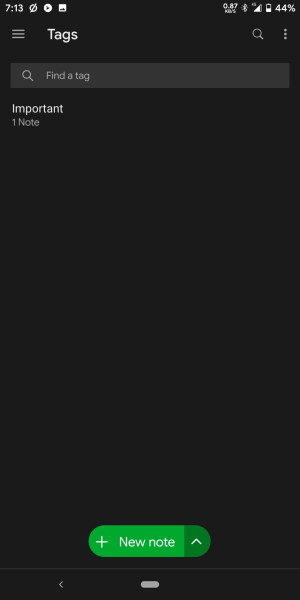 Although the free version limits you to use only view notes online. To view files offline, you should upgrade to a premium plan.
There are some other benefits of upgrading to the pro version for $7.99 per month, like 200MB per not and 10Gb of online storage. For casual note-taking, you won't be needing them anyway.
Samsung Notes vs EverNote – which one to choose?
Here, it's tricky to answer. Because both apps excel at its distinguishing feature, but to compare its common ground, Samsung Notes has some advantageous features for drawing and marking stuff.
Although Evernote is a clear winner for cross-platform compatibility, keeping in mind that Samsung notes are free, I think it will be a quick way to take some notes. Mostly if you use Galaxy devices.
If you own only one device and want to use it for taking notes, Samsung notes will be a viable option. Although if you really need some severe note-taking and access them from other devices, Evernote might be worth the price you pay. There are either free alternatives such as Onenote, and you can give them a try too.