Confused about which one to choose from Spotify vs. Apple Music subscription? It's the digital age, and music streaming apps are the preferred way to listen to music. However, there are many platforms available to choose from to stream music. Spotify, Apple Music are some leading choices for people.
Apple Music or Spotify, which is the best music streaming platform. This question is asked by many of the users looking for their perfect app for streaming music. So here in this article, we are going to compare them both and arrive at a conclusion.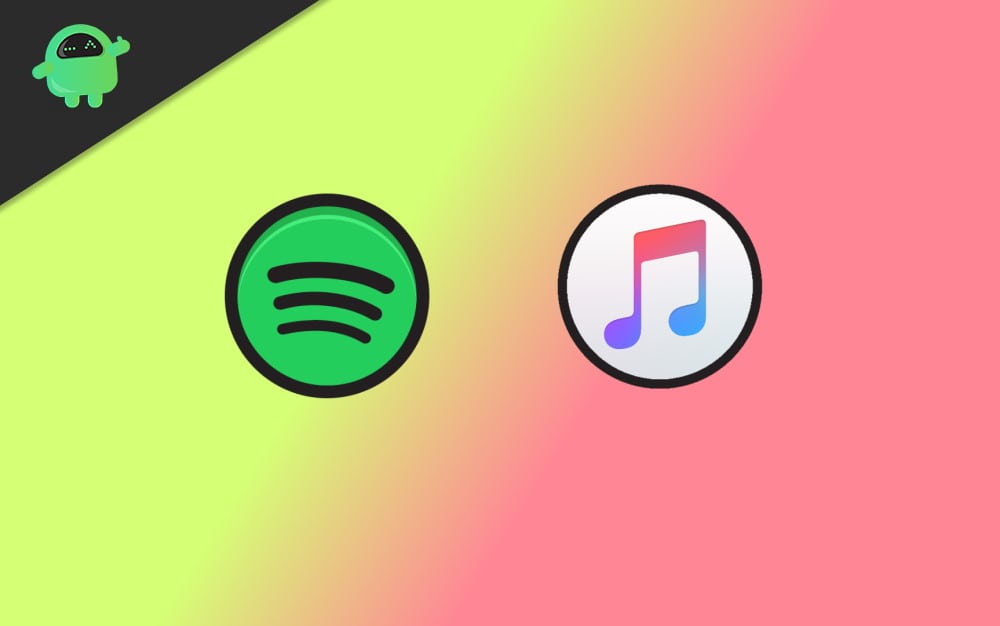 Spotify vs. Apple Music: Which Music Streaming is Best?
Let's break the comparison into five main aspects.
Pricing
Song Library and platform integration
Look and feel
Features
Library management
So, let's see how they differ in each category one by one.
Pricing
As far as pricing goes, both Spotify and Apple Music have the same monthly subscription price.
Spotify/Apple Music Cost per month
Individual
Family
Student
$9.99
$14.99
$4.99
Spotify
Spotify comes in three packages: Individual, Family, and student. The one point that sets it apart from apple music is the student plan. The student plan includes access to Hulu. Which is not available in Apple music's student plan. Plans are only available as monthly subscriptions, and there are no annual subscriptions. There is a way to play songs freely but with limited quality and advertisements.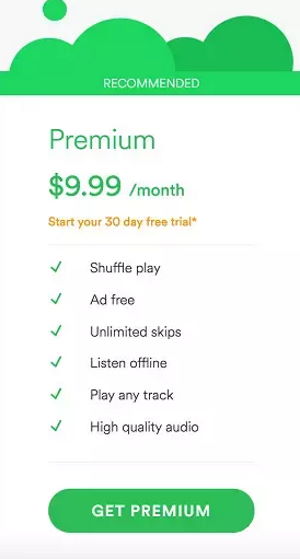 Apple Music
Apple Music also provides the same subscriptions. But unlike Spotify, there is an annual subscription that is kind of hidden. But the plan is available for existing Apple music users with an individual plan for a month. You can switch to a yearly plan and enjoy a near to 20% discount. There is no way to stream music freely as in Spotify.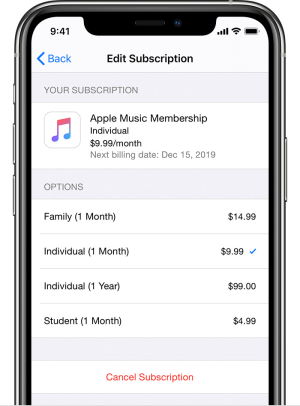 Song Library and Platform integration
The next main question is how many songs are available on the platform, and through which platforms the service is accessible.
Spotify
Spotify claims to have 50 million + songs in their library. That being said, Spotify is available in 79 countries. So you might want to check that your country is listed before choosing.
Although Spotify is available on all major platforms such as Windows, Linux, Mac, iOS, and Android, apart from them, the service is accessible from a wide variety of devices such as Amazon speakers, smart TVs, Apple Carplay, Android Auto, etc.
And because of this, there is a seamless integration between all devices connected to the same network and are logged in using the same devices. You can simply choose the playback device and control playback directly from your phone.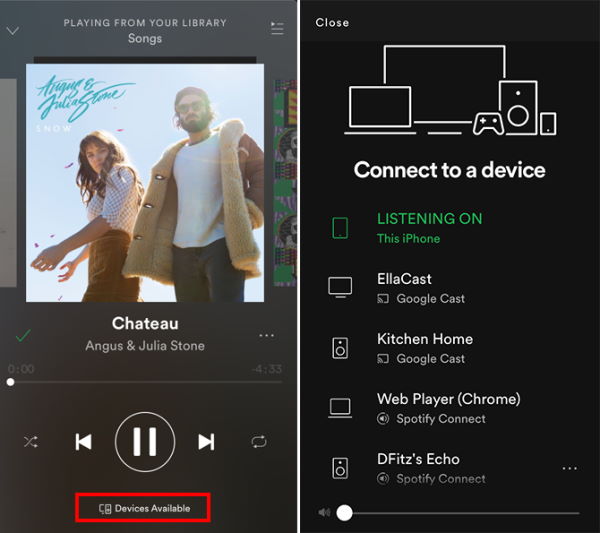 Apple Music
Apple Music is available for users from 167 countries. Hence with this, Apple claims to have over 60 million songs in its library. Apple Music is also available on many platforms like Windows, Android, and all iOS devices. However, there is no support for other devices mentioned in Spotify's list unless they are from apple.
As you already know, apple music works well within Apple's ecosystem. Therefore within this closed environment, apple music will work well with seamless sync options. Although there are no remote control and playback options, as mentioned in Spotify.
Look and feel
Apart from songs and library, the UI of the app will contribute to the overall user experience.
Spotify
Spotify uses an always dark theme with icons of green color. This is pleasing for many users. However, there is no light theme to switch to while using in the day time.
The interface is straightforward and well organized. There are three options mainly available, Home, library, and search. Home is the place to find songs, artists that you've listened to previously as well as new songs similar to your taste.
You can find your saved songs within the library. Also, you can find your playlist here. Finally, you can search for songs or artists from the last menu.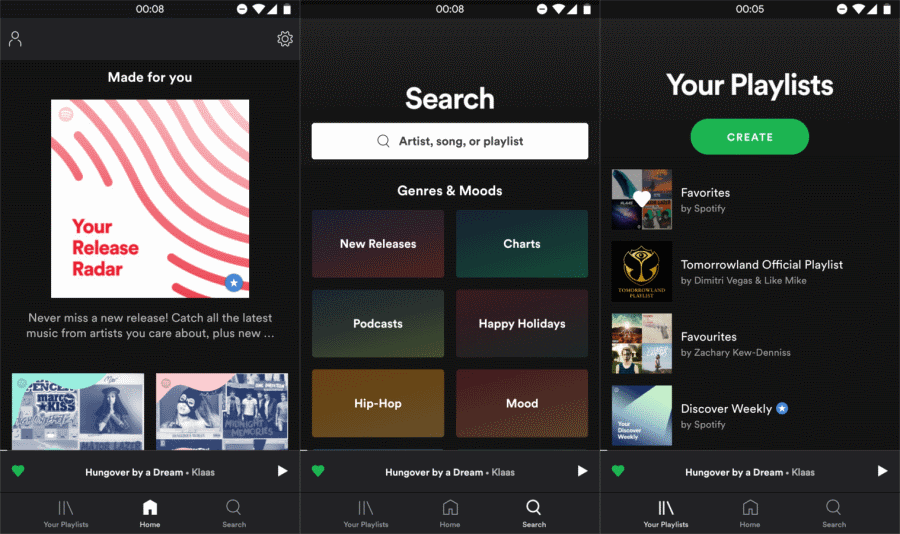 Apple Music
Apple Music provides users the ability to switch between light and dark themes. However, the UI is less pleasing than Spotify. This might be a personal preference. However, the interface itself is tricky and complicated, which may lead to confusion.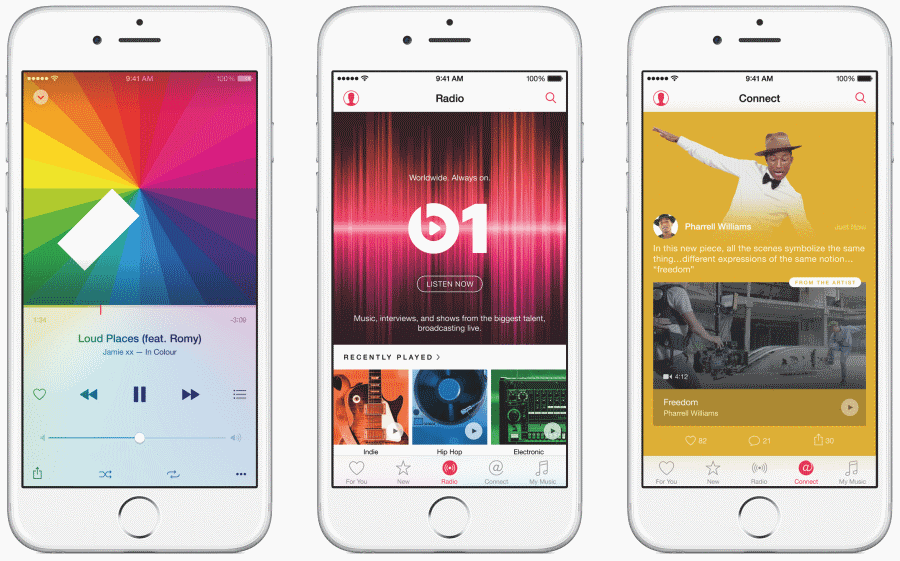 Features
Spotify
Spotify plays songs in Ogg formats. There are options to choose between the bitrate of the songs. From low to high(256kbps). Very high (320kbps) is only available for paid users. However, there is an auto mode that chooses quality automatically based on network speed and stability.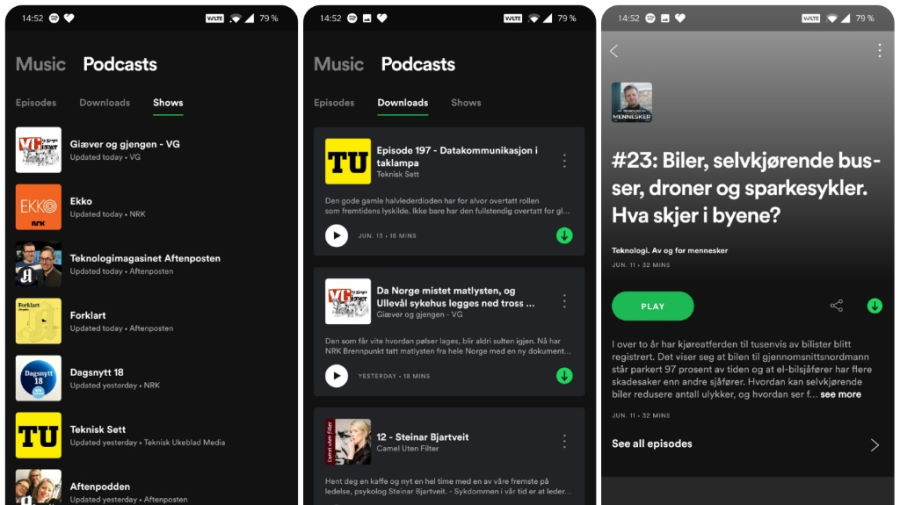 Apart from music, Spotify provides other content such as podcasts, Music videos, etc. There are no realtime lyrics display in this app. Again many people end up not using the music video playback due to higher data consumption.
Also, we can customize our own radio stations based on artists. There are many settings available to customize, and you can easily access from the home screen itself.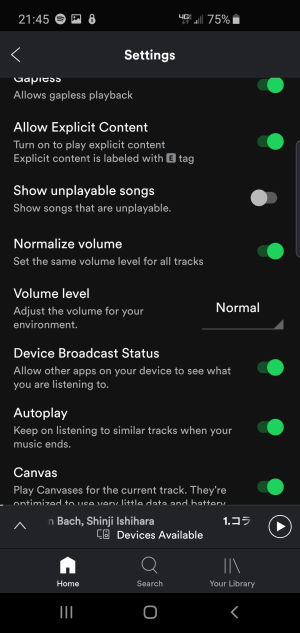 Apple Music
Apple Music plays all of its songs in aac format with the bitrate of 256kbps at max, no 320kbps option here. Apart from music, Apple Music provides Radio stations such as ESPN and some news channels as well. However, there is a realtime lyrics player available. Especially when you tap on the lyrics, the song skips to the part.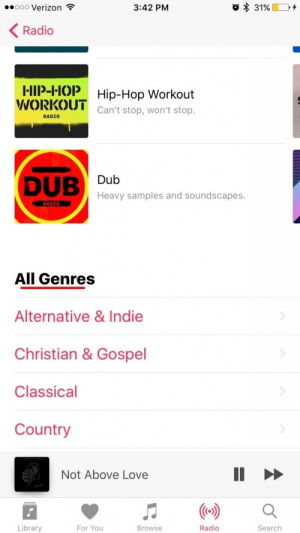 Since there is lyrics support, apple music actually lets you search for music using phrases in the lyrics. This feature is not available on Spotify. And also, there is exceptional support for Siri for particular commands.
Library Management
Both apps provide users with options to download songs to listen to them offline.
Spotify
Although Spotify doesn't handle downloads very well when compared with Apple music. When playing from a list, you can see that the non-downloaded music will be greyed out, showing that it's not available to play offline.
There is no separate place to find all your downloaded songs. However, you can create a separate playlist and add them to it as you click on download.
While searching, the songs in your library will come our first with preference. You can create public playlists and collaborate with your friends. If someone searches for the name of the playlist, this will show up.
Apple Music
Apple manages your downloaded music very well. It keeps your downloaded music separately so that you can play them while offline. While searching in the app won't prioritize songs in your library.
Also, there are no options for sharing your playlist publicly. But that's not a huge feature. With the way it handles songs in your library, Apple music stands out here.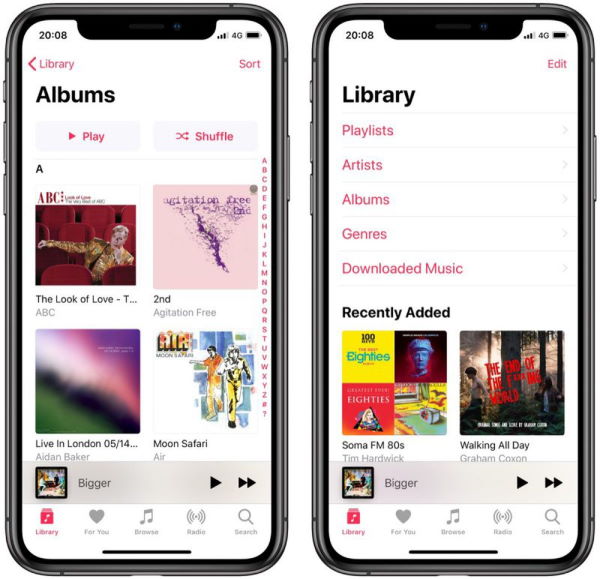 Conclusion
So which one to choose? As long as you consider wide device support and features, Spotify is the clear winner. But for those who are completely locked in the Apple ecosystem, Apple Music will be a good choice.
Although there are great seamless integration features with Spotify, it is ideal for every customer.
I think Spotify will be the winner of this comparison. Although if you're considerate about the price for individual users, you can opt for the Apple music's annual plan and save some 20 % in payment.