RCS (Rich Communication Services) is the next-gen text messaging service for Android that will something similar to Apple's iMessage service. The all-new RCS messaging service has started rolling out to all Android devices since November 2019 and Google has finally put the RCS access to its own Messages app so that all the Android users can seamlessly use this new service. Samsung device users are no exception here and are looking for this service to be included soon. If you're one of the Samsung Galaxy device users then check out the Samsung RCS Messaging Support: List of Supported device here.
To recall, both Samsung and Google have come with to work as partners to improve the RCS service better in September 2018. So, the advanced RCS messaging feature can be used by the Samsung Messages users while chatting with Google's Android Messages users which is similar to the cross-platform feature. The RCS text messaging offers group chats, emojis, images, stickers, files, location sharing, read receipts, who's typing indicator, video calls, and more.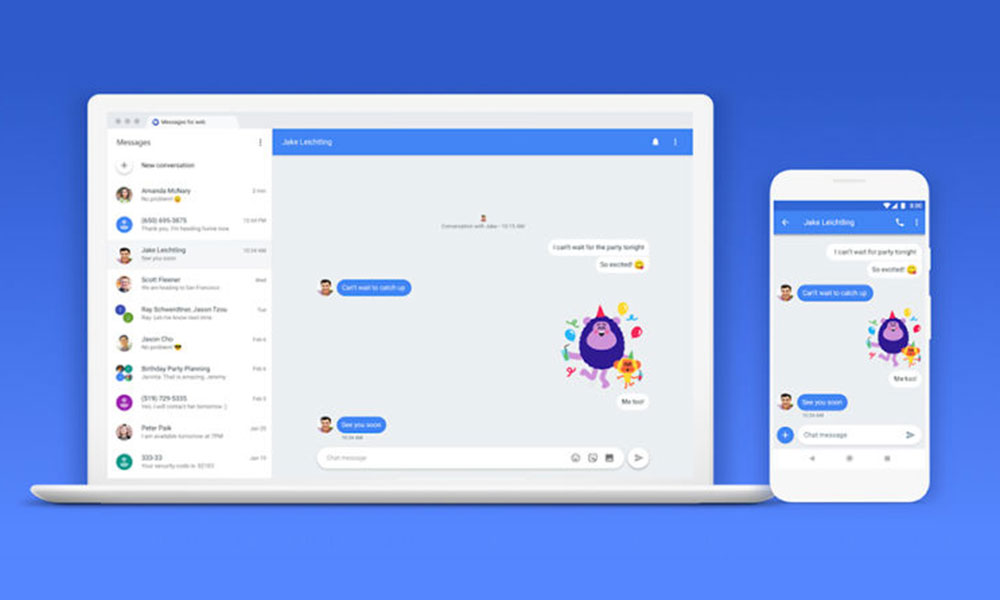 What is RCS Messaging?
Rich Communication Services (RCS) Messaging is a protocol between mobile devices and carriers. If your carrier doesn't support RCS messaging, then you may not use this feature until you get approval from your carrier or until you change the carrier to another. RCS basically replaces the traditional text SMS and MMS messaging service to an advanced next-gen fully-featured messaging service like a standard online chat messaging application.
That means just like the chat messaging features, now Android users can also get all the useful and advanced features on the RCS messaging via the Android Messages app or Samsung Messages app (Samsung Devices). Such as sending or receiving images, files, sharing location, stickers, emojis, group chat, read receipts, video calling, who's typing indicator, etc.
RCS Messaging is similar to the WhatsApp chat messaging that means users can do live chat, use multimedia support, and other features that are handled by the carrier data network. Yes! It can be used using the internet connection (mobile data only), no need to have SIM balance anymore for sending RCS messages to compete Apple iMessage service.
However, there are two fallbacks of RCS messaging that if you don't have an active or stronger data connection, then the RCS message will be delivered as a standard text message and that will charge accordingly. Second, the RCS messaging chat feature won't work on Wi-Fi network as of now.
How does it Work?
One of the most important and useful features of the RCS Messaging is that users can freely chat without any major limitation. It's an advanced messaging service over the standard text message or MMS. Meanwhile, Android users will also get verified and secured messages just like iMessage.
Meanwhile, Businessmen or professionals can be able to use RCS Messaging to send multimedia or any other documents like PDF files, images, videos, etc. Whereas the group messaging, who's typing, read receipt features will always come in handy for most of the users without using any other third-party chat messaging apps.
Samsung RCS Messaging Supported Device Tracker:
Samsung has mentioned that the RCS messaging feature will be rolled out to most of the flagship Galaxy devices along with some mid-range models as well. So, the Samsung Galaxy handset users can use the RCS messaging feature on the Samsung Messages app.
Galaxy S8
Galaxy S8 Plus
Galaxy S8 Active
Galaxy S9
Galaxy S9 Plus
Galaxy Note 8
Galaxy Note 9
Galaxy Note 10 / Note 10+
Galaxy S10 series
Galaxy S20 series
Galaxy Note 10 Lite
Galaxy S10 Lite
Galaxy Fold / Fold 5G
Galaxy Z Flip
Galaxy Xcover Pro
Galaxy Tab S6 Lite
Galaxy Tab S6 5G
Galaxy A71 5G
Galaxy A51 5G
Galaxy A Quantum
Some mid-ranger A series & J series smartphones
One thing Samsung has mentioned that the Android 9.0 Pie or higher running Galaxy devices would become eligible to receive this feature. Additionally, we recommend users to choose carrier-specific Samsung Galaxy phones that support RCS feature preloaded.
Conclusion:
There should be competition always in order to get a healthy user experience and more useful features. Users will get richer and advanced next-gen chat messaging features without using any third-party chat messaging application. It also works on a cross messaging platform over the carrier data network.
The main issue with RCS messaging is that you will have to rely on mobile carriers to control the major part of this messaging and you can't use Wi-Fi or use it without the registered SIM. Although more and more carriers are enrolling in this feature for better user experience with Google and Android OS.