Handsfree devices have been a thing since a pretty long time now. With handsfree devices coming from various manufacturers, Apple users were confused why they want to go to other company products. Answering all the doubts of users Apple launched the AirPods more than a year ago. A super coll handsfree device in both looks and performance AirPods is a must have for all iPhone users. Although its been more than a year since AirPods started to take the place on ears, many still have no idea how to work with this gadget. If you are on such a doubt read through to find out how to set up and use AirPods with the new iPhone 8 plus.
AirPods are completely different from all other cliche handsfree devices. They have a special setup which is, of course, new to all users. This difference is, of course, the reason for all confusion surrounding it. But Apple made these difference to make it more convenient for their users. The new setup is completely easy and once learned you as a user will love the way things work with AirPods. Read below to know more about the steps.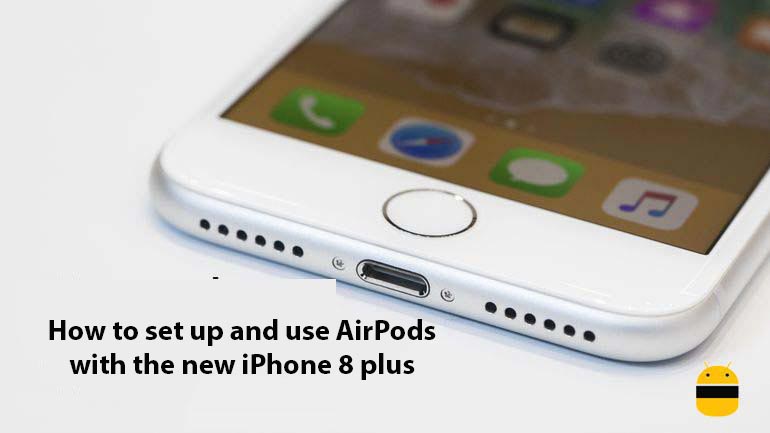 Steps to set up and use AirPods with the new iPhone 8 plus
AirPods needed to be set up perfectly with an Apple device before you go for other steps. So if you have a brand new iPhone 8 Plus and is confused on how to get started with the AirPods, follow the steps below.
Steps to set up AirPods with iPhone 8 Plus
Apple has designed the easiest way to setup AirPods. You only have to open the lid of the AirPods box and keep it near your iPhone 8 Plus. Your iPhone will automatically detect the AirPods and will provide you with the setup screen. You can then go ahead and follow the setup process which will appear on your screen.
Steps to play a song
With AirPods you don't have to reach out to your iPhone 8 Plus to start playing the playlist. If you keep both AirPods on your earns the playlist will automatically start playing. In the same way, if you take any one of the AirPods out of your ear the song being played stops automatically. To stop the song you simply have to remove both the ear pods.
Steps to attend the call
Attending a call is just two sharp tap on the AirPod away
I hope this guide was useful in understanding how to set up and use AirPods with the new iPhone 8 plus. If you have any queries or feedback, please leave a comment below.